Cars for sale. Collector, classic, vintage automobile classifieds - Adenauer
1958 Mercedes 300d
President Somoza
If you arrived here though a search or surf, click HOME to get to our main page for full site functionality, index, our contact info and the status of this car.
Some of the special features include: high torque engine, telephone, parade light, siren, flag holder hood ornament and "Polar-matic" air-conditioning.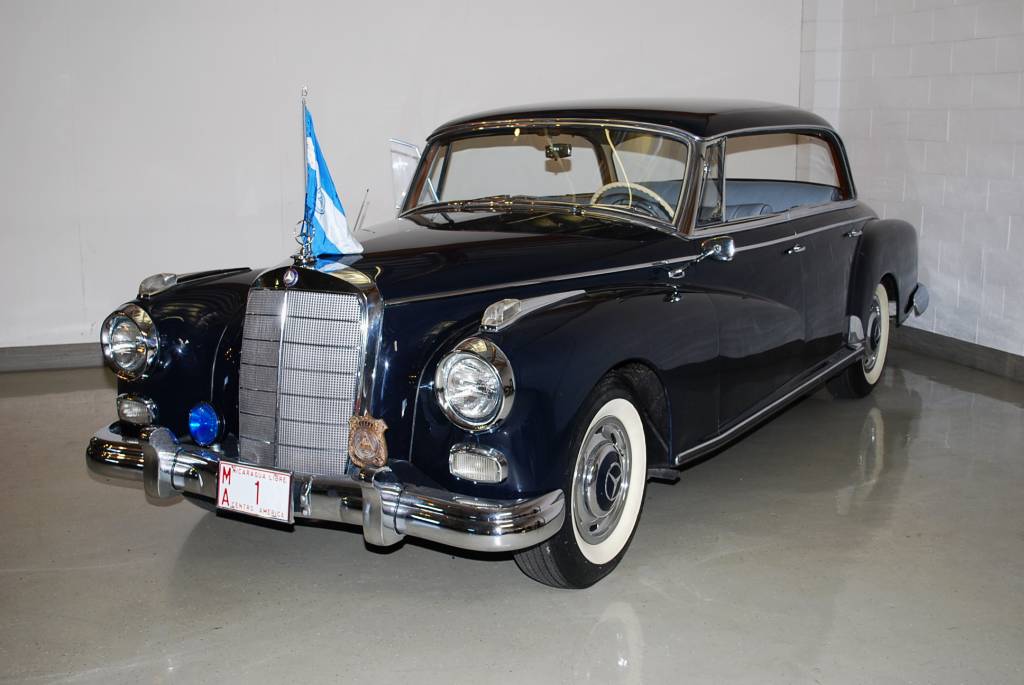 A Man and His Car
On Wednesday, September 17, 1980 Anastasio Somoza Debayle climbed into his white 1979 Mercedes Benz limousine. Seven blocks later, a bazooka rocket hit the limo broadside tearing away the roof.
Somoza and his long-time faithful driver, Senor Julio Cesar Gallardo, were killed.
The Somoza family's 43-year dynasty had finally come to an end. From 1936 to 1979, the Somozas had ruled Nicaragua and accumulated personal assets totaling $400 million.
This Mercedes Benz was part of this fortune. "The most elegant car in the world," the Mercedes Benz 300d had a distinctive regal appearance that was unmatched by any car on the road. It was also touted as being large and powerful. These adjectives made the Mercedes an icon for Somoza's ego image, "Ownership was the mark of a man who had reached the top."

The Making of Somoza's 300d
From an official Daimler-Benz letter in our possession it appears that Luis Somoza officially ordered this Mercedes on September 14, 1957. Mr. Somoza communicated to Daimler-Benz Aktiengesellschaft that this limousine was to have special equipment. Chassis number 7500143 was built with a high torque fuel-injected engine, double acting telescopic coil springs, refrigeration, radio-telephone, military siren and blue lamp. Mr. Somoza stated that since the automobile was of pillarless design, his intended use did not require armor-plating. On March 2, 1958, the auto was shipped to Nicaragua on the S.S. Hein Hoyer owned by Hanseatic Vaase Line.

Somoza's Christmas Present
Twenty years later, on December 14, 1977, A. Somoza (Anastasio) wrote an official letter from Casa Presidencial, Hacienda El Retiro to Senor Julio Cesar Gallardo expressing the family's appreciation for his service and telling him he would be given his brother Luis' car that had been in the family for so long. Somoza said the car would be legally transferred to Gallardo on December 23. He wished Gallardo "feliz navidad" (Merry Christmas) and referred to their relationship with the term, "amigos".
On December 23, 1977, A. Somoza and Gallardo signed a Bill of Sale for un cordoba C$1.00. The document number on the carta de vente (bill of sale) was 0,003,428. The document stated that the vehicle was a blue 1958 Mercedes Benz limousine 300d with chassis number 7500143.
The paper was officially stamped and signed by Dr. Ulises Fonesca Talavera, a Notario Publico who still lives in Nicaragua to this day. In the Carta de Vente, Gallardo agreed to restore the car in minute detail as assessed by Senor Carlos Jose Mendoza of the Mercedes-Benz agency in Managua. Gallardo agreed that the car was to be considered as a museum piece and a national treasure. Gallardo promised that it would never leave its homeland of Nicaragua.
Gallardo kept his word. He had the car restored. On August 4 1978, the Club de Vehiculos Clasicos de Nicaragua awarded Julio Cesar Gallardo first place for Concurso de Elegancia.
When Gallardo signed the Carta de Vente, he had every intention of honoring the agreement to keep the car in the country of Nicaragua as a national treasure.

The Sandinista Period
When the Sandinistas came to power in 1979 they released Decree #3 (Decreto No. 3, Aprobado el 20 de julio de 1979) which was for the confiscation of all Somoza family property. This decree extended to all Somoza family, soldiers, officers and presumably associates who left the country. We have to assume that Anastasio's long time chauffeur. According to documents with the car, the same Carlos Jose Mendoza of the Mercedes agency in Managua delivered the car to the port for export to California and its new owner. Since previously the Somozas owned this Mercedes agency we have to assume it was now under government control.
Somoza rests in peace in Miami, Florida.
TIME-LINE
1-1-1937
Anastasio Somoza Garcia is elected President of Nicaragua
9-1956
A. S. Garcia is assassinated and his son Luis Somoza Debayle succeeds him and is elected president several months later.
9-14-1957
Daimler-Benz receives the order for a model 300c (this car) from their agent in Managua - A. Somoza h. & Cia (See official Daimler-Benz letter)
1963
Rene Schick Gutierrez is elected president.
2-3-1966
Anastasio Somoza Garcia's second son, Anastasio Somoza Debayle, is elected president.
1967
Luis Somoza Debayle dies of a heart attack
5-1972
The Nicaraguan Congress dissolves, Somoza Resigns
12-1972
An earthquake levels Managua and Anastasio Somoza takes control of the government again
1974
Under a new constitution, Somoza is again elected president.
12-14-1977
Anastasio Somoza writes letter informing his long time chauffeur Gallardo that he intends to give him his brother's car
12-23-1977
Bill of Sale signed by Anastasio Somoza and notarized by Dr. Ulises Fonseca Talavera transferring the Mercedes to Julio Cesar Gallardo for Cordoba C$1.00
8-4-1978
Gallardo wins Primer Lugar or First Place with the car at the Concurso de Elegancia of Santo Domingo de Guzman
8-1978
Sandinistas storm the National Palace, taking government officials hostage and demanding the release of political prisoners.
7-17-1979
Somoza resigns and flees the country with one hundred associates and family.
7-20-1979
New government nationalizes the country's major assets including those of the Somoza family with official Decree No. 3 (see the pdf file of this decree)
8-21-1980
The Mercedes is exported to the U.S. (delivered to the port by Carlos Jose Mendoza of the M-B agency in Managua) View the letter. View the envelope.
9-17-1980
Anastasio Somoza Debayle and his chauffeur Julio Gallardo are killed in a bazooka attack in Paraguay
11-1980
Ronald Reagan is elected President of the U.S.
1982
Covert aid to the contra rebels is approved by U.S. congressional intelligence committees

Most of the non-automotive history above provided courtesy of Harvard Law School
View some of the letters and documentation
Click here to view a video of some of the documents & mementos that are included.

Etapa de Sucesos
1-1-1937

Anastasio Somoza Garcia es electo Presidente de Nicaragua

9-1956

Anastasio Somoza Garcia es asesinado y su hijo Luis Somoza Debayle es su sucesor, el cual es elegido Presidente varios meses despues.

14-9-1957

Daimler-Benz recibe la orden para un modelo 300 c (este carro) de su agente en Managua - A. Somoza h. & Cia (Ver la carta oficial de Daimler-Benz)

1963

Rene Schick Gutierrez es electo Presidente.

3-2-1966

El segundo hijo de Anastasio Somoza Garcia, Anastasio Somoza Debayle, es elegido Presidente.

1967

Luis Somoza Debayle muere de un ataque al corazon.

5-1972

El Congreso Nicaraguense se disuelve, y Somoza renuncia.

12-1972

Un terremoto arraso con Managua y Anastasio Somoza tomo el control del gobierno otra vez.

1974

Bajo una nueva Constitucion, Somoza es elegido Presidente otra vez.

14-12-1977

Anastasio Somoza escribe una carta informandole a su chofer de mucho tiempo el Senor Gallardo, que tiene intenciones de darle el carro de su hermano.

23-12-1977

"Contrato de venta" firmado por Anastasio Somoza y notarizado por el Dr. Ulises Fonseca Talavera transferiendo el Mercedes a Julio Cesar Gallardo por un Cordoba C$1.00

4-8-1978

Gallardo gana el Primer Lugar con el carro en el "Concurso de Elegancia" en Santo Domingo de Guzman.

8-1978

Los Sandinistas toman por asalto el Palacio Nacional , tomando a los oficiales de Gobierno como rehenes y demandando la liberacion de los prisioneros politicos.

17-7-1979

Somoza renuncia y huye del pais con cientos de asociados y familiares.

20-7-1979

El nuevo gobierno nacionaliza los bienes mayores del pais, incluyendo aquellos de la Familia Somoza. Decreto oficial No. 3 (ver el archivo pdf de este decreto)

21-8-1980

El Mercedes es exportado hacia los Estados Unidos (entregado al Puerto por Carlos Jose Mendoza de la agencia M-B en Managua) Vea la carta. Vea el sobre.

17-9-1980

Anastasio Somoza Debayle y su chofer Julio Gallardo fueron asesinados en un ataque con bazuca en Paraguay

1980

Ronald Reagan es elegido Presidente de los Estados Unidos.

1982

Refugio de ayuda para los contra rebeldes es aprobado por el Congreso del Comite de Inteligencia de Los Estados Unidos

La mayoria de la historia no- automotora proveida arriba es cortesia de la escuela de Leyes de Harvard.
Vea algunas de las cartas y la documentacion
Teclear aqui para ver el video de algunos de los documentos y recuerdos que estan incluidos.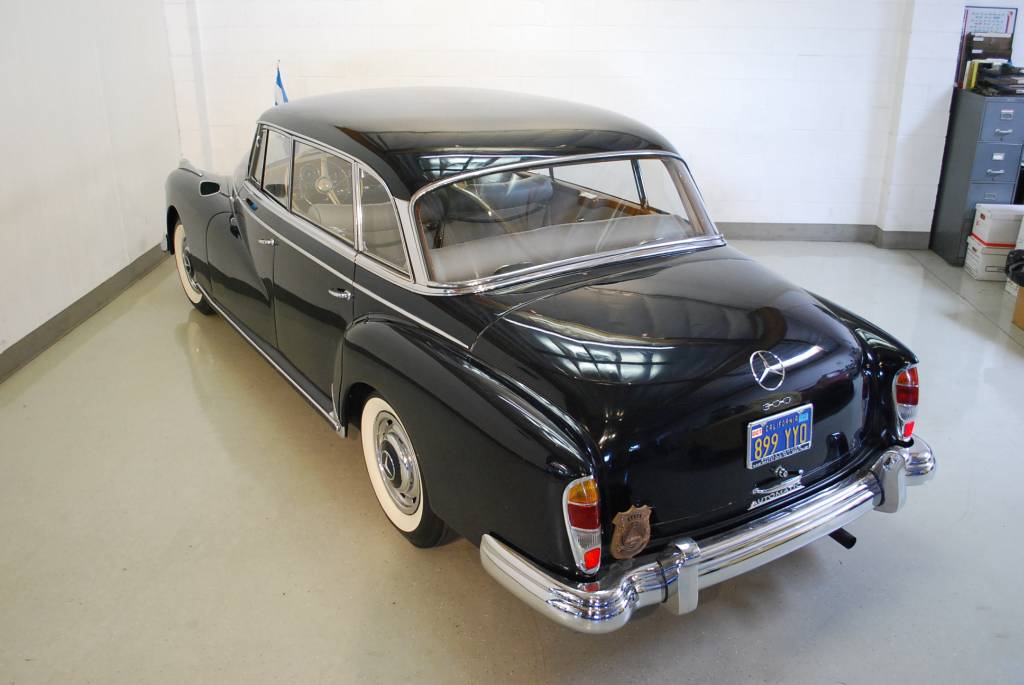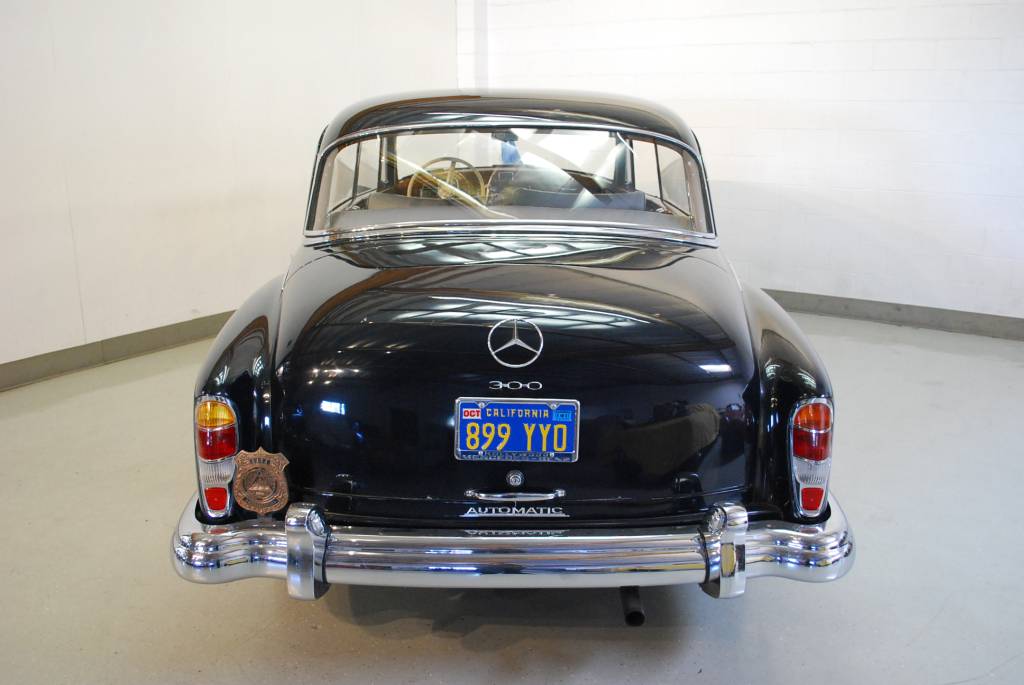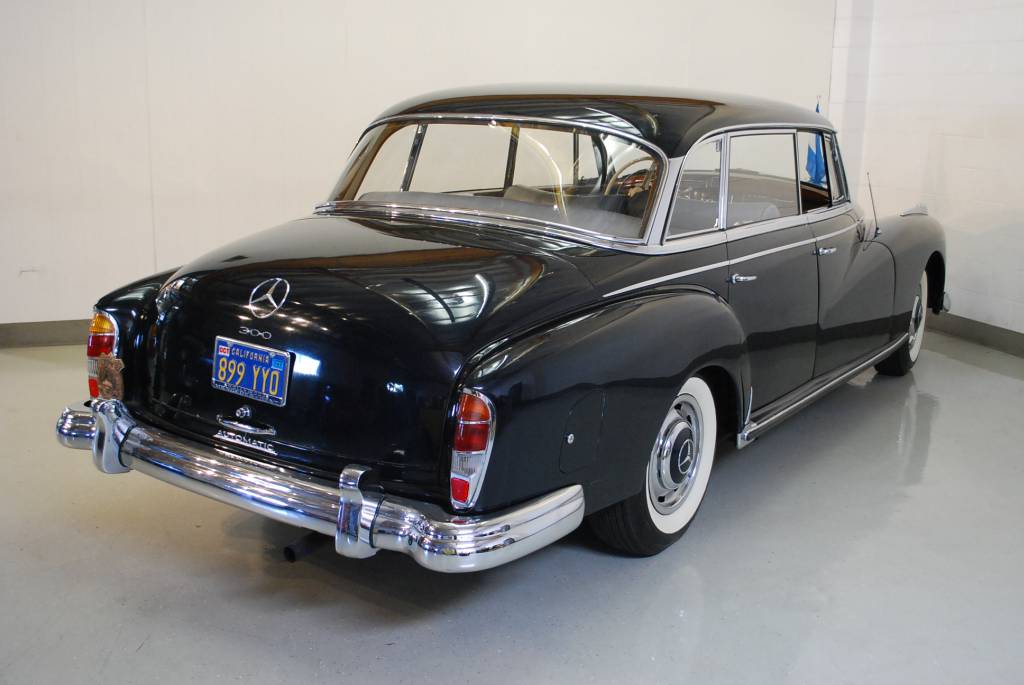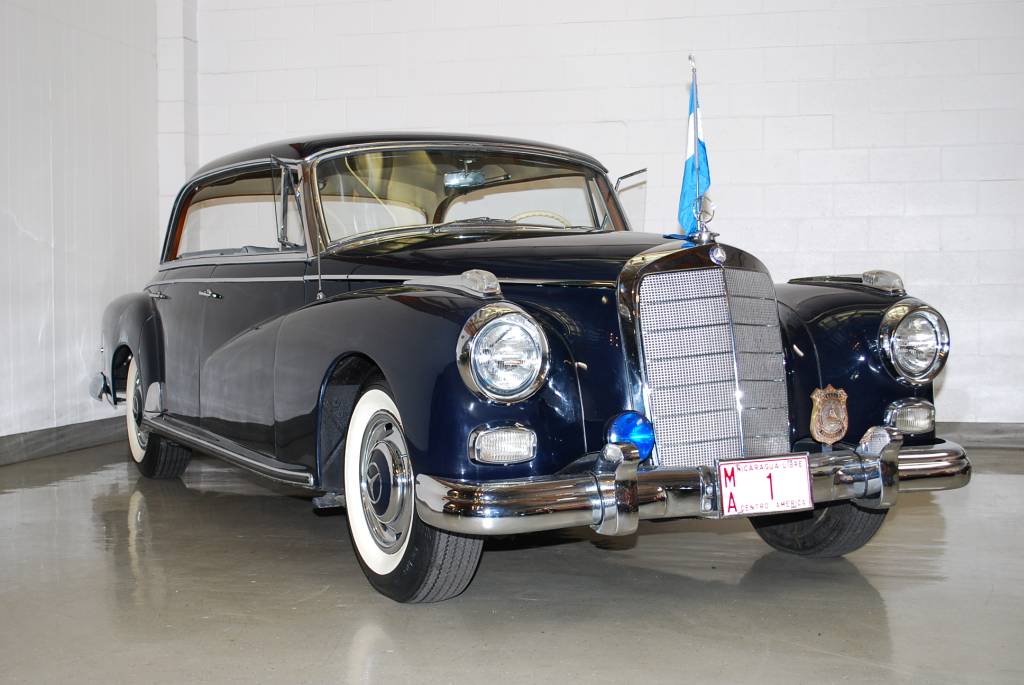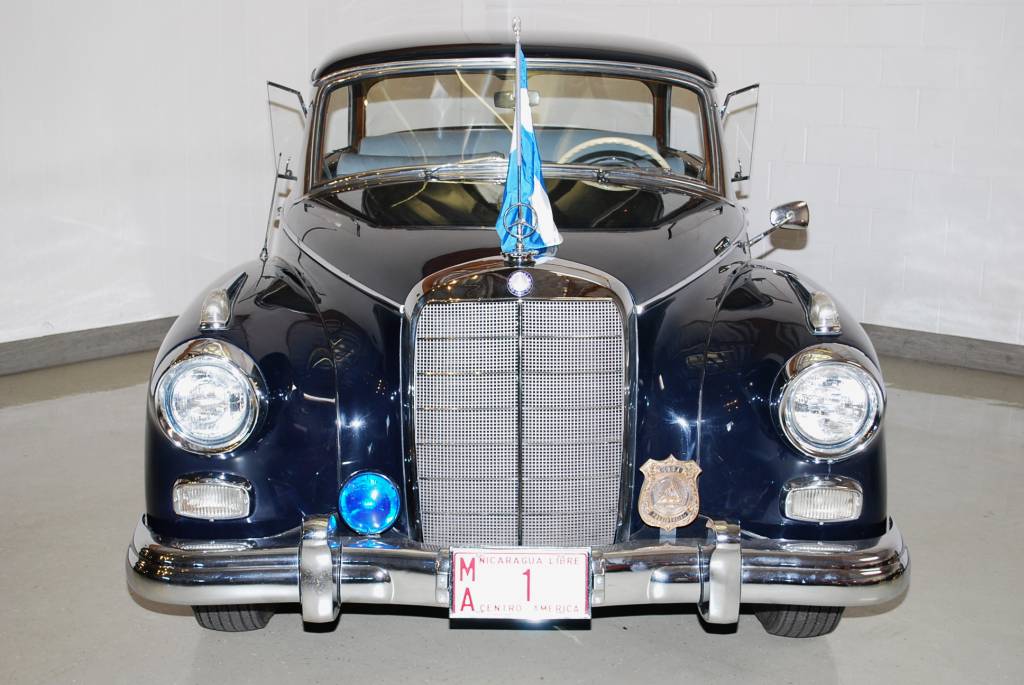 Just click on a photo to see its larger version.
Note: since these photos were taken the leather has been completely renewed.

We have to wonder how many kings, emperors and other heads of state sat here. With the car is letter from Daimler-Benz stating that there are photos of the car taken with the late Emperor Haile Selassie of Ethiopia and His Majesty the late King Mohammed V of Morocco on their official visits to Nicaragua. We will be contacting Mercedes for copies of these.
On August 4, 1978 after restoring the car, Somoza's driver Gallardo entered it in the

Santo Domingo de Guzman Concurso de Elegancia and won 1st Place.

Daimler-Benz Letter
"Christmas Letter"
Carta de Venta or Bill of Sale
With both side windows down and the rear opera windows removed the "pillarless" feature of this body style
is readily apparent. Common in some coupes, this is extremely rare in a sedan.