W113 Pagoda Buyer's Guide. For sale automotive vintage collector car classifieds in California. Old Timer classic center Pagode.
1970 Mercedes Benz 280SL
Scroll down for the free buyer's/originality guide!
If you arrived here by a random surf/search, click HOME to get to our main page and find the status of this car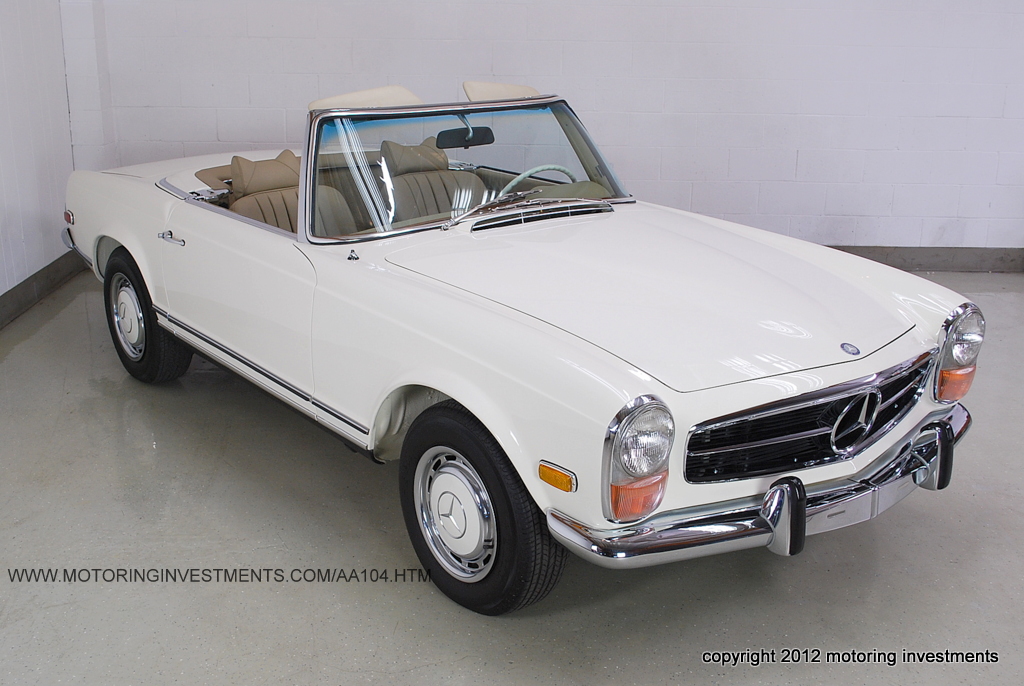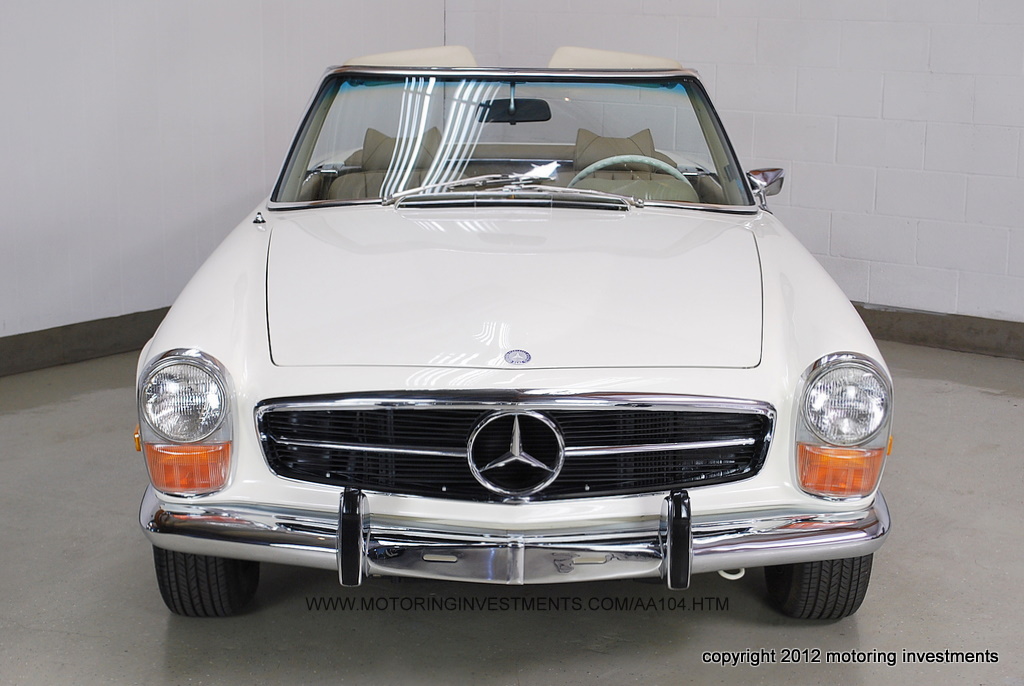 ORIGINALITY GUIDE OR BUYER'S GUIDE FOR THE W113 280SL PAGODA -
All photos here are of this car!

Look for a nice even hood gap as this is often times the first thing to go on a car that has suffered a collision.

The famous factory headlight notches - many times missing on cars that have been crashed, rusted or re-painted by shops not expert in Pagodas.

Body number repeated here on the soft top compartment cover and hard top match the data card and data plate under the hood.
Data plate on the left front wheel house under
the hood. Body # is the last number
on the bottom right.
Body # stamped on the hood.
All of the original books, tools, data card...and even the original spare Phoenix Firestone tire are still in the trunk!

Correct "1 key" locking gas cap.
Original soft top instructions still reside inside soft
top stowage compartment.
Correct original Kangol seatbelts
OEM Hirschmann antenna
Round dots on the inner fender edges usually mean factory spot welds signifying original fenders (in this case they are indeed).
Above, spot welds along the bottom of the rear valence demonstrate originality as well.
These are many times gone or obscured on cars that have suffered collisions or rust.
It is very rare to find a virginal trunk floor in a Pagoda like this example. Most all have at least surface rust or worse due
to the rubber trunk mat holding moisture against the surface. This is one indicator of a GREAT car.
Original windshield, correct "anti-freeze" decal. Also, not the correct "satin" finish on the wood rather than "gloss".
Not a repro but the original firewall pad!
Original top spoons and case (not to be confused
with the large items from an R107 car)
Note correct beige color undercoat as per factory practice along with body color transmission mount (center of left photo)
280SLs never had black gooey undercoating from the factory.
Wheel wells were typically body color from the factory.
MORE GENERAL PHOTOS OF THIS CAR APPEAR BELOW....

From the factory, rocker panel covers car held in place with small counter sunk "Philips" head screws, rough textured with "chip guard" and painted satin black.
Below right notice an example of the "dotology" or factory paint splotch code which we have duplicated.
Above left shows the tag for the very rare factory optional limited slip differential (LSD).