Motoring Investments' BMW page.
If you arrived here by a random surf/search, click HOME to get full site functionality and all of our contact information.
1971 3.0 CS
SOLD Feb. 2008 Thank you Nelson!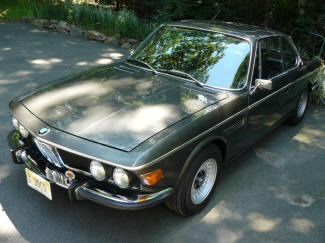 Multiple concours award winning car. $34,900
Photos
Significant Awards:
Limerock "Concours in the Park" first place September 2007
AACA Grand National second place Dover DE 2006
AACA Grand National second place Buffalo NY 2004
AACA Regional first senior Hershey PA 1998
AACA Regional First junior Hershey PA 1997
Limerock Park Vintage Festival first in class 1997
Limerock Park Vintage Festival second in class 1996
This car was originally sold by a BMW dealer in Munich. It was sold to its second owner, Jorg Loffer in 1980 who worked for Alpina as a mechanic. It made its way to America in 1985 and the last owner purchased it in 1986 as a result of an advertisement placed in the BMW Club magazine(This same magazine ran a photo of it in their March 2000 issue) .
During his 21 year ownership much restoration has been completed to bring it to its current show winning condition.
Mechanically, the cylinder head was replaced with a new BMW item manufactured in 1981 that incorporates modifications made to correct design flaws in the originals. The engine block is the original and has a number that matches that of the chassis – 2210722. The intake and exhaust ports have been polished and the camshaft has been upgraded.
Since the last owner competed in AACA shows the car has been maintained in very stock form. The AACA allows only those modifications that were available from the car manufacturer in that model year. All maintenance and restoration undertaken has utilized original BMW parts.
Some modifications:
The wheels are 7x14 CSL units available from BMW in 1971
The stock front sway bar is 19 mm; a 23 mm bar was optional and listed in the parts book.
A 23mm bar was purchased and installed.
The rear sway bar is an after market 19 mm bar.
The stock springs were replaced with BMW CSL "town" springs, also shown in the CS parts book.
These springs are wound from tapered wire and are therefore variable in rate.
The handling is greatly improved with minimum impact on the ride.
The shock absorbers are Bilstein HD.
The steering wheel is an optional leather wrapped "sports steering wheel" available in the parts book.
Extensive records of all maintenance and restoration are available for the last 21 years plus a three page hand written letter from the second owner in Germany.
This is a beautiful example of the 3.0 CS, drives like a dream and draws attention at shows or where ever it goes. No Air-conditioning.
1972 3.0 CSi
SOLD 3/03/07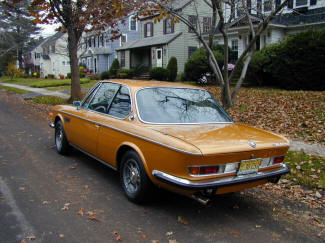 Though the BMW 3.0 CSi is surely one of the most beautiful automobiles of the 1960s, there are precious few examples left today.

One of 8,359 produced, this 1972 Coupe is finished in a show-quality Ceylon Gold exterior with its original flawless black velour interior. It is fitted with the 4-speed Getrag gearbox, optional 3-spoke sports steering wheel wrapped in leather, a vintage 8-track tape player, power steering, 4 electric windows, and a full complement of original tools in the original drop-down, trunk-mounted toolkit.

This BMW was re-painted to extremely high standards within the last decade and is painstakingly original throughout, right down to the hose clamps. It is a matching-numbers vehicle with original sheet metal and details throughout. Not a ground-up restoration, it is a well-preserved original car that has been meticulously re-painted just once in its life. And as you would expect from a vehicle of this caliber, the undercarriage is immaculate, with beautiful cadmium plating throughout, a fresh suspension, and a recent stainless exhaust system.

This BMW has been a prized show car for many years and has won in its class at easily more than a dozen concours events, including several national events such as the AACA concours at Hershey, the BMW Fall Festival at Lime Rock, and the Greenwich Concours d'Elegance. It is among the best-known examples extant and would certainly be suitable for a world-class collection.
The last owner, a judge for The Antique Automobile Club of America searched a long time to find this car. Total miles traveled is just over 60,000.
Click on the photo for more. SOLD $42,000