This 350SL was comprehensively serviced and sympathetically reconditioned in our restoration shop so that it will provide an experience very close to that of when it was new back in 1972. Total shop hours consumed were 249.
CLICK THE IMAGE BELOW TO SEE IT FULL SIZE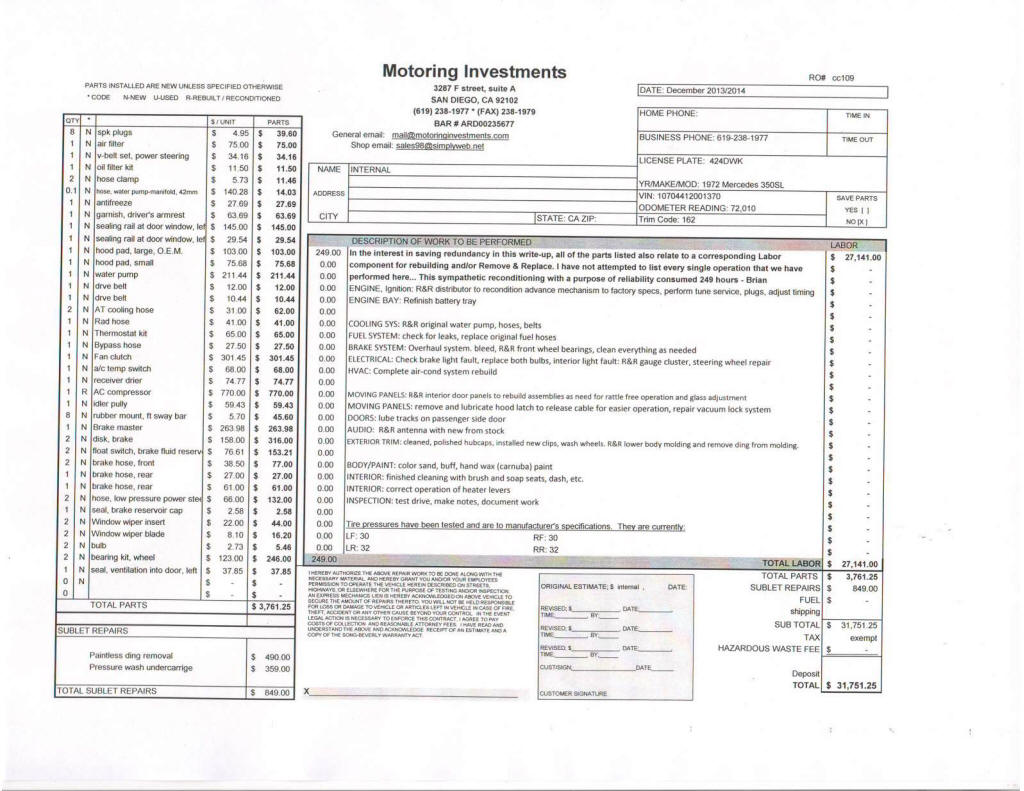 Pictured above is the factory original canvas top.
The picture at bottom left, shows the close up of the back window.
Original foam top latch mufflers still in place on the folding top compartment lid (top right)
Body number at base of hard top
#70054
The photos above show how nicely the interior lights are presented.
Sekurit Logo at drivers side glass.
Passenger side glass.
The hard top glass (shown above) is also all original and still shows the factory emissions label.
The images above show the decal on the original windshield.
The windshield has the
Kinonglas-Kristall stamps, indicating an
absolute factory original windshield.
The image below shows the Bosch company logo/
Germany on the wipers.
The protective plastic lining in between the door panels is still in place,
And in remarkable condition. Some yellowing from old factory glue is expected.
Shown above
is the correct hard top/soft top latch lock tools
and their appropriate vinyl padded pouch.
Mercedes Benz touch up paint ( code 050 white)
from a vintage looking tube.
Both trunk mat part numbers are shown above. these trunk mats are N.L.A ( No Longer Available) from Mercedes.
The above examples are in good condition and show nicely.
7-71 ( July 1971 )
Date coded spare wheel in the trunk.
The body number, shown above, is also
shown on the data plate in the engine bay (below).
The above and below numbers
are matching V.I.N's.
When we look closely at the actual number,
This car is only #1370 into the new chassis build,
indicating a very early R107.
Originality markers above (original hoses with date stamps)
There is no rust whatsoever on this car. The brown areas you see on the undercarriage are traces of the original Cosmoline which was sprayed by the factory for the car's journey across the ocean. It is quite amazing after all these years that traces of this waxy substance can still be found.
Below one can see the original "dotology" or paint dabs placed by the factory assembly technicians to signify torque settings, etc.