Part 3 Back from Paint
This update has been a long time coming. We have seen to the many details while in the paint shop to assure that this car turns out the way our customer desires. One thing he likes is the look of the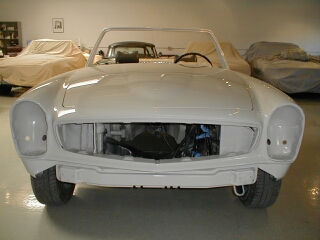 Back from Paint.
early U.S. W113 or European version 280 without side marker lights (the way Daimler-Benz intended it to be). Many people will agree that the cars look much cleaner without these so, while at the paint shop we had the holes on the sides welded up. During the preparation for new paint we had to be very careful to make sure that the person doing the work knew that the notches near the headlight openings were supposed to be there. Since we were changing the primary color from Light Ivory #670 to White-Grey #158 the car needed to come completely apart.
The doors, hood, cowl vent intake, vent door, transmission support and boot box lid were all painted off the body. This car was originally a two color code car with a black hardtop and hubcaps and we are keeping this configuration. We had in stock some good factory hubcaps. These are made of stainless steel so a metal polisher can make them look brilliant. After the polishing the paint shop applied the black paint.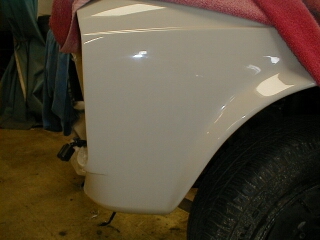 No more side markers.
There are several areas that are not supposed to be painted under the hood. This is something that is overlooked in many restorations. Basically they are round spots of bare metal where ground wires attach. When we took the car apart these areas appeared to have a discolored clear paint brushed over them so we duplicated this process after the ground wire was attached. Of other interest is the fact that new voltage regulators supplied by Mercedes no longer look like the original.
This one was functioning fine so we just spent some time cleaning it and reapplied new yellow tape to the bottom. Once the car has been painted, the satin black paint needs to be brushed on the appropriate areas. We documented with photos exactly where this had been done at the factory so we could duplicate it here. One area is behind the grill. It should be a dark, shadowy area; not showing any body color. I wonder if the few factory black cars had satin black painted in these areas?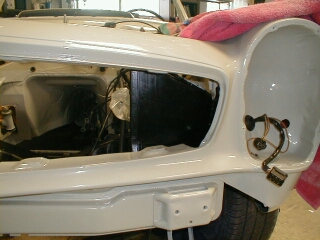 Satin black in front of the battery area.
This process was not originally undertaken with any great degree of precision or care. This is also the time for determining which components get replaced or refinished. After years doing their job most under hood components have lost their original luster. Relay boxes appear dull. Ballast ceramic turns dark. Fuel injector lines and accelerator linkage have lost their gold hue. As components are refinished or renewed they can be carefully re-installed back in the engine compartment. All of the injector lines and the accelerator linkage has been Cadmium II plated. Cad. II has the Iridite that gives the yellow cast.
We also plated a multitude of fasteners and brackets. The cooling fan was bead blasted and clear powder coated to give a natural look while being easy to clean. The exhaust manifold was "metal sprayed". This is a process where-by molten aluminum is shot at a cleaned piece of cast iron. The iron then takes on the look of an aluminum casting. More importantly is that it won't corrode. This was not done at the factory of course and stock manifolds after a short time naturally end up with a coating of ferrous oxide(or ferric oxide depending on the specific ion involved) aka rust.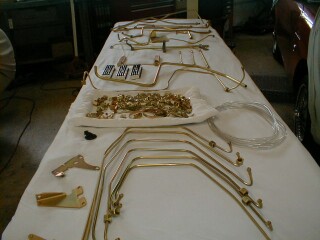 Just some of the Cad. II plated lines & linkage.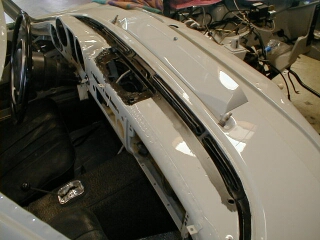 Satin black around the defroster vents.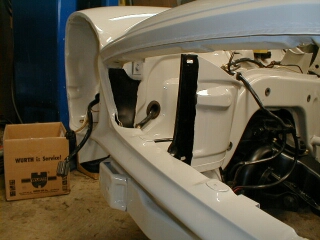 More satin black.