Triumph TR6 with overdrive for sale classified rust free California by Motoring Investments
If you arrived here though a search or web surf, click here to get to the main page to get details on this car and our contact info, HOME.
1974 Triumph TR6 w/Overdrive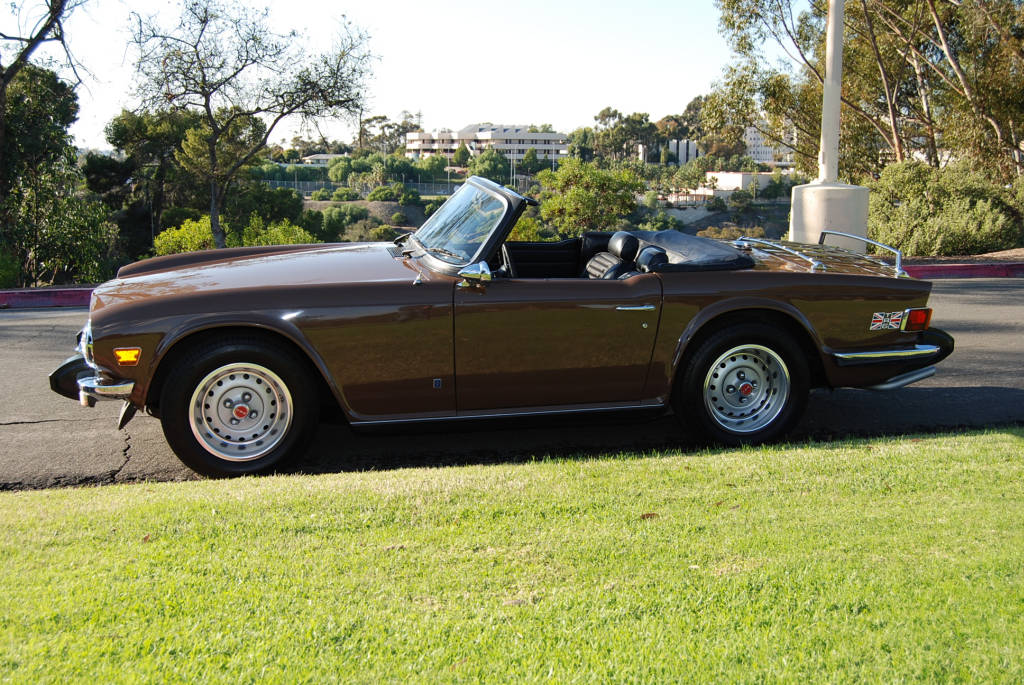 Low Mileage Triumph TR6 w/OVERDRIVE
This 73,000 mile car belonged to a wealthy Modesto, California farmer until 2003 when it came to San Diego and was acquired by a noted high-end car collector. Because of this it missed the risky period in the life of a collector car when all sorts of indignities occur. Most older cars have gone though a phase where they were worth very little and suffered through with less than optimal care. When one considers what can happen to a car in a thirty-three year period it is remarkable when a car turns up this well kept.

Using what I have learned over the last 30 years dealing with and restoring vintage cars, I have purchased one of the best original cars I could find and then lavished hour upon hour on it bringing it to top driving condition. In this case we've spent over 200 hours on what was an especially nice low mileage car to begin with. If we were doing this job for a paying client, the tab for parts and labor would come to over $25,000 which of course doesn't include the cost of the car. Cosmetically we hand cleaned the undercarriage to show the original paint on the floorboards, painted the suspension components when they were out and detailed and polished everything as needed. It is difficult to list everything we did on this car but rest assured, if it needed done, it got done.
Original vs. Restored? What could be better than a low mileage California car sympathetically reconditioned in our award winning workshops? A recent client had us perform a $70,000 restoration on his TR6 and this car is in the same league.
Recent past mechanical services performed per service records:
Rebuilt engine at 62,417 miles
Carburettor "O" rings in Sept. of '03
New heavy duty rear springs & rebuilt shock absorbers Sept. of '03
New upper ball joints, tie-rod ends & steering rack bushings at 64,146 miles
Transmission re-seal and new clutch at 70,293 miles
Rebuilt driveshaft at 70,293 miles
Brake work & conversion to Dot 5 silicone fluid (non-hydrophilic) at 70,917 miles

Just performed in our workshops:
Front suspension reconditioning: Replace Upper and lower control arm bushings, Tie rod end boots, Steering rack bushings, Front Armstrong OEM shock absorbers, Sway bar bushings, Front brake hoses, Clean and refinish suspension.

Rear suspension reconditioning: Replace Rear shock bushings, Rear trailing arm bushings, Clean and refinish trailing arms, axles and support brackets. (Note: Rubber bushings were replaced for cosmetic reasons due to surface cracking caused by exposure to atmospheric ozone rather than wear.)
Differential: New OEM pinion seal, stub axle seals, stub axle bearings, rear cover gasket, front and rear mounts. Update modification of the front mount support brackets to correct the factory design flaw causing front mounting pins to break loose (preventative measure).
Flush & bleed brake hydraulic system.
Carburetors: Cleaned to remove minor carbon deposits, installed new dampener diaphragms, air filters, fuel filter.
3000 mile service: Changed engine oil and filter, Checked and filled all fluids, lube all zirk fittings.
Tune engine service: Service Distributor, Check advance curve adjust as necessary, corrected engine vacuum hose configuration to OEM routing, replaced distributor cap, points, condenser, spark plugs, valve cover gasket, adjust valves, set ignition timing, adjust air fuel mixture, engine idle speed.
After all of the proceeding I shouldn't have to say this but just in case there is any question; this car runs, drives, steers, brakes and shifts exactly as it should and everything works wonderfully. This is a "turn-key" car. The oil pressure is just under 100 pounds cold and 50 pounds hot at 1000rpm. (Please view the short video where you can see the gauges while running.) It is especially dry underneath with no major leaks.
Feel free to ask any question that is not answered here.
Current mileage at time of writing: 73,878
I have owned many TR6s but I've only had a handful with overdrive. That's because this is a rare option. I'm not sure why it is rare except that maybe the typical Triumph buyer in the seventies didn't want to pay for something he saw as a "freeway" gear when he was mainly going to be tearing up the back roads anyway. Fast forward to modern times with our typical 80 MPH freeway flow and OD allows you to keep up with traffic with a relaxed engine speed.
The business I own restores European cars for clients and I have provided collectible German, British and Italian cars to customers for years. My specialty is in very original, low mileage cars. I am only interested in proper, stock, very original examples in great driving condition. Whatever I buy, is gone through in my shop as I want a driving experience for myself and my clients as near to what an owner experienced when the car was new. Much of the work we do goes where no one sees it, under the car and under the hood basically. For my own enjoyment, my years in this business have taught me to seek out as much originality as possible and long term owners. Of course a car must never have been rusted or crashed and due to the age of these cars, this is no mean feat. You might want to check the rest of my website and click around for awhile and see what I am all about as far as cars are concerned. You will find a lot of content on vintage European cars and restoration.
Flaws: A small ding on the leading edge of the hood. There may be other small imperfections since this car is driven in the real world rather than transported from show to show in an enclosed trailer but nothing stands out.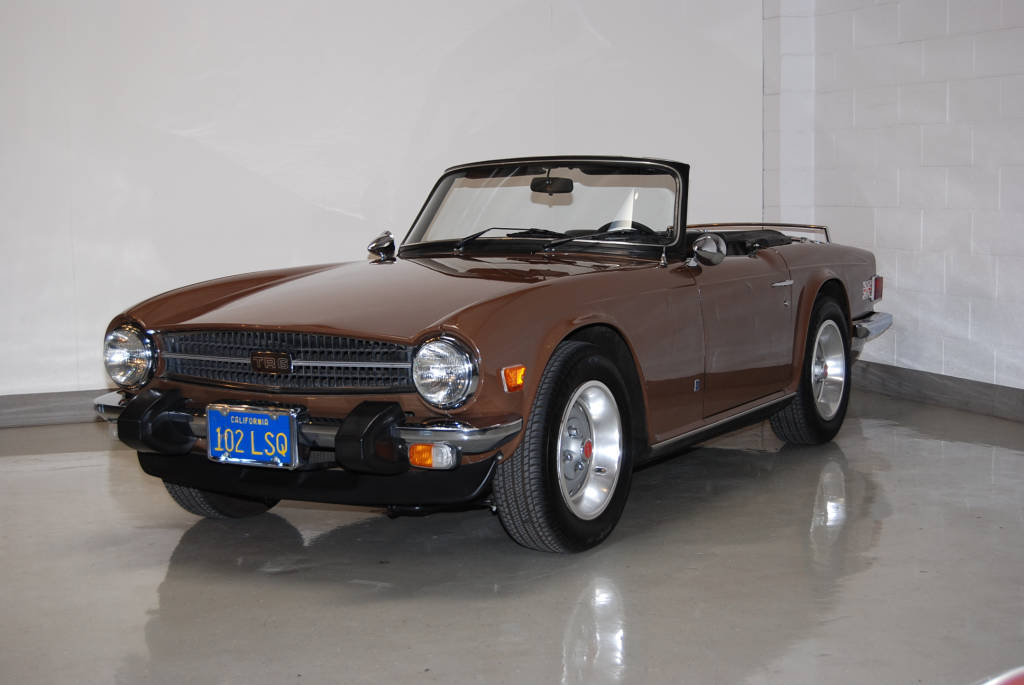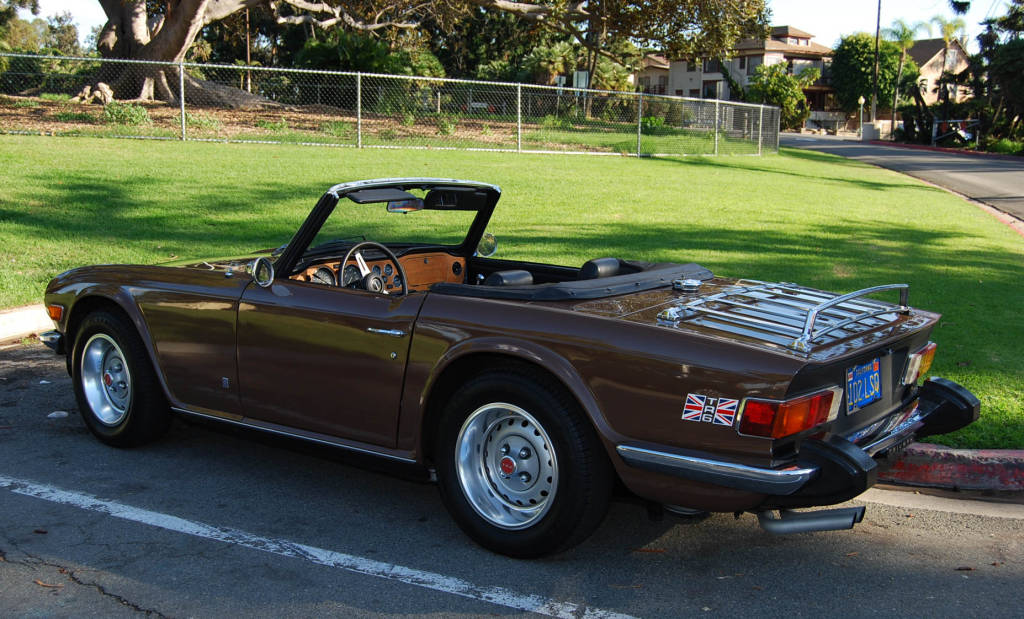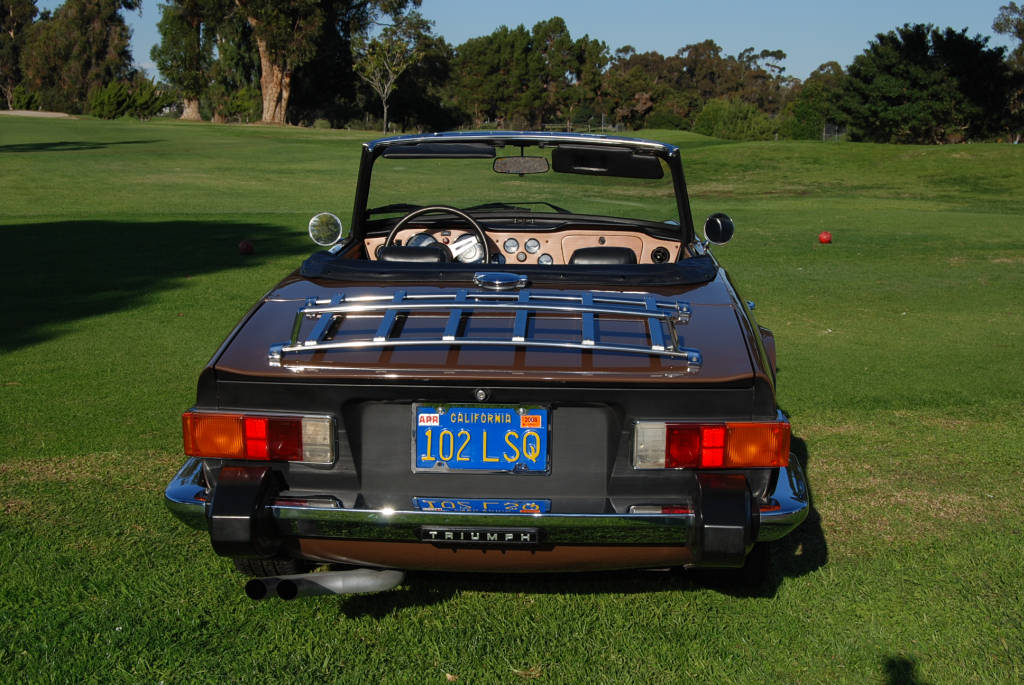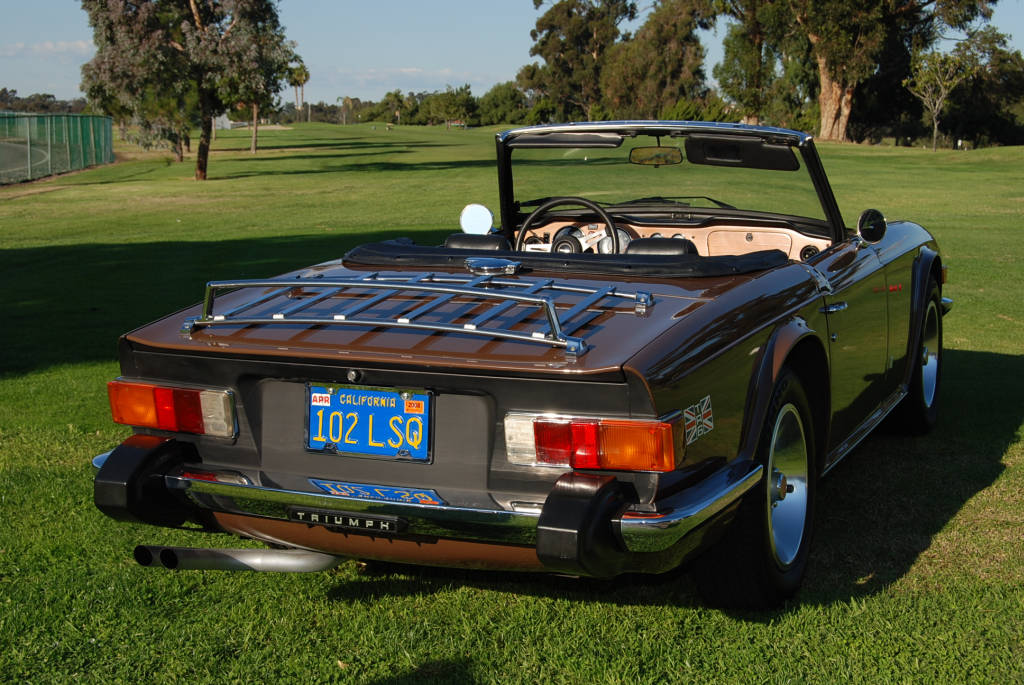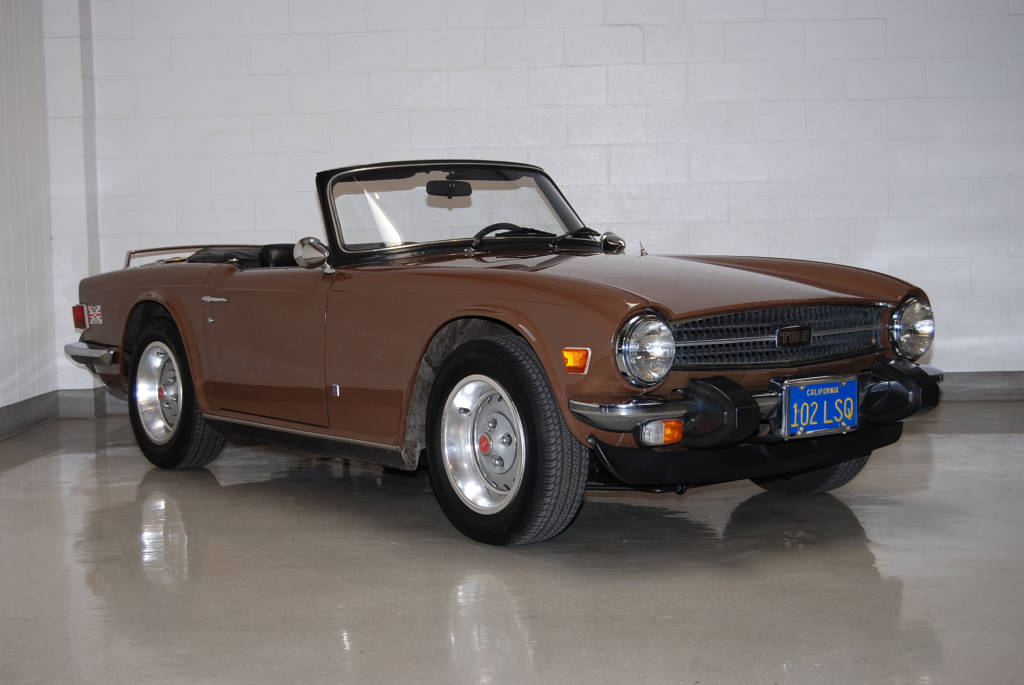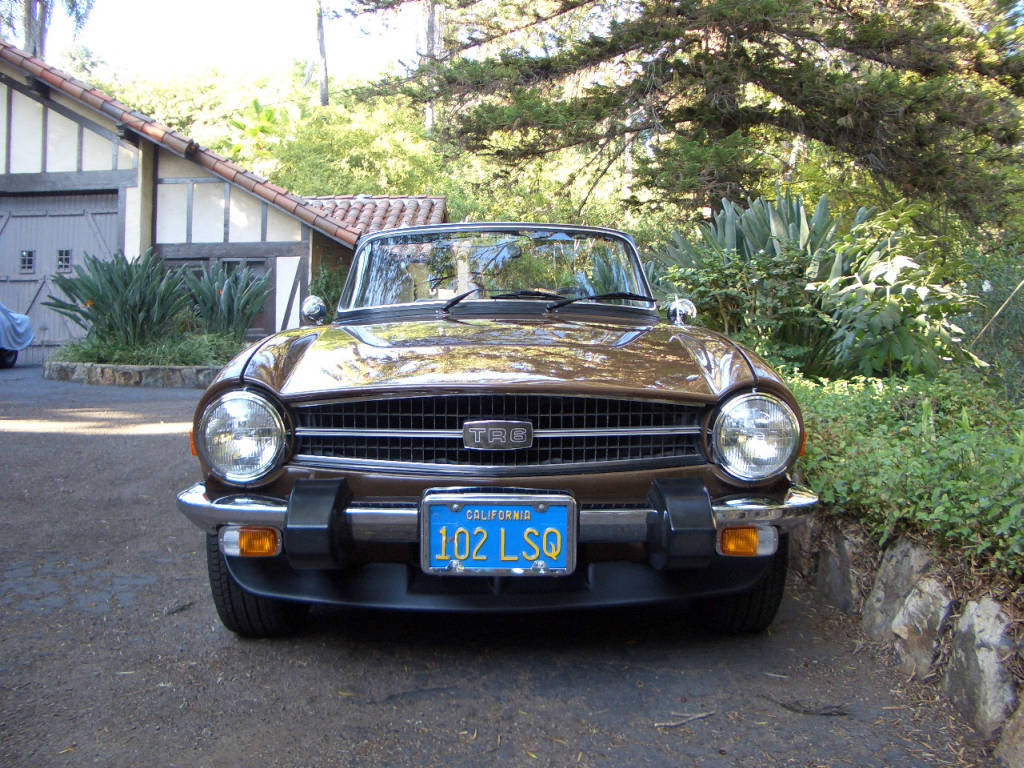 This car is most likely for the seasoned enthusiast/collector who realizes that his/her time is more valuable than the effort it would take to comb the classifieds for years looking for a car like this and then to spend years of weekends and evenings getting it into this condition; or worse, spending cubic dollars at a shop and hoping for a result such as this. So in this way consider me your "personal shopper". I've done all the work for you. It is an indisputable fact that even if someone gave you a restorable TR6, you couldn't get this sort of result for double of even triple what this car is going to sell for.
I've included many detail photos and shots in varying light conditions in order to capture the flavor of this car. Just click on the photo for a larger one (then "back" to return).
Unusual in that it still has the factory "seatbelt ports" for easy access when parked. These items are usually long gone on TR6's
Original paint is still in nice condition under the carpet as well as under the car!
When we had the trailing arms out for cleaning and new bushings we discovered that they have the date of manufacture cast right in, July 30, 1974.
Included are model TR6, Sheepskin seat covers, tonneau cover and original owner's manual. There's more, see below.
The trunk floor is absolutely original right down to the leather strap holding the lug wrench.
The last owner loved this car and went on an acquisition spree. Everything is included: Factory brochures, club newsletters, vintage magazines featuring the TR6, Road & Track reprint, service records, TR6 duffle bag, "The Roadster Factory" parts manuals with wonderful exploded drawings of every part, official factory shop manual and a shop manual by InterEurope