preservation survivor car classifieds, vintage, collector, classics, vehicles for sale, old timers
The detailed photos on this page could serve as a sort of buyer's guide or originality guide for Triumph TR6 models. This car is THAT ORIGINAL!
1974 Triumph TR6 - SOLD
with overdrive & factory hardtop!
If you arrived here by a random surf/search, click HOME to get to our main page, gain full functionality of this site and learn more about this car.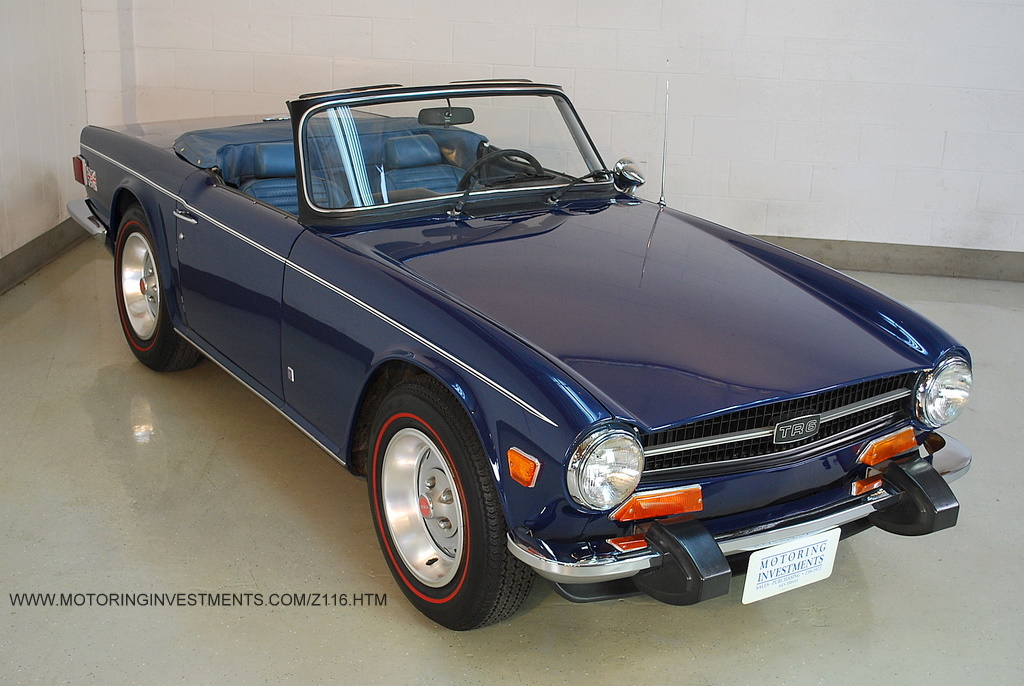 The pin stripe is vinyl and can be easily removed if it is not to your taste (it came in with it).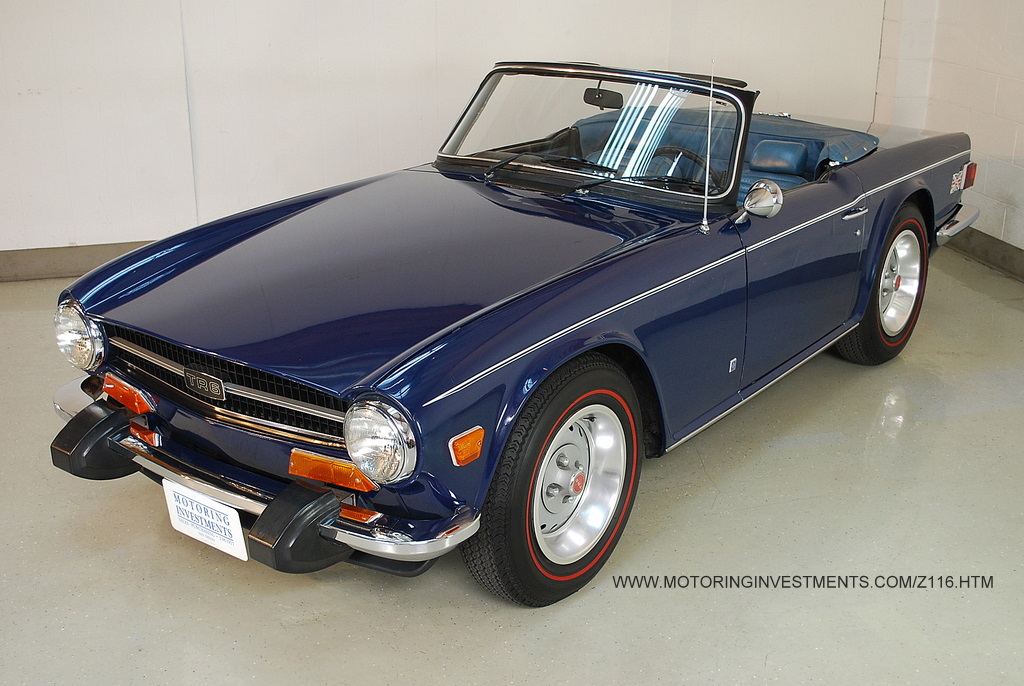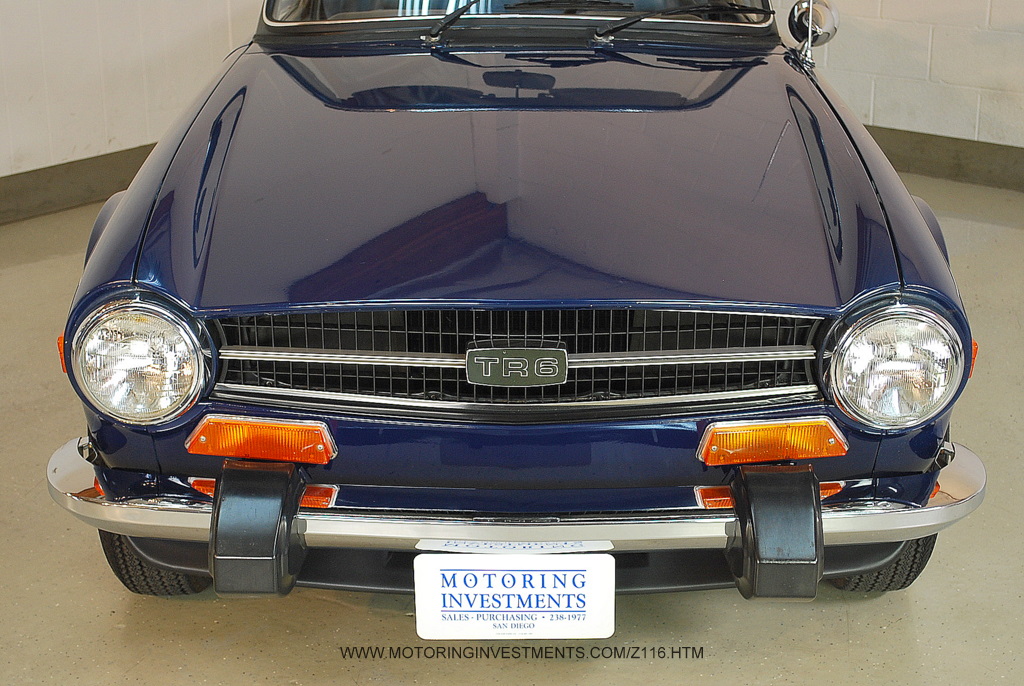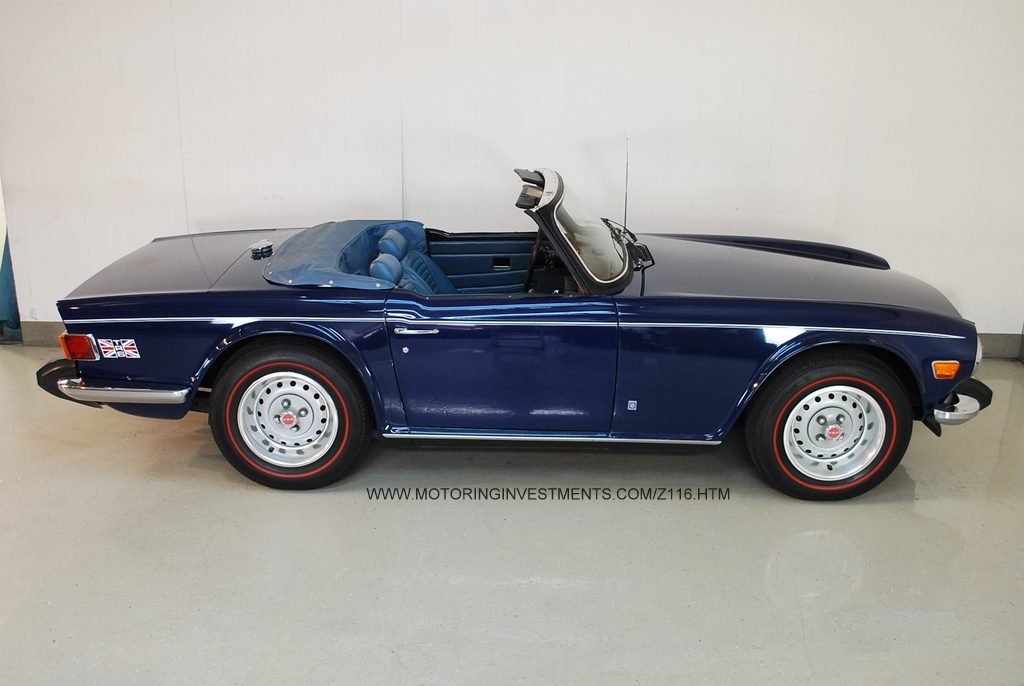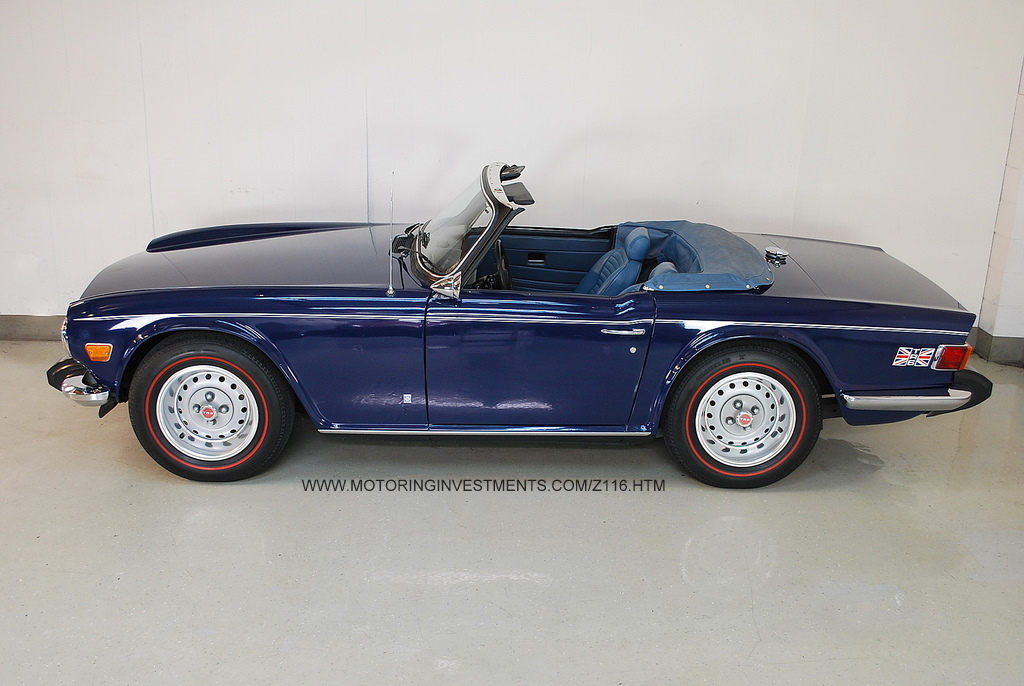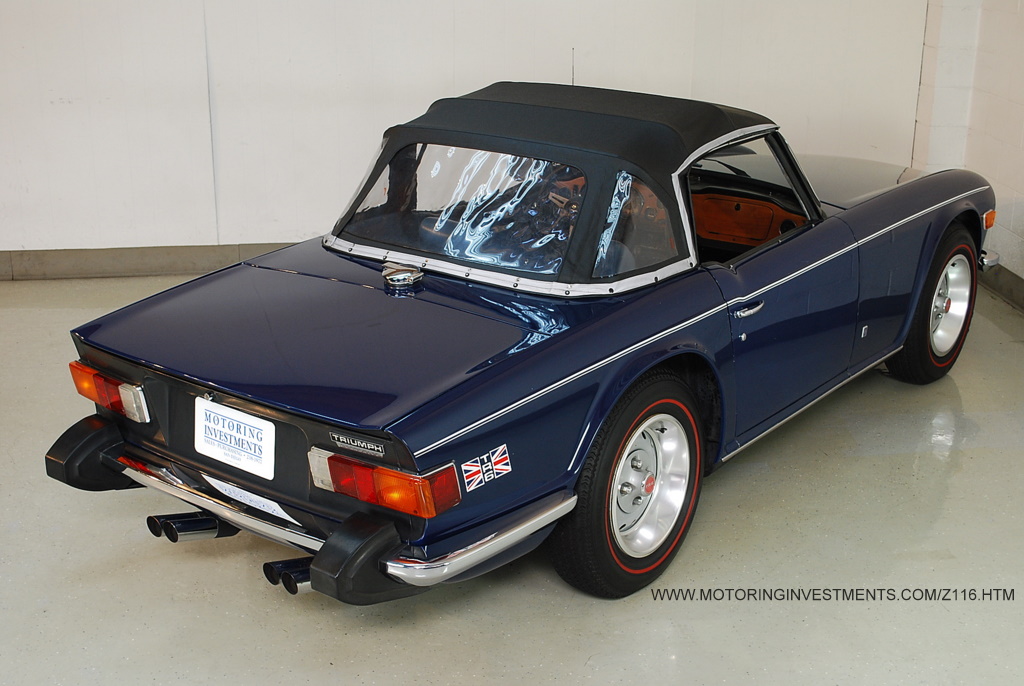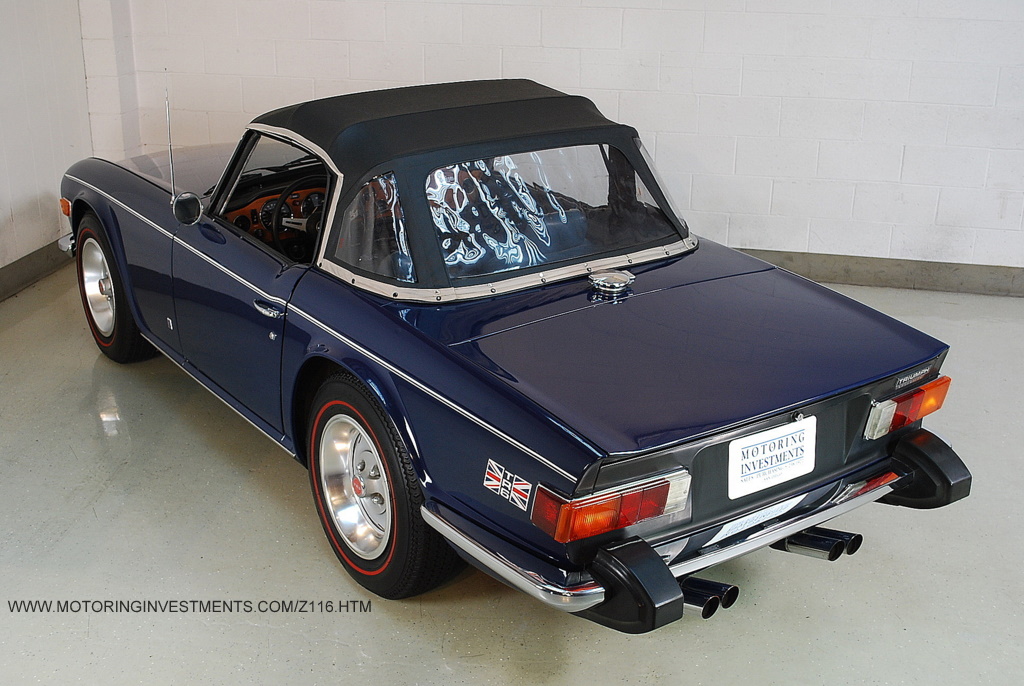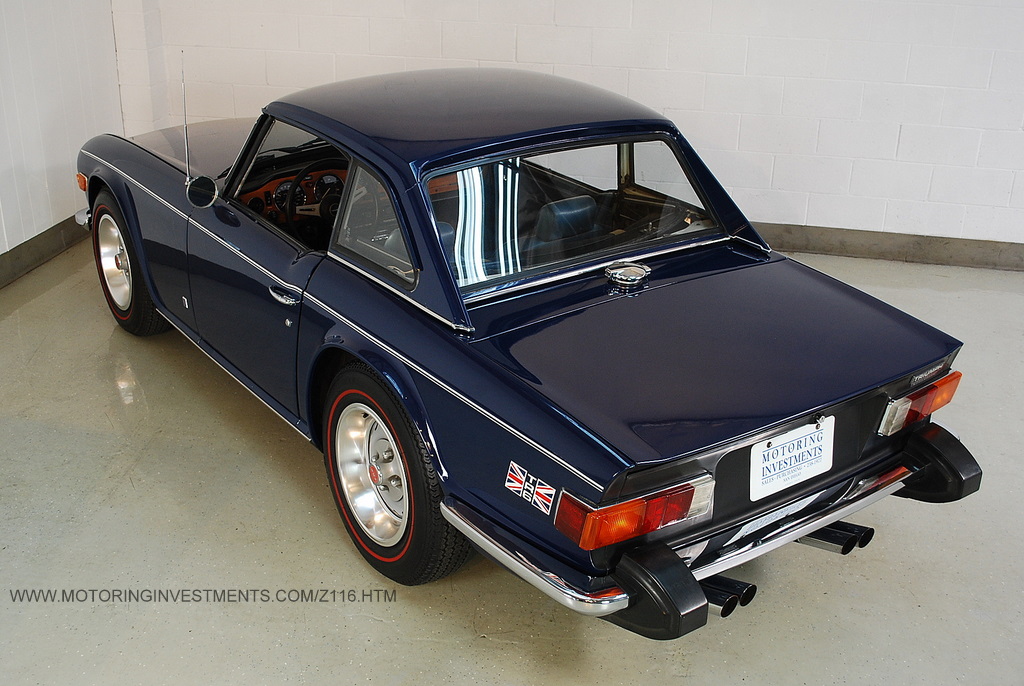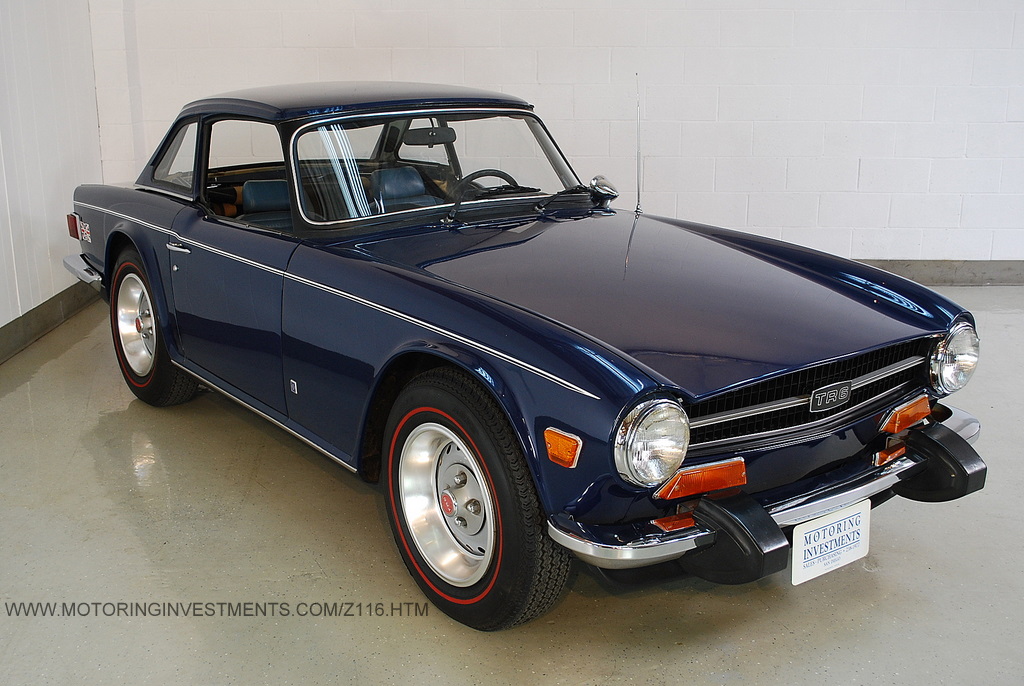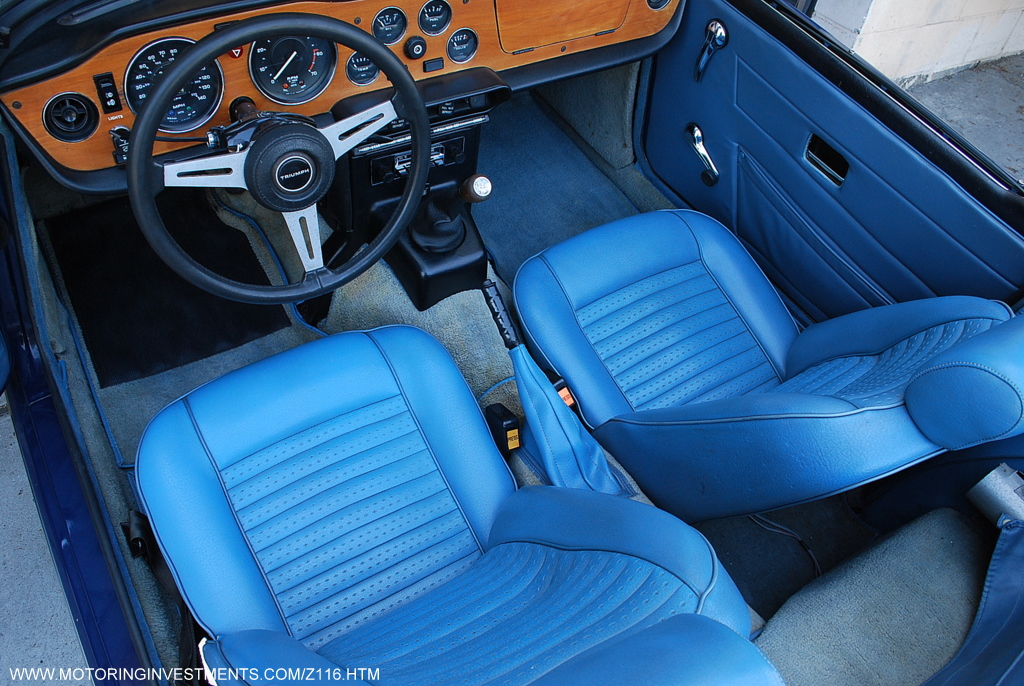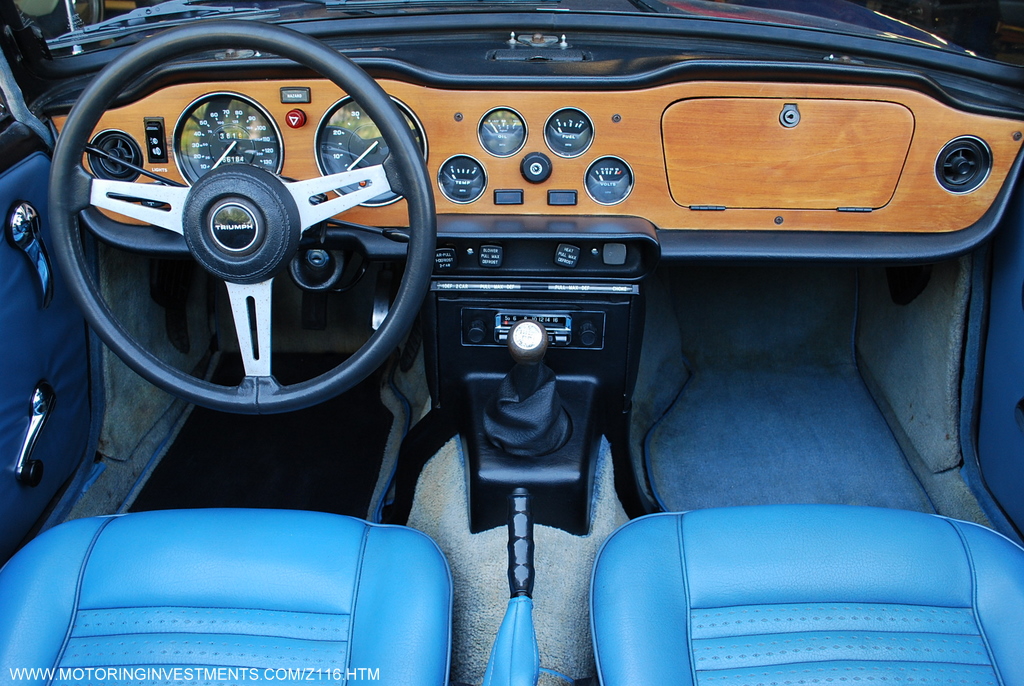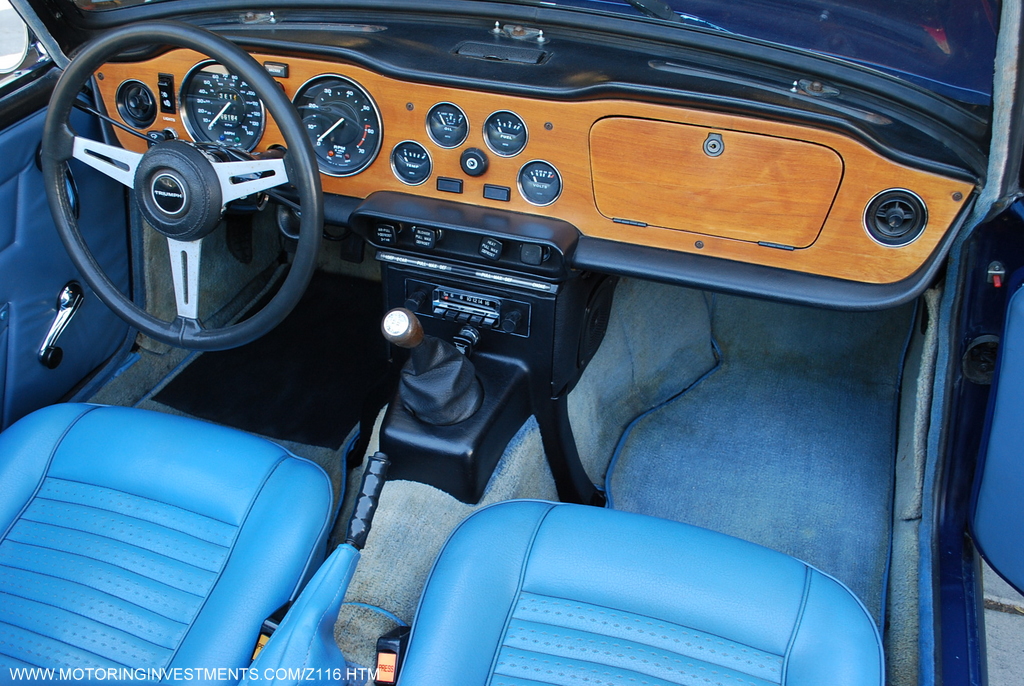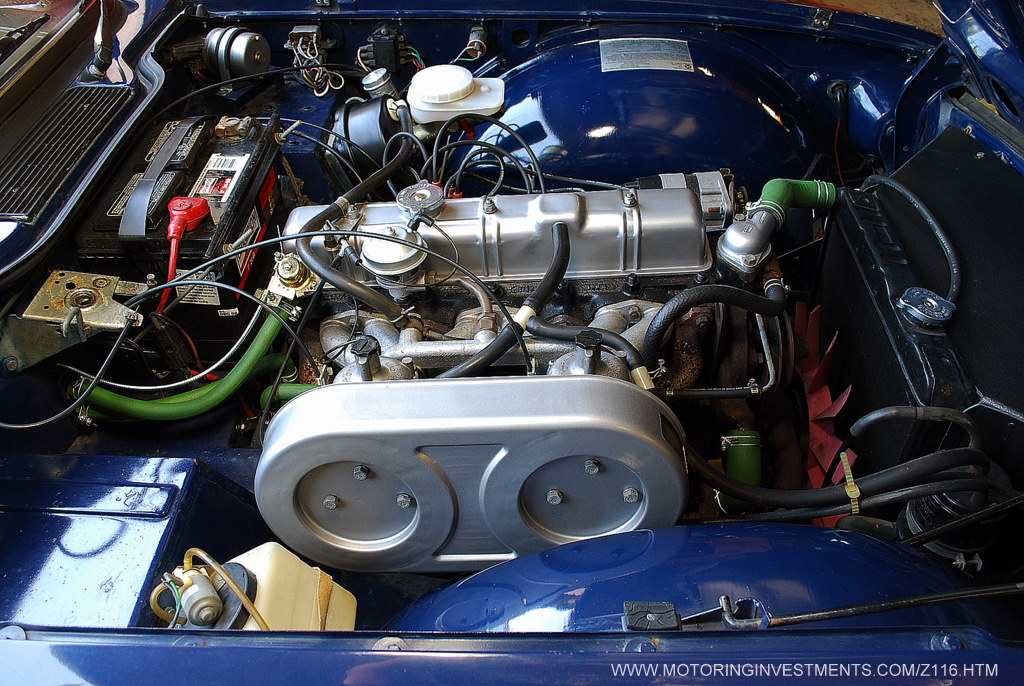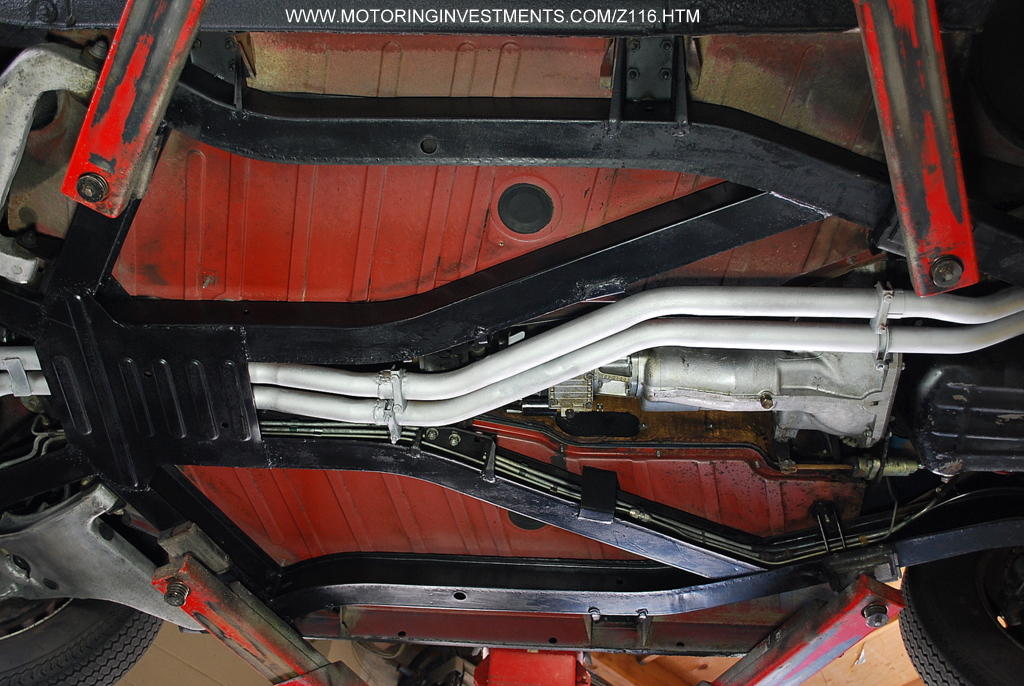 The original documentation with this car is quite amazing!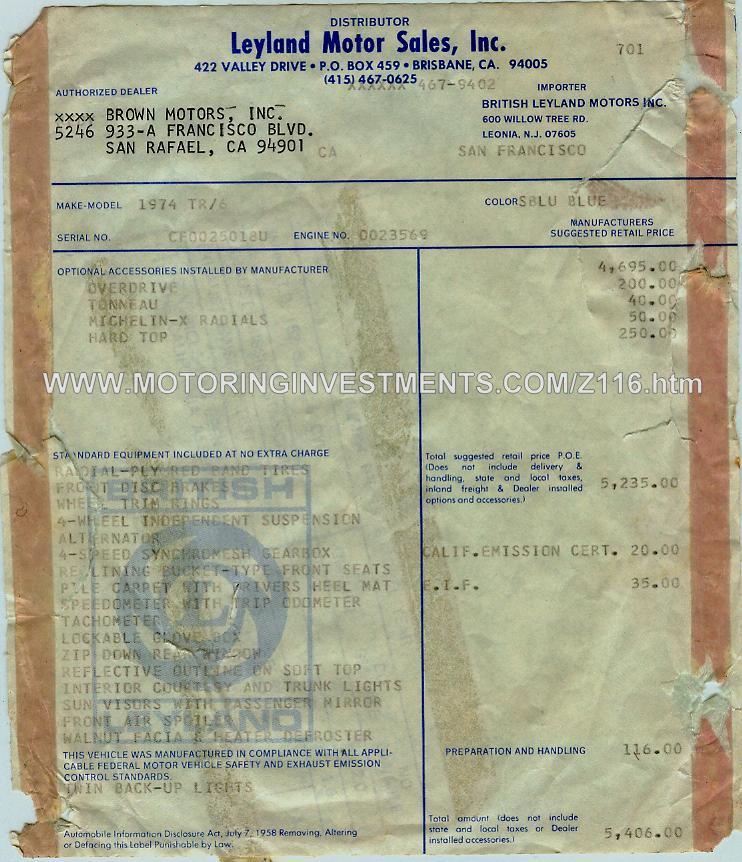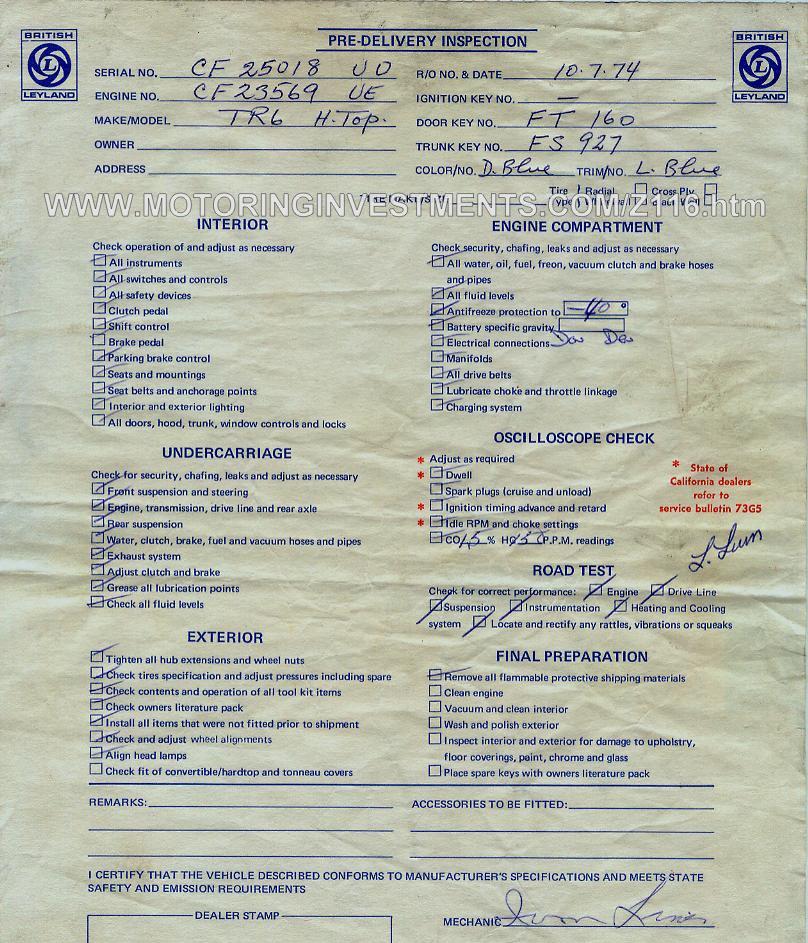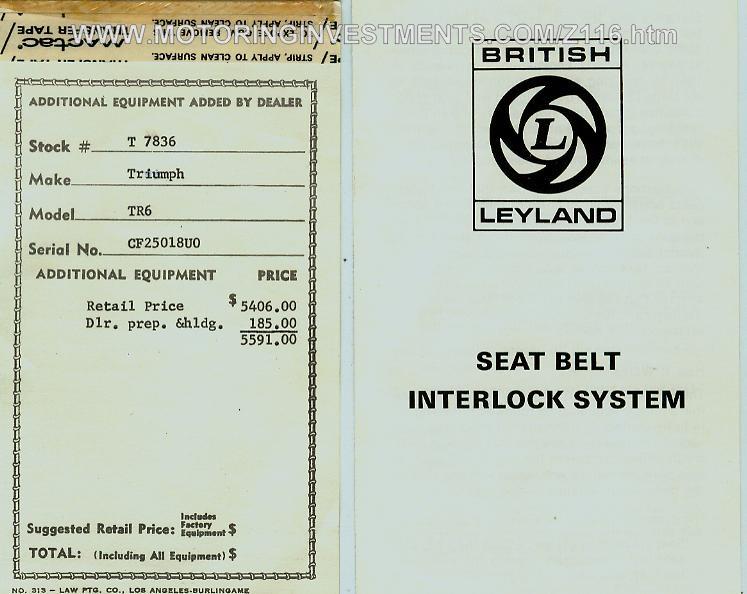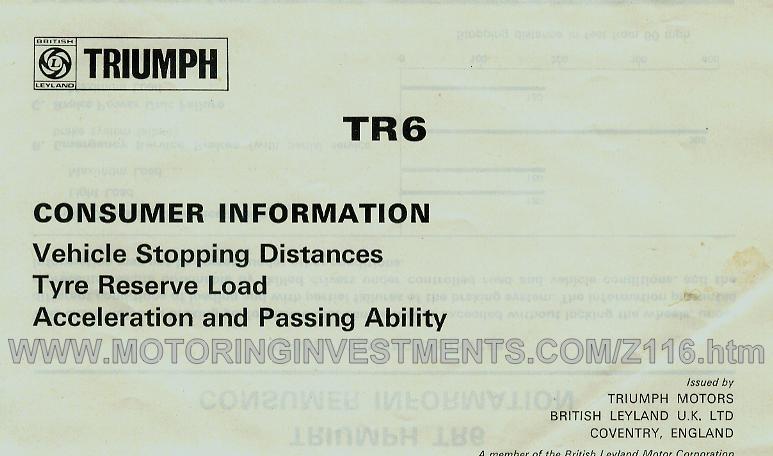 Click on any of the pictures below to view the larger version.
These pictures also display the straightness of
the body.

The above and below pictures are with the factory
hard top in place.

From all angles this car is in great looking condition.

The wheels are correct in polished alloy
rim with embellishers.

The Michelin size 185 tires look striking with the
period "red stripes" on the sidewalls.

Also a picture of the 'Union Flag' decal
on the rear wing that was
present on all later models.

This TR6 model features another option
fitted to Triumphs bound for sale
in the states - a reflective edging
around the soft top.

Here are more pictures of the factory steel
hard-top. Along with attractive lines
it also has and plenty of glass
to ensure good visibility while motoring.

The VIN plate states the date of manufacture
along with all the other information for the car.
The paint code for '96' is for Sapphire Blue.
The trim code for '27' states the interior is
finished with shadow blue trim.

Above and left/right can be seen the rare seatbelt
ports for parking the belt while not in use.
(top photos are bit over exposed)

Also note on the photo center above the "1974"
date on the label.

The arrows above left show the color coordinated wind lace in Shadow Blue. This original Blue Velour finished weather seal is no longer available new.

"Standard Triumph" radio.
Beautiful original engine bay with the
correct green fabric covered hoses.
Click on any of the pictures to view the larger version.
Rarely seen, the leather jack strap.

Above center: from the tool bag (I've never seen one of these before!). Left and right above, we think the factory left this tape there.

Like most of the rest of the car the floor pans are
absolutely original, even the factory finish tetra
cotta colored paint.

About the only non-stock item is
the free-flow exhaust system.

OWNER HISTORY