Saab Sonett Page
Click on photo to go to photo page.
If you arrived here by a random surf/search, click HOME to get to our main page & gain full functionality of this site.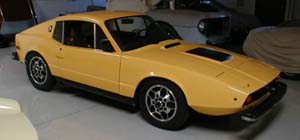 '73 Saab Sonett III(click on photo to go to the photo page)

SOLD - Thanks Ivor!
Follow up note from Ivor -
The Sonett is great, a few years ago I bought a house (to restore) in the South of France where I hope to live when I eventually get around to retiring so I had a nice drive out there last year and that's where it now lives for me to use when I am on vacation, just last month my wife & I took it up into the French Alps over the "Col de Turini" which as you probably know is the most famous special stage on the Monte Carlo rally , that was both fun and scary but if you ever get the chance to visit that part of the world its a must even in a hired car.
Anyhow take care and nice to hear from you again Brian.
Regards
Ivor.
This is a San Diego one family Sonnet which is a combination of great original and restored as needed.
She has had recently new or reconditioned: carburetor, tune up, brakes, wheels, four tires
and quality paint.
The interior is original and very nice with the exception of the headliner which is new.