1971 Mercedes 280SL
If you arrived here though a search or web surf, click HOME to get to the main page for full site functionality, site index & our contact info.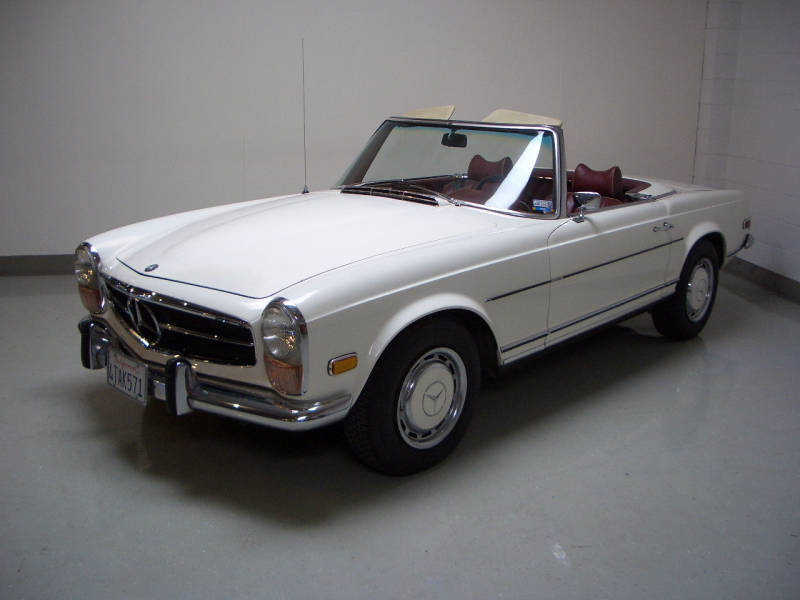 More 280SL content: Client Restorations Mercedes Page Main Page
I bought this car to recondition into one of the world-class cars that we are known for but client restorations get priority over my cars and rather than have it sit in line for over a year I am offering it now in its natural state.
It will be great for an enthusiast on a budget to drive basically "as is" or for a business or individual looking to improve and sell. Many private parties pick the wrong car to improve and sink thousands of dollars into a rusty hulk that will never be something a seasoned collector would purchase. I've already done your homework in selecting this straight, rust-free car with "good bones" and the original features make this car a "winner".
It is originally a silver/red car - the most asked for color combination. It was painted white some years ago and the great news is that they didn't change the dash or engine bay color so going back to silver is as easy as a new paint job. You can spend whatever you wish on a paint job depending upon what your end use goal is (Some folks would just shine it up and drive it as is ignoring the touch-ups & small blemishes). It has the desirable features such as: both tops, air-conditioning, power steering and is the final model year.
Mechanically, the engine was rebuilt at a Mercedes dealership for $9000 just 3000 miles ago (total miles showing now just 108,738).
We have NOT restored this car, it runs and drives fine but I recommend you should service it and install new tires.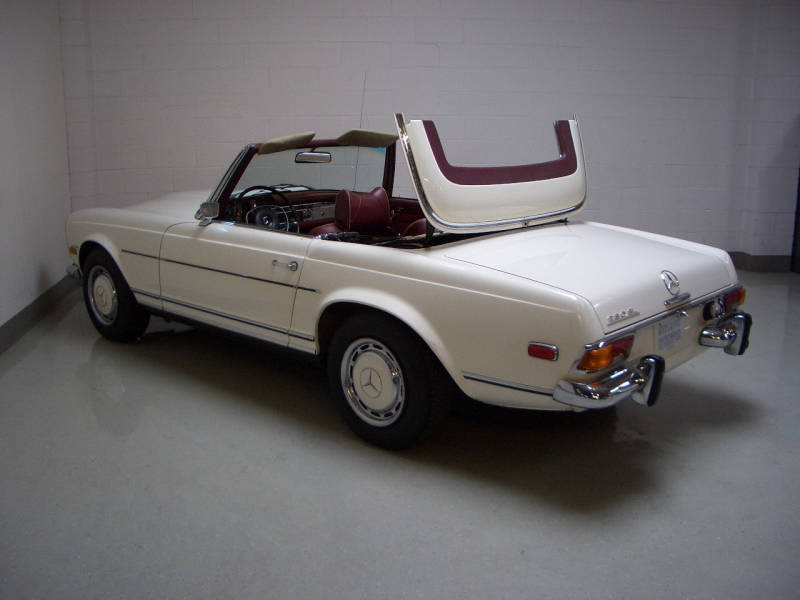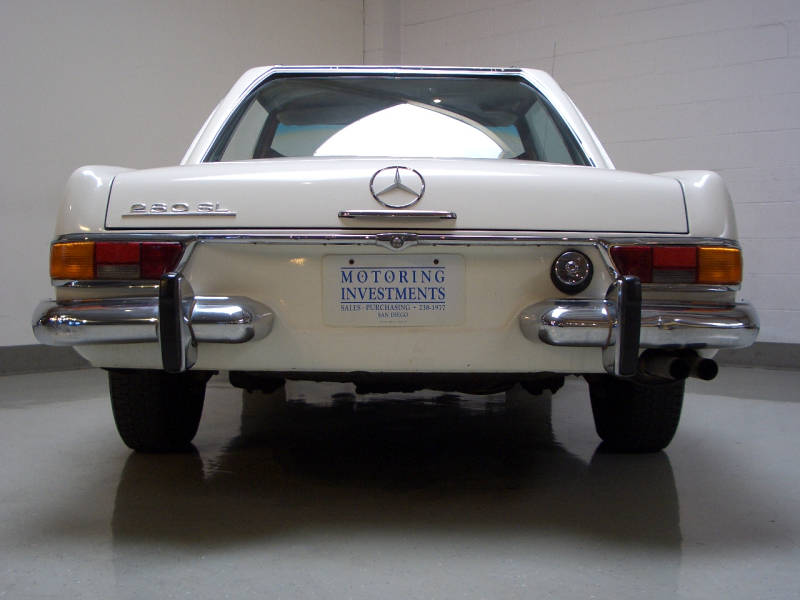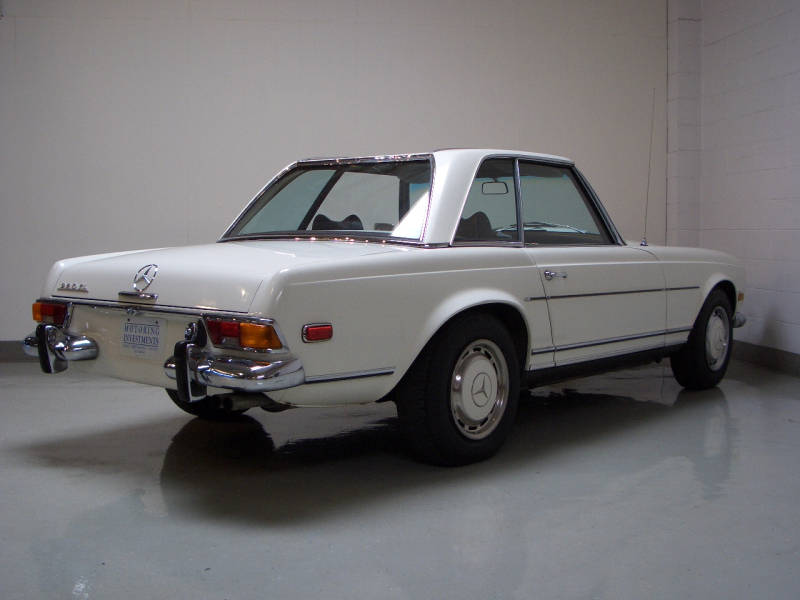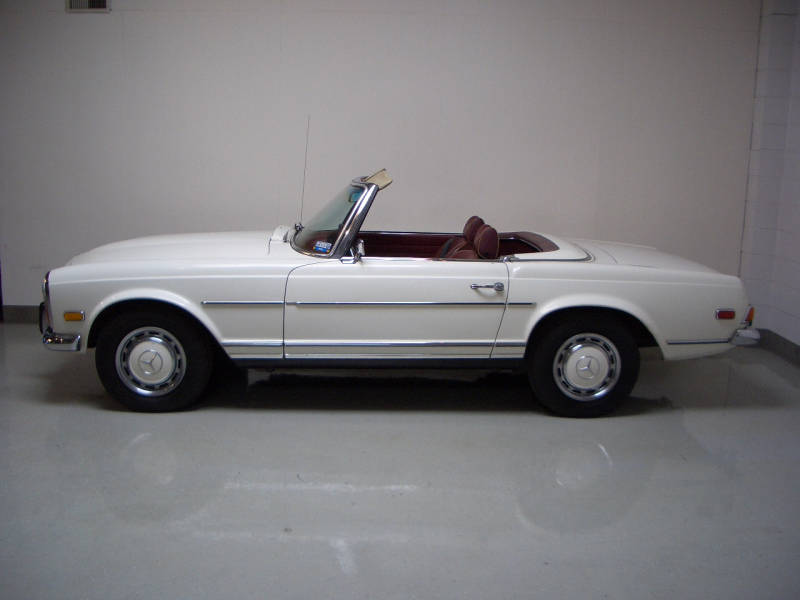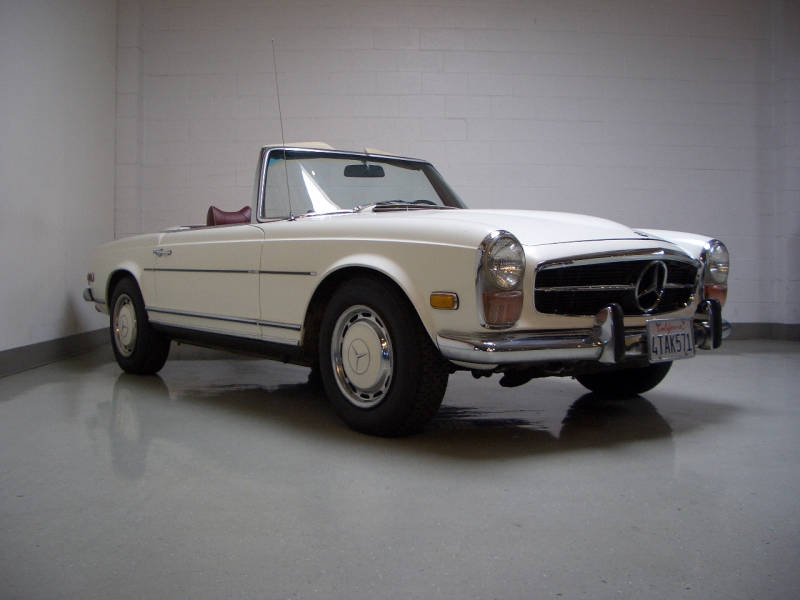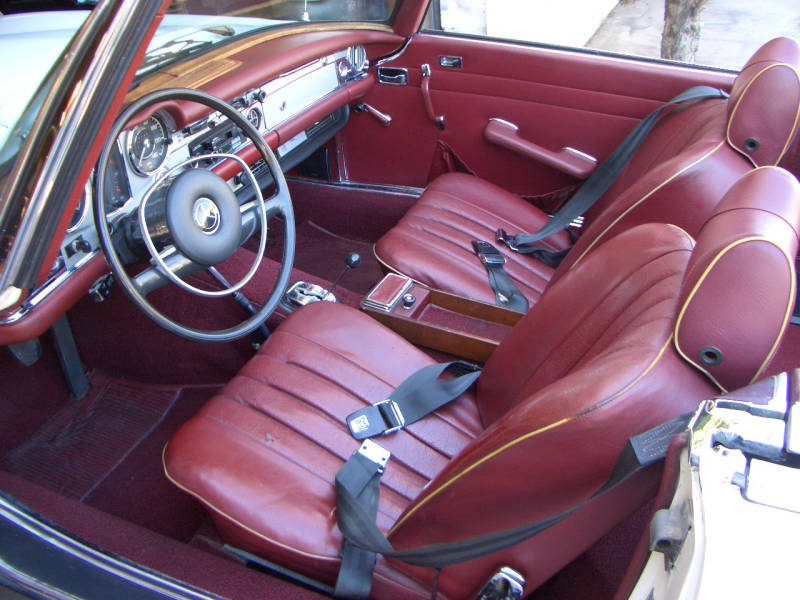 The usually broken heater levers are intact.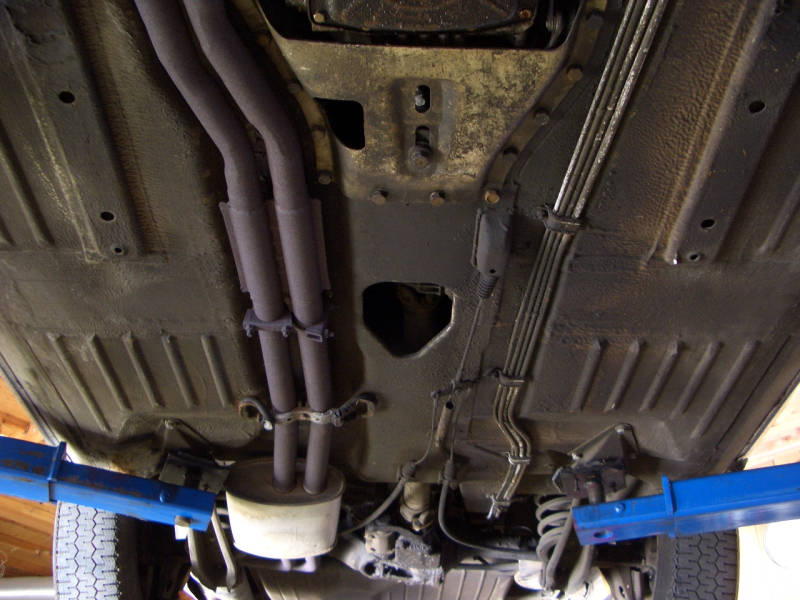 Here you see road dirt covering the factory undercoating. There are more photos like this below.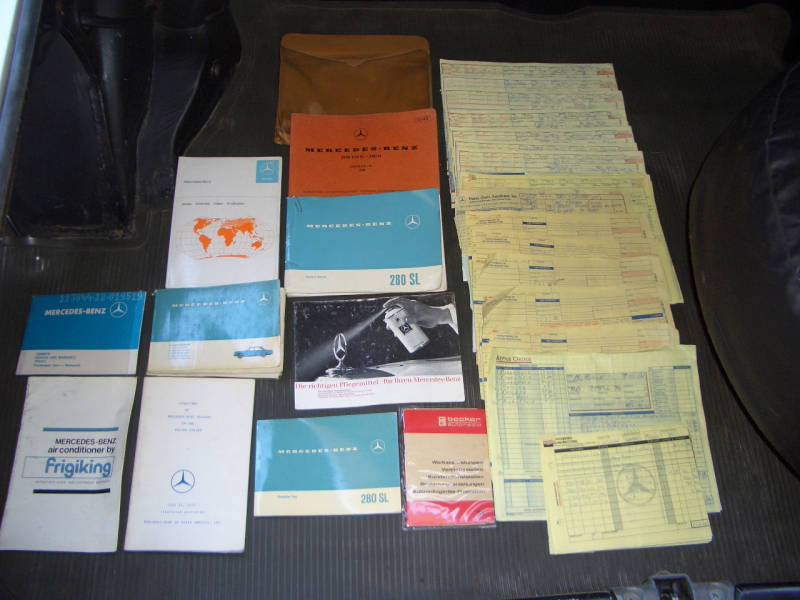 The service records show only 3000 miles on the $9000 rebuilt engine.
Click on a small photo below to see the large version then "back" on your browser to return here.

Note the original "Frigiking" A/C unit under the dash.
You can find a correct Becker Europa radio for $200 or so if you want correctness.



Map pockets just need new elastic stitched in.

Original soft-top instruction label in the boot box.

The area just ahead of the gas pedal on the heel pad has the part number. These are no longer available new and are usually long gone.

Body number stamp at the base of the hardtop.

Data plate under the hood on top of the left wheel well. Notice the last 4 digits on the bottom match the number in the photo to the left.

Further prove of the original carpeting: bonded-in black rubber shift surround. Replacement carpet doesn't have this.

Fender notches: Another now well known original feature.

Proof of original fenders: Factory spot-welds.

Original rear valence(area below the bumper), again - factory spot welds. Note: this is a commonly rusted & Bondo'd area.

Here is the most commonly rusted area on 280SL's. What do we find on this car? You guessed it - factory spot welds. And a tiny bit of surface corrosion.

By the way - ALL Pagoda's (230, 250 & 280SL's) aka W113 chassis cars should be black in the trunk.

Original labels on the trunk lid.

Note original firewall pad made of "unobtainium".

The engine bays on W113 cars are body color. Thankfully when this car was repainted the engine bay was left in its original #180 silver.
If you paint this car, do it in silver - it will pay you dividends on resale value down the road.

The last entry on this hand written maintenance log is for a rebuilt engine for nearly $9000. The actual invoices for all the work are included also.

Original factory soft-top never replaced - but needs to be - one can find them for $300 or so.

Old Michelins have great tread but the sidewalls are heavily cracked - replace them.

Note the factory spot-welds & chip-guard on the rear fenders.
There are probably more photos of the undercarriage here than you actually need but I want to be absolutely sure you understand that it is completely rust free.