This is an archival page. For current inventory please visit:
motoringinvestments.com
Mercedes page.
"Life is too short to drive a bad Pagoda."
Click here to view the restoration process of our cars or on "RESTORATIONS" at the left.

Our current Mercedes inventory is followed by recently sold cars.
Click HOME to get to the main page for full site functionality, site index & our contact info.
FREE! MOTORING INVESTMENTS' ONLINE 280SL BUYER'S GUIDE.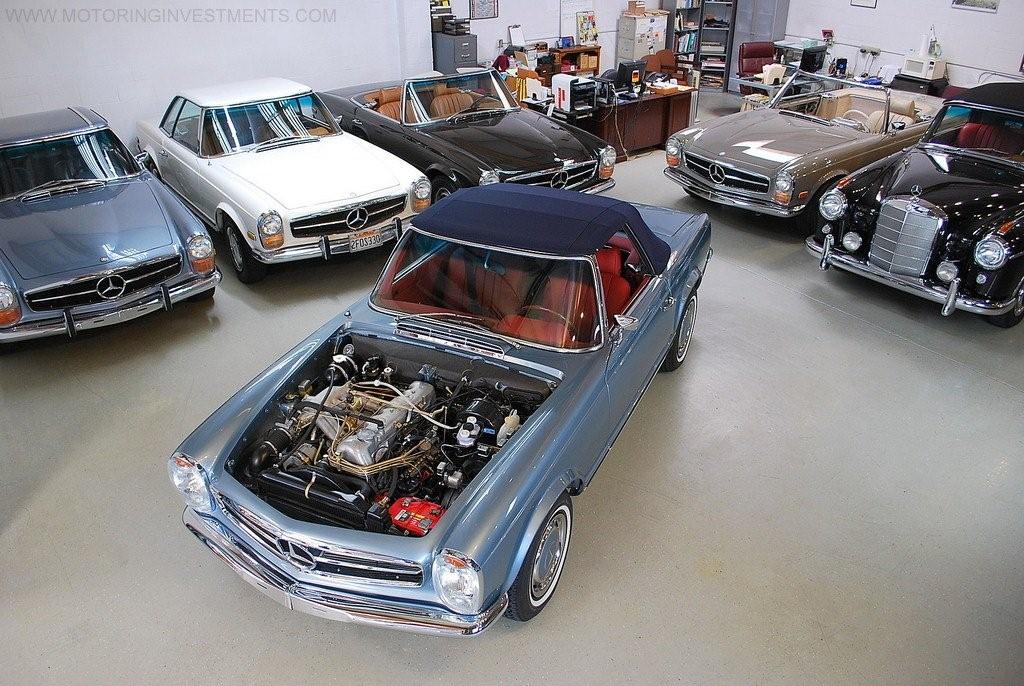 1969 280SL 4-spd manual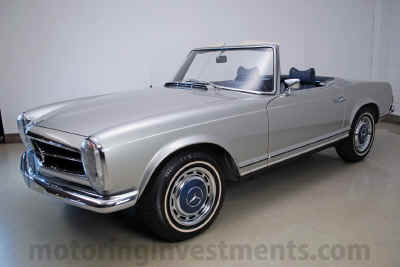 This Pagoda has been recently restored without regard to cost and has a number of trophies under her belt. More importantly, she runs and drives every bit as well as she looks!
Visit this car's Photo Page.
1967 230SL, California rust-free car SOLD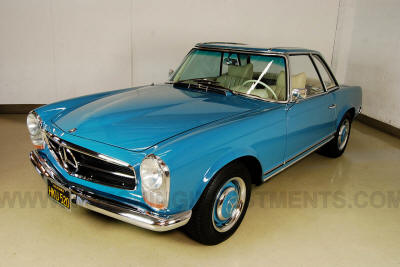 Authentic, investment quality Pagoda with provenance.
In the World War II era, women in the military were much more rare than today. When one considers a Japanese-American woman who had previously spent time in an internment camp then later joined The U.S. Army Nurse Corps and achieved the rank of Lieutenant Colonel, the word "rare" does not seem strong enough.
Our subject car was a showroom display car sold by Mercedes dealer European Motors LTD in San Francisco on Jan, 5, 1967 to Major Ruth Tanaka who served at that time at Letterman Hospital. The car stayed in the Tanaka family until 2004 when the second owner purchased it from their agent. A running restoration was started in 2006 with new paint, carpets, and leather. The second owner went to great lengths to obtain the most correct and authentic materials for this car. The carpet is the finer square-weave "Boucle" like the original which is not available through the usual channels here in the U.S. any longer. It was sourced and purchased in Germany together with leather.

Likewise, the original soft top fabric color, code #727 Verdeckstoff 132 weissgrau or light gray is rare and no longer supplied through normal channels. The special fabric on the car today was sourced from the original "Sonnenland" manufacturer, Rode & Schwalenberg in Mannheim, Germany and shipped here to be tailor-made into a proper and authentic soft top. The top was installed by one of San Diego's finest trim shops, Ocean Beach Upholstery in the spring of 2011.
The original books, manuals, records and restoration portfolio are included with the car which has been driven just over 100k miles since new. The fuel injection pump was rebuilt at Pacific Fuel Injection in May of 2014.
Major Tanaka received the National Defense Service Medal with oak leaf cluster, the Army Occupation Medal - Germany, Armed Forces Expeditionary Medal and the Army Commendation Medal. She devoted her life to her Army nursing career and also expressed her love of art, classical music and opera.
Possibly this love of art and the experience of order and precision in classical music drew her to the Mercedes Pagoda as well.
Chassis: 11304212017524
$99,500
Click the photo to go to the photo page
1984 380SL Two family survivor w/79k miles SOLD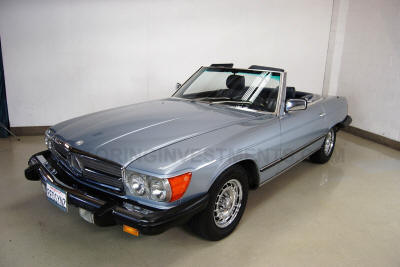 This is an all original preservation car from San Diego California. Even the paint, optional leather and spare tire are original!
Click the photo to see all of the photos.
She's been San Diego her whole life so rust has never been able to start and of course she's never been crashed.
$24,900
1958 300d - auto, a/c, radio phone - Significant world event car SOLD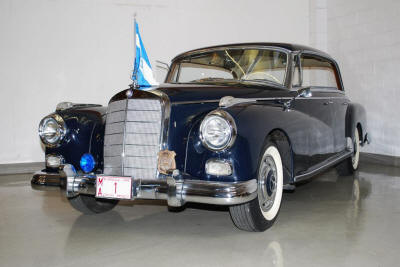 A historical treasure that belongs in your world-class Mercedes collection. All of the documentation seems to show that this was owned Nicaragua's first family. Documentation on the photo page (please satisfy yourself as to its authenticity).

<<Photos
1969 280SL restored SOLD THANK YOU Mr. G!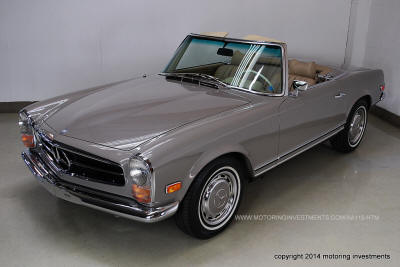 Gray-Beige over Beige, Auto, A/C, Hardtop & Soft top. Our full, insane Motoring Investments signature restoration (more like a remanufacture), all done in our workshops and fully photo documented! With out question, it is among the very best in the world.
<<Photos.
$305,000

Photo documentation of the restoration here (Then click "280SL, Grey-Beige" at the top of the table)

VIN: 11304412005669
1969 280SL, Fully Restored SOLD Thank you Alex!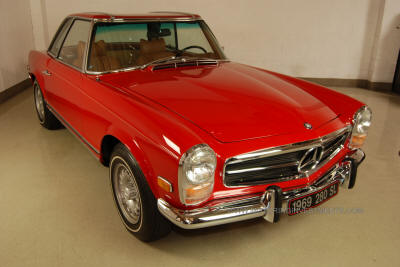 This Pagoda has had the benefit of a multiple year restoration. Virtually everything has been rebuilt. The work was done by multiple, national award winning Red Horse Restorations. Thus far only break-in miles have been logged.

All of the invoices are included plus a complete photo documentary binder of the restoration process.
Priced to sell at $120,000
<Click on the photo to go to the dedicated photo page
1969 280SL - The "Holy Grail" SOLD 11-29-2014
Survivor, Preservation Class, Extreme original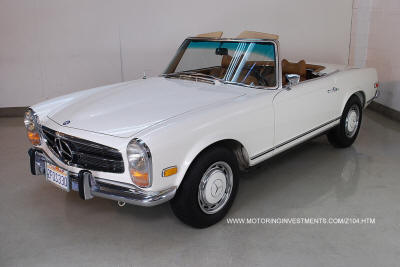 Visit the photo page and scroll down for what is essentially a 'Correctness Guide' for the 280SL
All numbers are matching: engine, transmission, paint, interior, body number et cetra. She even has original, documented numbers where no one typically looks (behind the door panels, glove box, seat backrest panels, headlight assemblies, et cetra. This all proves her originality beyond a shadow of a doubt. This is all photo documented.
She has all of the correct features that knowledgeable Pagode connoisseurs have come to demand such as headlight notches, factory spot welds on front fenders (and everywhere they should be).
More extreme originality markers: Original firewall pad (no longer available as a new replacement part), original "1969" date codes on some of the weather seals and date coded seatbelt labels (for even more, please visit the photo page).
Please go to the photo page for all of the details. $175,000
1972 350SL - SOLD 12-5-2014 Thank You Mr. H!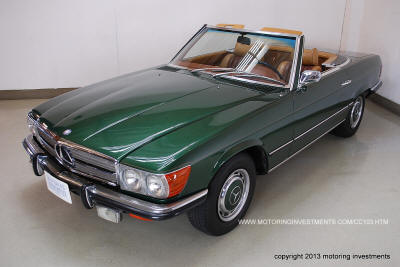 This Southern California car has been sympathetically reconditioned in our restoration shop with an eye to preserving originality, authenticity and performing preventative maintenance for reliable, turn-key motoring. Not just a pretty face; we have attended to the hidden functionality items bringing this car back to the standards which Daimler-Benz is famous for. When one realizes that this work consumed 275 labor hours it is easy to understand why most moderately priced cars on the market have what can politely be called hidden "Deferred Maintenance" issues. That $10,000 free-internet-ad-site car seems like a good "deal" and maybe it is, for the do-it-yourselfer or for someone who does not have high standards for driving and enjoying their "Classic".
Before one jumps to the conclusion that we took a tired car and "Fluffed 'n Buffed" it cosmetically, look for the BEFORE PHOTOS on the photo page just below the image of the list of all the work performed in our shop!
Seasoned collectors and enthusiasts understand the wisdom of buying the best; leaving the rest and watching their car appreciate far beyond lesser examples.
< Click image for the Photo Page
$39,500

1959 220S Cabriolet SOLD, Thank you Larry!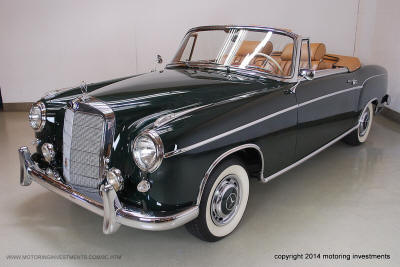 Fully restored between 1992 & 1994 with only 3852 show and maintenance miles since. This restoration totaled $152,000 and remember those are early 1990's dollars! Complete portfolio* included that documents and photo documents the restoration. She has four trophies under her belt so far!
<Click on the image to view all of the photos.

* Scroll all the way down to the bottom of the photo page for the link to the sample of what is in the Restoration Portfolio.

1958 190SL for restoration SOLD, Thank you Mr. M!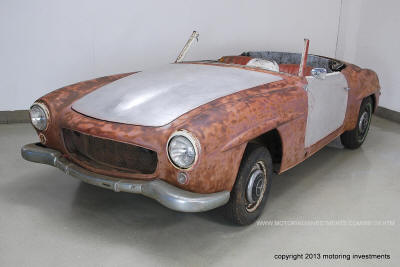 It is very rare to find a project car this straight and rust free. Of course it has surface corrosion which you can see in the photo and the usual perforations under the battery and on the floorboards but it is far less than on most "finds". All of the upper body-proper is perforation free and nearly laser straight with wonderful shut lines (gaps). It is a California "black plate" car harvested right here in San Diego after sitting under a cover for years in super hot, dry and desert-like East county.
<Click on the image view all of the photos and see what all is included.
1972 350SL - 1 family, Californian, 72,025 miles SOLD, Thank you Stephen!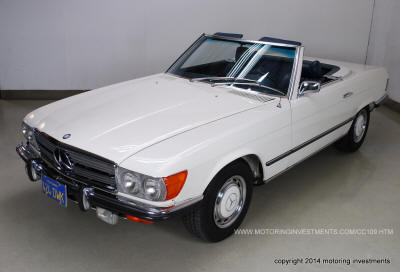 We purchased this very early R107 SL towards the end of 2013 and have worked at bringing it to the state you see in the photos in between our client restoration work. We have taken care to preserve all of the authentic originality it possesses while performing preventative maintenance in order to assure our eventual client a top experience similar to what one would have expected from purchasing a new Mercedes back in 1972. Much of this work involved items that escape original long term owners since the cars age gracefully and subtly and a gradual decline in "newness" is not noticed. Much of this work is hidden thus usually not performed by purely sales organizations (especially since it cost us 249 labor hours). Being primarily a restoration shop we approach things differently. Our clients tend to be seasoned collectors and experienced enthusiasts who expect a car to behave the way the factory intended "back in the day". The level to which we turn out our product will not be for everyone as it takes an experienced eye and feel to discern the difference between two shiny examples on the computer monitor. In our vintage car experience it sometimes takes the purchase of several cars which seem like a "good deal" to understand the difference between cost and value. Only the very best (either restored or original) examples will appreciate at the front of the market. This is one reason why we skip the rusty or the "used up" cars.
She still retains her original dash, upholstery, carpets, soft top and incredibly most of her paint seems original as well!
Over the past few weeks I've reviewed every early "small bumper" 350/450SL currently in advertising and did not see a single other car that came close to this car in originality, authenticity or comprehensive and documented servicing (except our Moss Green car...).
$39,500 Click on the photo to go to the photo page.
1968 280SL "Holy Grail ll" SOLD 3-10-14 Thank You Bob G.!
an especially original, one owner California car
Now that six figure Pagodas have become common place this might be a good time to review what makes for a world-class car. Besides fully restored cars and "daily driver" cars, both of which have their own appeal, mostly original cars are in a class by themselves. Forty plus year old cars which have essentially "time traveled" to the present with most of their parts and finishes intact are quite rare, more rare than most people suspect. This is because it takes someone who has seen many, many examples of the same model to develop the ability to look at a car and determine what is original and what was redone albeit redone very, very well. Or, redone a very long time ago (just because paint is faded and falling off does not mean that it is original).
Documentation – No one wants to assume something while making an important decision. It helps to have objective proof. Service history, Registration slips from the early years, the Window sticker and original Owner's packet all help in this regard.
Known history – How many owners, each for how long and where? How was it cared for? Did it sleep inside at night? Was it driven as transportation "tool" or was it a cherished possession or reward to one's self for making good choices?
Presentation – Does it "look" and "feel" the part?
This particular example has it all.
We are proud to offer another benchmark of preservation and authenticity in the Pagoda world. This example is absolutely rust-free and without damage of any kind, fully matching numbers front to back and remains meticulously preserved and conserved in a manner rarely seen. All services are completely up to date and every feature and system is completely functional as if assembled yesterday.
The paint has been scrutinized by experts and had electronic measurements taken and incredibly, remains largely original.
She has remained with one owner her entire life and was garaged in Southern California where the climate is conducive to the preservation and longevity of original metal surfaces.
She even has original production numbers written where no one typically looks (behind the door panels, glove box, seat backrest panels, headlight assemblies, et cetra). This all proves her originality beyond a shadow of a doubt and is photo documented.
She has all of the correct features that knowledgeable Pagode connoisseurs have come to demand such as headlight notches and factory spot welds on the front inner fenders (and everywhere else they should be).
Some other extreme originality markers:
Extremely rare, never repainted trunk floor (even rare for California cars as they too can exhibit surface rust here).

She even came in with her original canvas top (since replaced of course)!

Original firewall pad

Trunk spare tire instruction card w/patina

"Metzeler" injection pump air hose (not available for 30 years).

Factory runs in the primer on the underside of the hood and trunk lid.
She has been driven a total of just 74,033 miles from new and drives exactly the way the engineers at Daimler Benz intended. Motoring Investments has attended to all mechanical and maintenance items. She is "turn-key" ready.
The complete owner's document package is included and is comprised of: operator's manual, parts catalogue, list of dealerships around the world, Becker Europa MU radio manual, Bosch suppliers list, Wisi antenna keys, warranty plate and booklet, road maps, original window sticker, Kangol three point restraint directions, original keys, alloy dealer key control tag, Becker welcome/thank you letter, Mercedes brochure, data card, original Certificate of Preparation for Delivery by selling dealer.
$145,000 Please click on the photo to go to the photo page.
1976 450SLC SOLD Feb. 2014, Thank You Hector!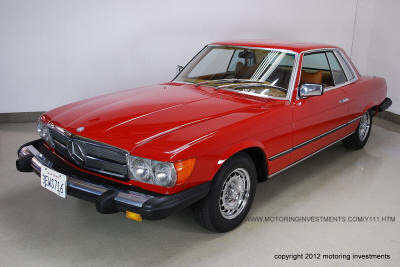 Brian's backup driver for the past three years is finally available! Maintained in our famous workshops. Cold A/C, runs and drives great (Brian is rather fussy). Seats are original leather and a bit tired but we run it with seat covers anyway for practicality. Turn the key and go, park it anywhere, no muss or fuss. These coupes have been becoming more popular the last few years.
VIN: ...012635

1969 280SL SOLD August 2013, Thank You Jose!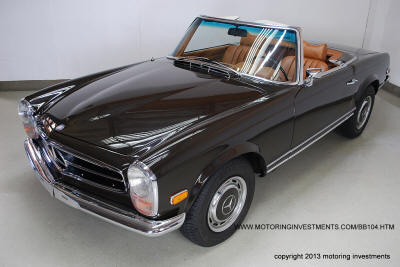 Here is the latest Pagoda "daily driver" to come out of our workshops fully fettled and "turn-key". She is a one family car which has spent most of her time in Hollywood and San Diego.
She features a totally original undercarriage, all of the "notches", factory spot welds and hundreds of factory originality markers such as all of the "dotology" assembly paint splotches. She even has some "extreme originality" under hood markers such as the Metzler hot air hose and her "unobtainium" original firewall pad.
<<Click on the image to enjoy all of the photos
$67,500
1958 220SE Cabriolet SOLD, Thank You Marvin!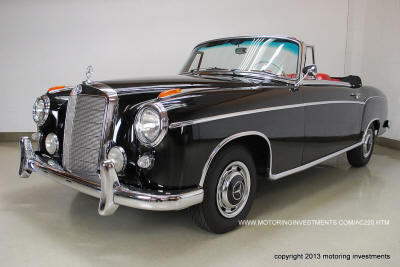 This rust-free California car is showing just 48,717 miles, is stunning in every way and drives outstandingly.
Note that this is the rare "SE" fuel injected model rather than the much more common carbureted "S" model.

1970 280SL SOLD, Thank You M.G. Hope you enjoy the tour!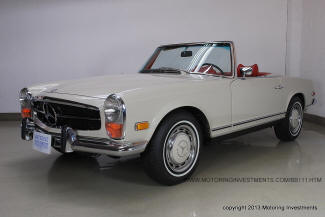 I've lost count of the number of advertisements I have seen for Pagodas listed as "low mileage" only to discover that the sellers have no real evidence. Further most of these cars prove on closer scrutiny to have had so much reconditioning as to cast further doubt on these claims. An example of this would be the question as to why a Mercedes that has been driven less than one hundred thousand miles require new upholstery and carpet. Some sellers may argue that time has simply taken its toll on the original materials that Mercedes was so careful to select in the first place. That is certainly possible however it simply does not hold in my experience. The "M-B Tex" that most Pagodas have for their upholstery material is about the highest quality, long lasting material that I have ever been exposed to. No, the great bulk of Pagoda cars have way over one hundred thousand miles on their chassis. This is not a terrible thing. The cars were engineered for it.
When a car is still contemporary and still in the hands of the original or maybe second owner, the rule of thumb is that average use runs about one hundred thousand miles per decade. This seems to drive home just how rare a genuine sub-one hundred thousand mile, four decade old car is. Once a car has become "classic", vintage or collectible this amount of use typically falls off but still, the number of four decades old cars still on their first trip around their five digit odometers has to be very small.
Giving benefit of the doubt, I imagine there are some genuine low mileage car which have suffered some sort of trauma to their soft parts which required their replacement. My imagination can run to Doberman's loose in the interior or a toddler with a penchant to Pollardesque painting technique let loose with an open can of enamel. Still, even with a legitimate reason for a re-trim, said example is trumped by a documented low mileage car still with all of its original bits intact.
I'm sure the majority of folks who are perpetuating a myth about a particular vintage car's provenance do it innocently or maybe out of ignorance; sort of like some people who use the term "leather" universally for any seat material which is not cloth.
If you are buying a vintage car represented as low mileage and original, demand objective evidence of same. Many sellers are perpetuating a falsehood that was told to them (or told to the owner before them).
That brings us (finally) to the example here. It is a two owner car which the second owner purchased from an Authorized Mercedes Service Point in La Jolla, California (Heinz Gietz Autohaus).
This is one of those rare vintage automobiles which still have all of their service records intact. We have not only the original Mercedes service booklet with all of the stamps in the appropriate places but also individual invoices. Not only that but the second owner who cared for the car kept hand written records of where he drove the car and how many miles on each trip!
The recorded service history which this car came with seems to indicate that the current reading of 37,515 miles is accurate. All of her upholstery and carpets are strictly original. The wood, chrome and soft top is original. Some of her paint is even original.
I've only seen one Pagoda more original than this one (it is listed above).
With servicing in our workshops she should be ready for tours, expeditions or just plain around town driving.
$126,000

1970 280SL - Always a California car! SOLD April 2013, Thank You Dr. Brown!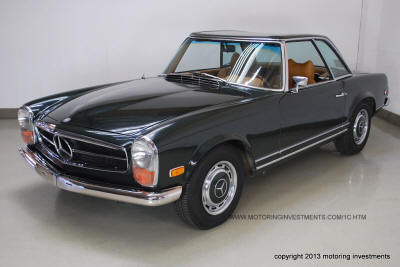 Finding a good running 280SL with a sound structure and a moderate price is a challenge but this car offers just that. She was sold new at the factory store in Hollywood, CA and has had just one San Diego owner since 1973. Absolutely solid, it would be fine as a daily driver or a fantastic basis for a show level restoration. This car does not have a fresh, shiny re-spray so expect some paint fade, dings and chippies here and there which she has accumulated over the last 20 or 30 years. The panel gaps are all nice and this car has great potential. On top of that we have just recently installed new upholstery and carpet.
Odometer reading on at time of writing: 45,660
VIN: 11304412018953
Color Code: 291 (Dark Olive)
Upholstery: Bamboo
Numbers: Matching
<<Click on the photo to view the photo page.
1972 350SL Fully Restored 1 family car SOLD 12/2012, Thank You Chris!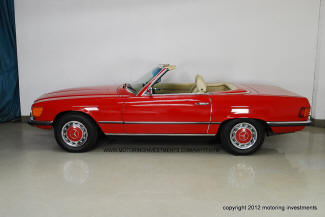 This one owner San Diego car has been expertly maintained and fully restored with $79,000 in receipts on file. It is the very first year of the R107 type SL's and one of only two years for small bumpers on legitimate U.S. spec cars. These are the most collectible and powerful model years before the ungainly bumpers were required and the full impact of the tightening emissions regulations came into force. This is a 230 HP specification car, built 12/1971 (the '73 cars had 215hp I believe). These are "bullet-proof" collector cars that you can drive and enjoy everyday if you choose.
27,500
1970 280SL 4 - speed manual, A/C - SOLD 12/2012, Thank You!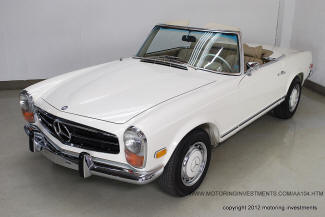 Just out of a year and a half complete nut & bolt restoration this essentially brand new Pagoda. It has only break-in & test miles. Please look at all the photos scrolling all the way down to the bottom on the photo page. Virtually every system has been rebuilt, renewed or replaced.
1970 280SL - auto SOLD 8-9-2012 Thank You Nigel!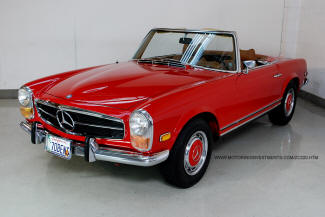 This is an original San Diego car that has never been rusted or crashed. We have lavished hour upon hour on her in a sympathetic reconditioning to assure that she meets world-class standards. This reconditioning is fully documented and totals over 661 workshop hours which would cost over $72,000. Add to that over $16,000 in chrome, upholstery, parts and you have what it costs to bring what was a very, very nice car to begin with to this standard.
Books, tools and even the original Phoenix Firestone spare tire are still in place in the trunk!
1958 220S Ponton - SOLD April 2012 Thanks Gordon!
One hundred thousand dollar plus restoration by a top Pebble Beach Concours de Elegance "best of class" winning Mercedes specialist shops.
Follow up from our buyer: "Hi Brian,
Thank-you very much for all the extreme effort you put into the preparation of my Mercedes and the final delivery. The car was exactly as described by yourself and very fairly priced considering the condition of the car.
As a matter of interest, the appraisal company refers to the car's condition as ``concourse`.
I cannot remember a previous business transaction that impressed me more.
My very best regards, Gordon "

1971 280SL - SOLD 4-16-2012, Thanks John!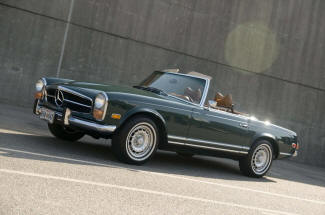 I have the distinct pleasure to represent an exceptionally restored example of a true 1971 280 SL( built Jan. 1971 ). This vehicle, 113-044-12-23247, is a proper restoration that was done at enormous expense by the esteemed Hatch & Sons of Wayland, MA, as well as $15K in interior leather re-trimming and soft top work from Gernold Nisius of SL Tech. Clearly, previous owners sought out only the most respected Mercedes craftsmen to care for this vehicle and it shows. It's also important to note that this is a fully documented, low-mileage (66K) Pagoda. As such, it retains rare features like its original cognac multi-loop carpet.
The paint is a flawless #268 dark green (original color) that could only be described as exhibiting the "depth" that distinguishes expensive paint work. Panel fit is perfect and as-new, including the chrome grill. Sides are absolutely flat and ripple-free. Every telltale sign of originality is preserved throughout the body — spot welds, notches, body numbers, engine number, everything. Chrome work is fresh throughout, as is a full, recent cognac leather interior. The seats, door panels, dashboard, A-pillars, and even the glove box are all wrapped or lined in cognac leather.
As you would expect, you'll find the trunk finished in satin black throughout with all the original factory mats and interior wall trim. You'll also see its original Firestone Phoenix spare tire, as well as an original cognac MB-Tex toolkit that's complete right down to the rare factory fuse pliers.
A true Coupe/Roadster, this Pagoda comes equipped with its original matching hard top (with optional roof garnishing), as well as a new, flawless, dark brown soft top that fits it like the proverbial glove. The soft top frame itself is straight and operates exactly as it should. (The rear window retains its tension when pulled up and does not flop down as so many do today after almost 40 years of use.)
Mechanically, this Pagoda is equally impressive. It drives exactly as the factory intended with strong acceleration and absolutely no smoke or undue valve clatter. It sports a fresh suspension and original floors that have undercoating applied exactly as it looked when it left the factory.
All in all, this is a pedigreed, no-excuses, true 1971 280SL that is worthy of a world-class collection. It comes with references, extensive paperwork, and even a detailed log of its Hatch & Sons restoration. It can be driven and enjoyed today and needs absolutely nothing except an owner who can appreciate its distinct integrity throughout.

Photo Page

1986 560SL - SOLD 3-30-2012, Thanks Nino!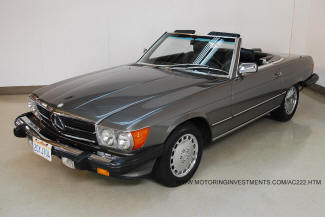 The R107 series is the next SL group that is becoming collectible. Enthusiasts will be polarized into two groups: those who prefer the early first series "pure" cars (1972 and 1973 small bumper cars) and those who appreciate the last series with all of their improvements and amenities (the 560SL). Which ever group you fall into it is advised to purchase a low mile, very original car in order to enjoy future price appreciation. These low mile cars without modifications will lead the pack. The 560 series compared to the 450 has an aluminum block (light weight), "muscle car-like" low end torque, Anti-lock brakes and an airbag. Other features found on 560s and usually lacking on the first series cars is cruise control, climate control, standard leather, better rust proofing and much more.
This is a two California owner 63,000 mile "time-machine car" (sometimes called "survivors") Never crashed, it still show original paint, soft top, leather interior, spare tire, etc. All books, tools and manuals are included. What else sets it apart from the sea of cheap, average cars? Most have well over 100k miles, cheap plastic dash covers, aftermarket radios, hideous aftermarket wheels, cheap re-paints and dubious service history.
<<<<CLICK ON THE PHOTO TO THE LEFT FOR MANY MORE PHOTOS. $22,500

1970 280SL - SOLD 2-15-2012 Thanks Richard!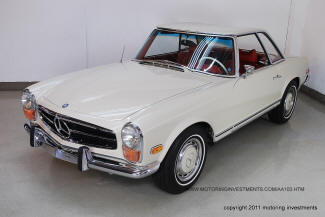 This 1970 280SL has had a full Motoring Investments engine rebuild and major reconditioning in our workshops. This is a great rust free example of a late series car with A/C, Auto trans, both tops and full leather upholstery. Also featured prominently is the original Becker Europa AM/FM radio, power: steering, antenna and disc brakes.
This car has survived the past 42 years with all of its original sheet metal and shows the body number stampings, headlight notches and factory spot-welds in all of the right places from the original manufacturing process.
Fully fettled in our shop this car is turn-key and could easily be used as a daily driver, a tour car, a weekend pleasure car, a local show car or as part of your investment portfolio. Many experts have pointed out that collector cars have outpaced conventional investments lately by a large margin.
< Click on the photo to visit this car's photo page. Priced at $62,500

1971 280SL - SOLD 2012 Thank you!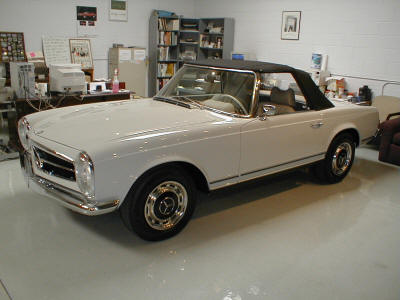 Just listed from the collection of one of my clients: This is one of the famous cars from these pages that was restored in painstaking detail in our workshops and photo documented. If you click on "client restorations" in the left pane of the screen you will find it there also. White-gray (#158) with Black tops and light gray leather. Equipment includes: air-conditioning, auto-shift, power steering, power disc brakes, modern fully retractable Mercedes three point seat-belts and a Becker Europa Stereo with special hidden MP3 cable. Driven approximately 2200 miles since completion, this show winner has earned four trophies to date - one for every show it's been entered in.

Photo Pages: Exterior Interior Engine
Photo Documentation of the restoration: 1 2 3 4 5 6 7

1971 280SL - 4-spd, leather - SOLD 12-28-2011 Thanks Pete!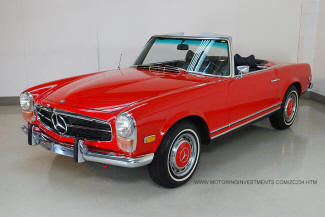 Very nice San Diego, California car that has been very well maintained with the service records to prove it. Never rusted or crashed, both tops, beautiful leather upholstery and a manual transmission make this a wonderful Pagoda to enjoy now.
$54,900
1967 250SL - auto - Great Daily Driver - SOLD July 25, 2011 Thanks Dr. Rose!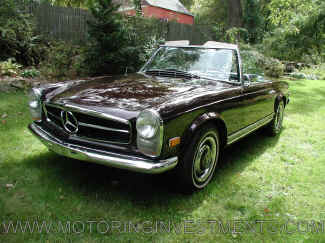 There were fewer than 5,200 250SLs built, so this is an opportunity to own the rarest of the Pagodas. This is a very handsome 2-owner late- model 250SL finished in dark red with a black Tex interior and fitted with a 4-speed automatic transmission. Like all late-model 250SLs, it is very close to a 280SL in appearance, with the exception of the OEM two-piece wheel covers. Panel fit, paint and overall appearance are all very good. As a testament to its low original miles, the interior is mostly original excepting the carpet which is a recent high-quality wool square weave. The original owner (heir to the Bendix fortune) drove this car in Oregon and southern California, so the body is quite good. We still have the original metal warranty plate with her name on it. The trunk contains the original spare tire and even its original factory literature, right down to the Blaupunkt brochure and the rare spare tire hang tag. This 250SL is a coupe/roadster, so it comes with its original hardtop (also dark red) as well as a fresh new German soft top. This car left the estate of the original owner in Pasadena, CA in 1990 with only 54,000 miles on it. Total miles today are just 64,100.

Recent work includes:
· Paint
· Carpet
· Rebuilt engine with 200 miles on it
· New soft top
· New dash levers
· New brakes
· New exhaust, alternator, voltage regulator, battery and spark plugs
· New hoses, belts, tie-rods many other maintenance items.
1968 280SL 4-spd manual, limited slip differential, extreme original - SOLD April 2011 Thanks Robert!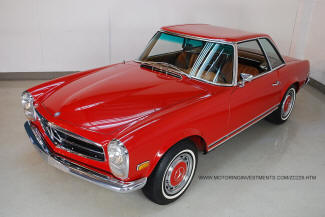 This almost unbelievably original Pagoda has complete documentation and appears to be 99% original paint!
The original owner kept every bit of paperwork and correspondence from day one, including, the letters to Daimler-Benz that he sent from his amphibious squadron while off of the coast in South Viet-Nam in 1967.

What has been done since the original owner's stewardship? The original soft top had been in the folded position for so long that it needed to be replaced. Just recently, the seat pads and covers were replaced. The rest of the interior, remarkably is 100% original! Fully serviced in our award winning workshop.

I hope you enjoy the letters that were sent back and forth from the original owner to Daimler-Benz. They shed some interesting light on what it was like ordering a new Mercedes back in 1968. The scans of these original documents are midway down the photo page and represent about 1/4 of the original paperwork with this 280SL. It is very interesting how Daimler-Benz "held his hand" through the ordering process. They discussed air-conditioning with Lane, the rear child seat, the change in his original color choice and even discouraged him from buying a 5-speed!

MB also sent Lane all of the hardware and rear upholstered pieces so that if he removed the third seat, he could convert it into a two-seater with the proper pieces.
Lane also kept every factory brochure, instruction manual and more. He even received a letter from the IRS asking him for import tax money!
1970 280SL - auto, 54,669 actual miles, super original car - SOLD April 2011 Thank You!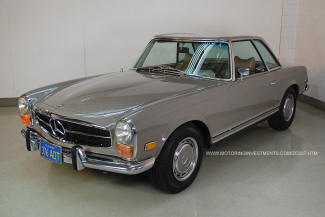 This car could be the template for what all Pagodas aspire to or should be. Examining this car up close would give the viewer a perfect lesson in originality and correctness for the model. Cars this strictly original, correct, well equipped, mechanically sound, rust-free and in a stunning, rare color combination come along once in a lifetime. Just one easy driving female owner from Pasadena, California - still on its original "pink slip". 100% matching numbers, color codes, headlight notches, factory spot-welds - everything. Incredibly, mostly original paint! Includes all of the books, records, tool kit and original spare tire. This car is one of the models for our evolving "280SL Buyer's Guide". One of the best in the world. You be the judge!
1971 280SL - 4-spd, A/C - Outstanding Daily Driver SOLD March 31, 2011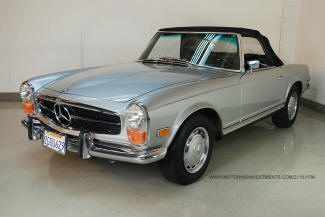 This local San Diego, California car belonged to the owner of an independent Mercedes Specialty Garage who sold it to the last owner on 3-25-1987. Service records from this owner go back to 2-18-1988. In 1998 a minor restoration was done by the Pebble Beach winning firm - Alan C. Taylor Design Engineering. (check them out here: http://alantaylorcompany.com). There is an appraisal on file showing an average of 9 out of 10 points for all aspects of the car on Dec. 27, 2000 by John Analla; Senior Member, American Society of Appraisers. Older records seem to indicate the Engine was Rebuilt in Sept. of 1982 @ 49,000 miles and the transmission was factory rebuilt in June of 1980 @ 32,320 miles. A valve job was completed in 12/2000.

1956 190SL SOLD - January 2011, Thanks Rick!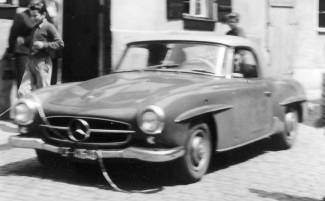 Graphite Gray over red leather interior with a silver hardtop and black soft top (the way it came from the factory). Just restored with the mechanicals all rebuilt. Straight as an arrow, beautiful chrome, new leather and canvas top. It looks and drives outstanding! We have the full history and all of the service records.

1971 280SL silver 4-spd SOLD 1-25-2011 Thanks Nigel!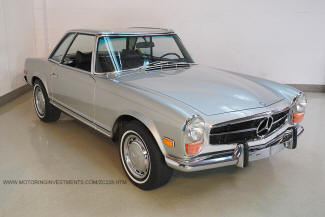 Only several hundred late series (built in 1971) models were made for the U.S. with manual transmission making them one of the rarest variants of the line. This is one of them and happens to also be in the most sought after color, #180 silver. This is a well documented rust-free car with all factory owner's books, tool pouch, top tool pouch, original body panels, headlight notches and all matching numbers. In addition it comes with $40,000 worth of maintenance and restoration receipts from over that last 20 years. As always, undercarriage photos are on the photo page. If you've been waiting for us to have a silver stick shift, this one is hard to beat!
$59,975 Photos
1972 280SEL - auto, a/c SOLD 1-26-2011 Thanks Roderick!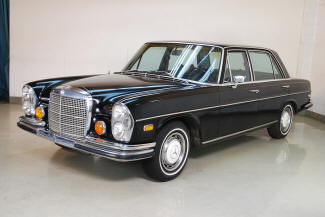 Here is a project you can drive while you "fix up". It has great potential. Read more about it on the photo page!
$5000
1973 450SL - auto, a/c SOLD 12-17-2010 Thanks Robert!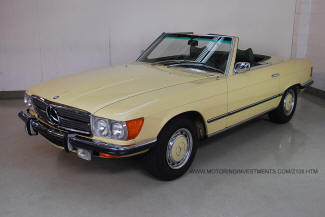 Click on the photo to read the full write-up on the car's photo page.
$32,900

1969 280SL 4-spd, a/c, 3rd seat SOLD September 2010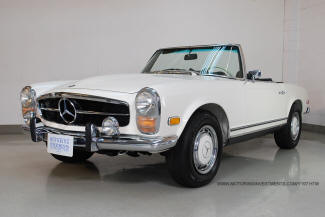 One our world-class "signature cars". This car features its original engine rebuilt/balanced and detailed in our famous workshops with just 200 break-in miles since. A local San Diego rust-free car in its original colors. Its original Phoenix Firestone spare tire is still in the trunk! The photo page shows a huge amount of detail on this car and gives a free lesson on what these cars are supposed to look like. All original body panels and matching numbers.
$57,500

1969 280SL - auto, a/c SOLD July 12, 2010 Thanks Gae Ha!
Twenty-one thousand dollars recently spent on fresh mechanicals (cylinder head, brakes, differential and A/C rebuild) and new leather. It has the taller differential update for relaxed freeway cruising - a great driver! A rust free car of course!

1971 280SL - auto SOLD May 2010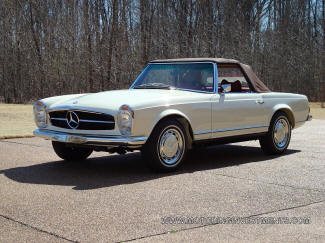 Beautiful 1971 280SL featured on the cover of the July/August 2009 Star magazine. Owned, restored, meticulously maintained by a Mercedes enthusiast who is VP of his local MBCA Memphis Section, and also a VP & Board member of the international W113 Pagoda SL Group.
Since being purchased in 2004, this W113 has had virtually every part replaced or refurbished. Most of the parts replaced were still functional, and were simply replaced to enhance the beauty of the car as it was being restored.
During the rotisserie restoration, once all of the paint was removed and the bare metal exposed, it was obvious that this car came from California. It was a solid, rust-free example. Only a slight amount of surface rust was exposed on the trunk floor, a common place for moisture to form.
Everything works as it should, including the original clock (it does run a few minutes slow in the winter time).
This car is the cover car for the July/August 2009 issue of The Star which is the magazine of the Mercedes-Benz Club of America. Inside there is an article dedicated to the restoration of this same car. Read the article here: http://www.mbca.org/pages/star/articles/TheStar_0709.pdf $102,000
1968 280SL - auto, a/c - SOLD May 2010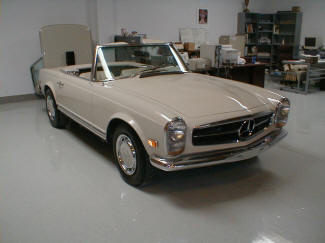 This car has 41,885 original miles and is a documented two family, California car. I bought this car from the 70 year old son of the original owner. Air conditioning, automatic, original tool roll with the original spare tire still in the trunk! (new Michelins on the ground). Complete stainless steel exhaust system front to back. Factory color #158 White-Gray with Cream leather.
Exterior photos Interior photos Engine photos



1971 280SL - SOLD Thank you Camino!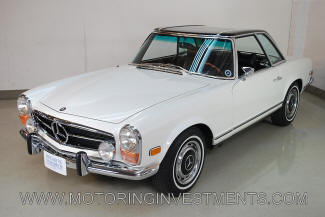 This is an original 66,000 mile car was originally delivered to Sheppard Motors in historic Oak Park Illinois where it was then sold to a prominent Dr. for his wife in May of 1971. She lovingly kept the car until her death in the late 80s. Her husband then sold the car to his friend a collector who at the time had over 200 cars in a large, heated warehouse on his property that he referred to as The Toy Chest! He pampered the vehicle until he sold it to the 3rd owner in late 2007. In July of 2009 the car was entered in the Lake Forest Classic Car Show which is the oldest continuously held classic car show in the U.S. The car was awarded 1st place in it's class. This car has always been pampered and whatever has been needed has been provided. The Becker stereo was rebuilt by a tech who worked for Becker in Germany in the 50s and 60s and has a I pod connecter hidden under dash.
1969 280SL SOLD February 2010 Thank You Reg!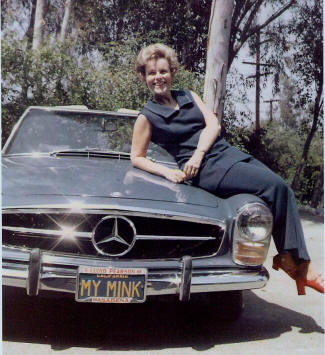 This very original one owner car would be the perfect candidate for a high level restoration to perfection or drive and enjoy in its natural, original state.
903 Blue, Auto, A/C
Watch the progress of this car's restoration!
1956 190SL SOLD January 2010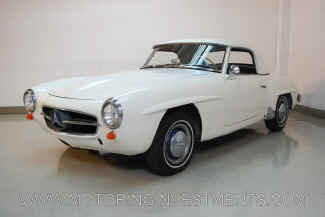 Estate sale car just in! Runs and drives great. Matching #'s engine & body panels. More information on the photo page.

1967 250SL - 4 speed manual SOLD January 2010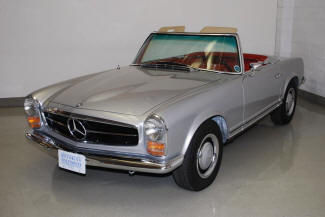 Originally from the warm, mild Mediterranean area of Italy. Silver w/red leather upholstery. More info on the photo page.

$54,000 Photos




1969 280SL - auto SOLD Dec. 17th Thank You Marcus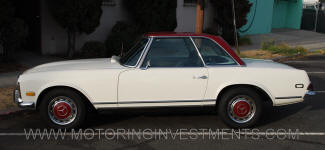 An original San Diego car with all of the correct features. Note, this one sold before we had even finished it or gotten photos up.
$42,500
1971 280SL - SOLD Nov. 2009 Thank You William!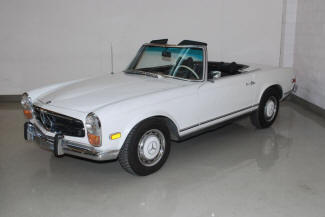 Owned by the same family since the mid-eighties.
Un-restored, drive as-is or hire us to build your "dream" car.

Photos

1969 280SL - SOLD Nov. 2009 Thank You Ron!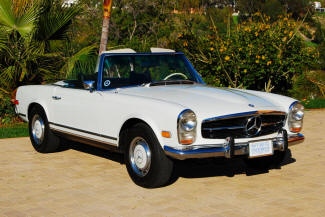 One California owner with a mechanical engineering background, $40,000 in new parts and restoration. Never rusted, all correct body number stamps, hard top and brand new soft top!
$42,500 Photos
1970 280SL - auto SOLD Sept. 2009 Thanks Larry!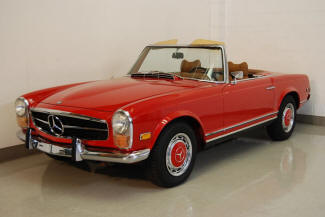 Local San Diego, California car. We started with a never hit, never rusted well cared for car and brought it to world-class standards. If only the best will do - this is it!

We can restore your car to this level, however it is actually less costly to purchase one of our turn-key cars!

Photos


Comparable to #46 & #48 below.



#61 1970 280SL - auto, a/c SOLD Aug. 2009 Thanks David!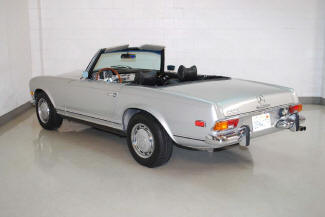 One owner San Diego car with only 65k actual miles! Fully serviced in our workshop & driven by Brian weekly. This is a "Time-Machine" original car that looks fabulous and drives the same way.

All of the body number stamps
Factory spot welds
Matching number engine
Original factory undercoating
Original color code # 180 Silver
100% original interior upholstery
Original fire wall pad
Never re-painted trunk floor
Original spare tire still in the trunk
"Frigiking" air-conditioner, all the tools & books. $39,900 Photos Compare this to #56 below

#60 1971 280SL - SOLD May '09 Thanks Andy!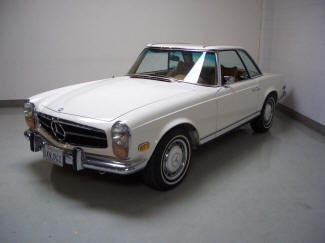 One of our signature cars and it has everything - California history, complete service file and rebuilt mechanicals. We located an original well kept local car and then lavished hour upon hour on it in a sympathetic restoration in our award winning shop (this took over 1 year). The original Phoenix Firestone is still in the trunk! Built in 1971, this is a very late production car, actually number 23,198 of 23,885 280SLs built.
Photos




#59 1969 280SL - 4 speed manual SOLD May '09, Thanks Ray!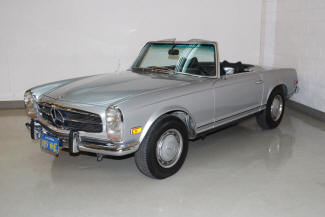 California car, #180 silver with black leather interior, both tops, rebuilt engine, same owners for 25 years, "birth certificate" from Mercedes, wonderfully original undercarriage, service record, owner's books, manuals, tool kit & the original spare tire is still in the trunk!
More details on the photo page. $43,575 Photos



#58 1986 560SL SOLD March '09 Thanks Paul!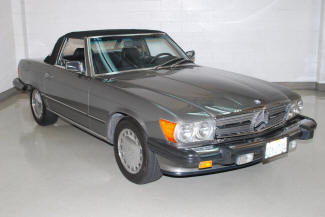 One owner, 59,000 actual miles, all books, manuals and records included.
#57 1986 560SL SOLD March '09 Thanks Joe!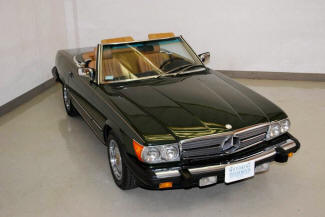 A survivor with original paint! I've never seen this color before. It is #822 Forest Green and looks great with Palomino leather. Just in from one of our clients. Service history back to '86 is included. Only 120k miles.
$10,900



#56 1971 280SL SOLD Sept. '08, Thanks S.!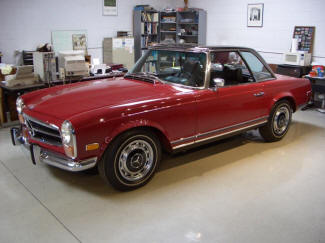 Just in from one of my top collector clients who is shuffling his collection (he recently sold Carroll Shelby's first race car.)

38,128 actual miles!

Auto trans, Air-Conditioning, Becker radio
Super original "time-machine" Pagoda
$75,000
#55 1969 280SL 4-spd manual SOLD August 13, 2008 Thanks Dirk!
Hard to find 280 with manual trans, a/c & power steering; also, one of the somewhat rare dual color code cars.

$49,500
#54 1958 190SL SOLD June 6th '08 Thanks Bassam!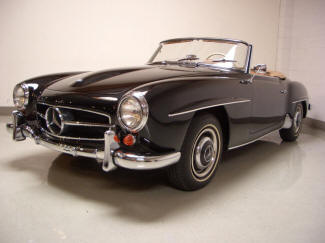 Restored California car. Registered with a newer license plate but the old California Black Plate is included. Rust free and straight as an arrow. Service records included. Black w/tan seats, black carpet & tan soft top.
$69,500
#53 1971 280SL SOLD April '08 Thanks Brent!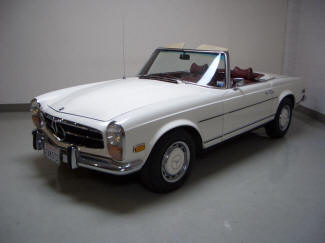 For the insightful shopper as it has all of the important details but needs restoration.
Click its photo page for all of the details.




#52 1972 250C SOLD April '08 Thanks Juan!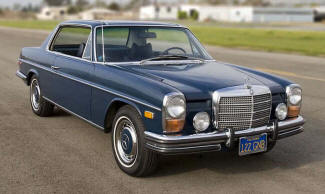 A one owner 39,900 actual mile time machine
Never in the rain!

$26,000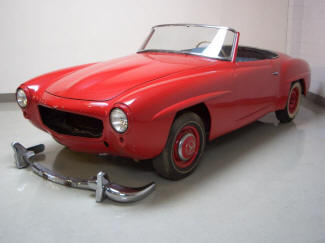 #50 1963 190c SOLD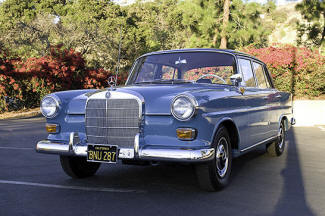 A nut & bolt, professional, cost-is-no-object restoration on a rust free, California, black plate car.

The comprehensive restoration took several years during which time all of the mechanical components were rebuilt including the engine, transmission and differential. Mercedes-Benz had one new dashboard left in stock after all these years and it is now in this car.

It takes between 1000 and 1500 hours to restore a car to this level. While there are plenty of convertibles that have a had six figure restorations like this I can't imagine that there are more than a handful of sedans worldwide that could equal this car. It even has a set of correct brand new NOS Michelin 7.25 R 13 tires. Maybe this is indeed the very best 190c Heckflosse in the world.

This car runs, drives and feels like a new car. Everything functions as Mercedes intended, even the clock!
$39,500 Photos
#49 1956 300C Cabriolet (convertible d) SOLD Dec. '07 Thanks Steinar!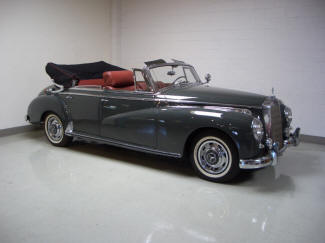 A very original survivor; one of only 51 300C's produced.
Click on the photo for more.
#47 1971 280SL SOLD July '07 Thanks Dean!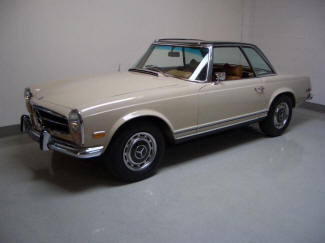 Solid California car, both tops, receipts for much service and rebuilding over the last 10 years and 10k miles including engine, cooling system, brakes, driveline, suspension and steering. Light Beige w/ new Cognac leather. Very nice driver. Main Photos Undercarriage Photos
#46 1971 280SL SOLD 4/27/07 Thanks Alex!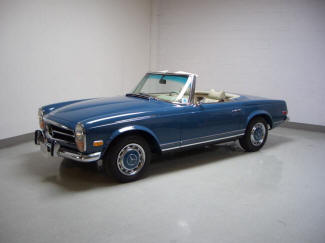 Comprehensive restoration in 1996. This would cost well over $200,000 today. Current owner just spent nearly $21,000 in our shop for a 200 hour freshening. Drives as good as it looks. All books, manuals, tools, service history, restoration log and photo documentary included. Selling for less than one half the cost of restoring one today:
$105,000 Photo Page
Note from buyer: "Hi Brian, Today I received the car *(finally...) with many thanks. It is simply
outstanding, especially the undercarriage. I think you cannot duplicate for
the money! Thank you once more for your excellent cooperation."
*(shipped to Greece)
Update: This car just sold again (Summer '09) for $109,258!


#45 1971 280SL SOLD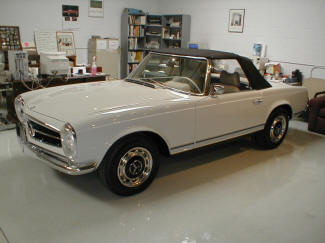 This car is the subject of our well documented restoration on these pages. It was done for our client who has had his fun, won his trophies and is now moving his collection in another direction. With limited garage space it is time for someone else to fulfill their automotive desires. There are seven pages of restoration details and many of your questions will be answered there. We started with an all original never-crashed, never rusted, numbers matching California car. This car has won numerous trophies and awards which you can see on the "Trophies Page". It was a joy restoring this magnificent piece of German engineering for our client who has become my good friend through this process. It will give me the same feeling of satisfaction helping the next enthusiast turn a desire into reality. Beautiful but made to be driven, our client drove this car one or two days a week and on several trips to shows and car meets for a total of approximately 2000 dry miles. The purchase includes a nice CoverCraft FormFit cover, a top of the line EZ Top electric hard top lift, all documentation, tools, books, original window sticker, etc. It is a very, very complete package that is unlikely to be matched for quite sometime. It is the only car to be featured twice on the German Pagoda Club's 2007 calendar (August and November).
We can restore your car to this level to your own unique specification or you can acquire this car for about one half that cost.
The Restoration Pages 1 2 3 4 5 6 7 Completed Photos 1 2 3 Trophy Page
Please Note: Hundreds of people have thanked me for posting these restoration pages as many have used them as a sort of authenticity guide. The "hit" or view counters at the bottom of all of the above pages started as soon as each page was posted during the restoration process and in the case of the "Completed Photos" pages, when the car was finally completed in 2005.

#44 1971 280SL SOLD 3/21/07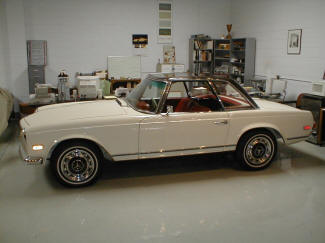 4-spd manual trans, 62,200 actual miles, Air-Conditioning, Becker radio

$59,500

Photo pages: One Two
#43 1972 350SL SOLD February '07

First of the 107 series cars - the desirable "small bumper" model. This is the most powerful of the 4.5 liter cars rated at SAE 230HP. It has been very well maintained; service records, manuals, tool kit and jack are all included. These cars are starting to see price movement - get yours before they're priced like a 280SL.
$14,900 Photo Page.

#42 1986 560SL SOLD

8715 actual miles - absolutely original and unblemished - riding on its original tires with no detectible wear. For all practical purposes this is a brand new Mercedes SL. $47,500 Photo pages: Exterior Interior and documents Engine bay and details
#41 1957 190SL SOLD 11/16/06

California "black plate" car. Long term San Diego owner. Solid floor pan. Engine just professionally rebuilt. Driver level car. Photos: Exterior/Interior Floor Pan & Trunk


#40 1971 250 sedan SOLD November '06(thank you Philip 3rd time buyer!)

This actually could be the best, most original Mercedes 250 sedan in the world. This car is strictly original excepting replacement items like tires and belts.......the "Holy Grail" of collector cars. Special ordered and picked up under the tourist delivery program in Sindelfingen, this is the only U.S. version I have seen with a manual transmission; a four-on-the-floor! I've seen some exquisite Mercedes models in my time but I've never even seen one quite this perfect and original. $20,000 Main photos Interior photos
# 39 1971 280SL SOLD August '06

Here is a summary of this Premium Level Pagoda: Matching numbers( engine, color code, body stamps ), all original body panels, never rusted or crashed, original carpet on the transmission cover featuring the impossible to duplicate molded-in shift surround, correct body notches at the headlights, never re-painted trunk floor, actual 73k miles, tool kit, owner's books, original factory undercoat. If you've been looking for a 1971 U.S. 4 speed car, there were 360 made........I wonder how many were #180 silver?? $64,900 Main photo page. Undercarriage.

1970 280SL SOLD June '06

Just in! Complete information is on the photo page. Photos
1960 190SL SOLD April '06

We just completed this car. It is a very well documented rust free California car. More information is on the first photo page. $74,900
Photo pages: Initial Exterior Interior Detail Undercarriage
1971 280SL SOLD April '06

This is a rare "California Roadster" or "Alpine Roadster". It is a configuration that deletes the soft top in favor of a rear fold-down bench seat. It has a body color matching hardtop and a huge stack of service records collected by its owner of 25 years. Remarkably, this car still has its original upholstery and carpets which are in very nice condition. Photo pages: Exterior Interior Engine & Undercarriage
Comments from the buyer: Cleaned up the car this weekend (from the open transport). Looks really nice now. (It)Runs beautifully. Even my
wife loves to drive it. She does not like to drive the 356. Thanks again for such a great car. Let's stay in touch. I hope I can convince my better half to go for a 190SL next year.

1969 280SL SOLD January '06

On this local San Diego car equipment includes both tops, factory authorized Frigiking A/C which has just been serviced, auto trans & Becker radio. It still has its original upholstery and has been in the hands of the same owner for 25 years. Photo pages: Exterior Interior Engine & Undercarriage


1971 280SL SOLD Dec. '05

An incredibly original and outstanding car. Color change from Tobacco brown. 64,462 original miles. $57,000.
More details on the first photo page. Photos: Exterior Interior Rare details & engine


1970 280SL SOLD

An original San Diego car in the hands of the same owners for 30 years. Still has its original tool kit, firewall pad, trunk mat, spare tire and Becker radio w/electric antenna. Brand new leather and carpets. Just 92,386 original miles and only 2500 miles on a valve job. Both tops, auto trans and air-conditioning. $35,000 Photo pages: Exterior Interior Engine & trunk & details Undercarriage


1971 280SL 4-speed manual SOLD 10/08/05

Horizon Blue(#304) with parchment seats. Both tops(dark blue soft). San Diego, California car. Last year produced. Like all of our cars, rust free and runs great. The original spare is still in the trunk. Late model 280's are rare with manual transmissions. Photo page: Exterior Interior Engine & Details Undercarriage

1964 230SL 4-speed manual SOLD 9/28/05

For the last 33 years it was the personal transport of the owner of a factory authorized Mercedes service center. During the years before he bought it in '72 he serviced it for the original owner. I have service records going back to the sixties. This car has been thoroughly gone through with rebuilt engine, suspension(new springs, shocks & bushings), brakes and exhaust system. There are approximately 40k miles on the engine. Don't miss the undercarriage photos. By the way, it is a myth that 280's are faster than 230's. Photos: Exterior Interior Undercarriage & engine

1959 190SL SOLD 9/19/05

This is a fully restored California rust free car with an absolutely original floor pan. $48,500 Photo Pages: Exterior Interior Details & Engine Undercarriage


1970 280SL 5-Speed SOLD 9/6/05

This is a two owner San Diego, California car(one owner for 33 years!). Original color. Original matching body panel & engine numbers per data card. Less than 100k original miles. New clutch, stainless steel exhaust and much more. Topping all this off is a ZF 5-speed transmission. Photos: Exterior Interior Engine & details Undercarriage
Comments from the buyer: I just got home from a 200+ Mile drive with the 280 5 speed, perfect day with the perfect car. Thank you. P. G. in N.Y.C.
1970 280SL SOLD 9/03/05

Nice Arizona car. Both tops(dark brown soft), automatic, original Becker cassette player, working clock & original texture coat under the wheel lips. Like all of our cars, rust free and runs great. Original #670 light ivory w/cognac seats. Photo pages: Exterior Interior Engine & Details Undercarriage

1970 280SL SOLD May '05

This Signal Red Pagoda has been driven less than 1000 miles since completion of the ground up restoration. During this process, higher 3.27:1 ratio final drive gears were installed. This lowers the engine speed by 24% for relaxed modern cruising. This car won best in class at the Classic New Hope Concours d'Elegance and first place in a MBCA Concours, twice! $64,500.
Photo pages: Exterior Interior Detail Undercarriage Bonus

1971 280SL SOLD 05/02/05

This San Diego, California car has equipment that includes leather, auto trans, power steering, air conditioning (just serviced), both tops and nearly new Michelin tires. There are only 27k miles on the rebuilt engine and of course it is rust free. Built in January of 1971 this is one of the final 280SL's built. Exterior photos More photos Undercarriage photos

1979 450SLC SOLD 04/25/05

The last owner is an 88 year old Mercedes enthusiast. Rarely do you see an SLC this well kept, original and correct. An $11,500 top end engine rebuild was completed less than 30,000 miles ago and it has just had a $1000 maintenance service. This is a need nothing car. The original spare tire and wheel are still in the trunk. Full factory tool kit. $10,900 Photos.

1967 230SL manual trans SOLD 02/09/05

Just in. We sold this car to a San Diego enthusiast about 5 years ago. It drives especially nice and is a joy to run through the gears(4-spd manual). It makes a wonderful exhaust note that above 3000RPM is reminiscent of a big Austin-Healey straight six! #906 blue with brand new interior upholstery. Includes both hard top and soft top. Photo pages: Exterior Interior engine & details Undercarriage

1967 250SL SOLD 01/15/05

Very nice car with both tops. Light Ivory(#670) w/Black interior & soft top. Recently serviced. photos: Exterior Interior engine & undercarriage

1970 280SL California Roadster SOLD 01/14/05

A nice straight honest car with auto trans. If you like 280SL's and you also would like a fold down back seat you will want to check the photo pages. The back seat takes up the space where a soft top would normally fold down into. Of course there is a removable hardtop. Yes, this is a rare factory configuration. Photos: Exterior Interior Detail Undercarriage

SPECIAL! 1969 280SL SOLD 01/05/05
This car was owned by my Mercedes mechanic's accountant for the past 35 years in San Diego, California. My mechanic has provided all the service for this car. It is original color white with original blue carpet, blue soft top (good condition) and beige upholstery. The hardtop is white. The paint shows the usual minor dents, chips & scratches of an un-restored car. The interior is usable. Mechanically it is great with full service history. We are simply too busy at the moment with other projects. This is a deal for the shrewd & knowledgeable buyer. First come - First served. I can Email photos. Send requests to: mail@motoringinvestments.com
1961 190SL SOLD 12/24/04

This magnificent car has benefited from a 7 year ground up nut and bolt restoration. Engine was professionally rebuilt by a local specialist. Has the rare large window hard top, original radio and clock. These cars are headed upwards in price. It won't be long before we see top level cars like this one cracking $100,000(it already costs much more to restore one). $69,500. Photo pages: One Two Three Four


1970 280SL SOLD 12/18/04

Just in is this medium blue San Diego car. Equipment includes automatic and A/C. More info on the photo page.
1967 230SL SOLD 11/18/04

4-speed manual transmission. This is an extremely nice car. Both tops.
See the photo pages for more information. $23,500
Photos: Exterior & Engine Interior

1956 190SL SOLD

Another California car just in. An excellent example. New German canvas top and correct square weave carpeting. $29,900.
Exterior photos Interior photos Engine & etc.
1970 280SL SOLD

I recently had the pleasure of representing 280 SL # 113-044-10-018260 in a long-distance sale between an owner in New York City and a buyer in Washington State. Originally delivered to Geneva, Switzerland, this 280 SL is a wonderful example of a silver-gray metallic (180G) European Pagoda fitted with a 4-speed manual transmission, power steering, original black leather interior, 5-piece set of factory luggage, 3.69 differential, books and tools, and countless original details. A very special Pagoda. (Click here for a letter I received from the seller afterwards.)
1972 350SL SOLD

These earliest of the W107 cars are just now becoming collectable. Don't wait until they are $35,000 like a nice 280SL. This car has benefited from a cosmetic and mechanical restoration. $14,900.
1969 280SL SOLD

This car comes with invoices including one for over $10,000 for engine and engine ancillaries alone. Automatic, Air-conditioning, both tops (black canvas is new). You can't restore one to this level for this price. View the over 40 photos: Exterior. Interior. Close up details & engine bay. $39,500


1969 280SL SOLD

This car was restored recently in our workshops and now resides in a collection in Germany. Don't miss these photos: Exterior Photos Interior Photos Engine Bay


'70 280SL SOLD

This is a really nice car from Palm Desert, California. It has the original ownership packet including the data card. Equipment includes automatic transmission and both hard & soft tops in nice condition.
Exterior photos. Interior photos.
'68 280SL SOLD

This is a rust free California 4-spd manual car in original colors of silver/black with much new. The suspension and brakes have been meticulously rebuilt. There is a new stainless steel exhaust system front to back. Just recently new leather and carpeting has been installed. The wood has been refinished. The original Blaupunkt radio works nicely and even the clock works. It features air-conditioning and has a black hardtop and a new black canvas soft top. $33,500
Exterior Photos Interior Photos What's under this pretty face?

1961 190SL SOLD

Solid California car. Looks nice and drives well. A daily driver level car. Photos

'70 280SL SOLD

California rust free car. Auto trans. $32,500
Exterior Photos Interior Photos




1970 280SL SOLD

California car never rusted or bumped. Original spare tire never on the ground! Incredible world class car. These mere words to not come close to accurately describing this breathtaking automobile. Air-conditioning, both tops, service records, automatic. Dark olive (looks black in some light conditions) black interior. $46,500
Photo page 1 Photo page 2 Photo page 3

1969 280SL SOLD

This is a restored California car w/three tops. Included are $28,000 worth of restoration receipts. Manual 4-speed car. $29,950 Photo pages 1 2 3

1968 280SL SOLD

A 1968 280SL that is an original San Diego car with a documented 71,123 miles. We have a complete set of California registrations that stretch back to 1968! This car is like a time machine - it is so original that experiencing it takes you back to1968.
1972 350SL SOLD

This incredible specimen has had only the very best of care. It is truly an investment grade motorcar. This U.S. model was produced for just one year. It is the exact same specification as a '73 450SL. 1972 is the first year of the long running 107 chassis models and is considered by many to be the most collectible. In rare Carnelian Red over Parchment interior. $15,900
1959 300SL SOLD

This car left the factory on February 5, 1959 and was delivered to its original owner in San Diego California. It has always been a California car. This matching numbers car has had a comprehensive frame off restoration to the highest possible standards. Over 2500 hours were invested and no expense was spared. The owner, an acknowledged expert in the field, contributed countless hours of research and parts procurement to the project. In the seven years leading up to the start of the restoration he set about on a worldwide search for many of the new or new old stock parts for the project. Every moving part inside of the original cylinder block are new except the crankshaft and connecting rods. The original tubular chassis and all suspension components have been powder coated. All other components have been finished as per factory specification. The body was disassembled and chemically stripped to bare metal which was found to be remarkably free of corrosion or damage. What body smoothing was needed was carried out with lead. The car was painted in its original color of Fire-Engine Red (DB 534) in acrylic urethane with product by the original supplier to Daimler-Benz, Glasurit. The black (953) leather interior was made up from matched vat-dyed hides from the original vendor, Roser.


The accessories include the original Becker Mexico radio with Hirschman electric antenna, fitted luggage in Roser leather exactly matching the upholstery, chrome/polished wheels, factory hardtop, and the complete set of correct tools and manuals.


This vehicle has won a total of seventeen Best-of-Show trophies and nineteen First-in-Class awards for a total of 36 trophies. At National Meets of the Antique Car Club of America it has won Best Restored Foreign Car (best of all national meets throughout the country), First in Junior class, First in Senior class, First in Grand National and First in Senior Grand National.


Since restoration a total of 1900 miles have been completed to ensure engine break-in and proper functioning of all systems.

$325,000



1973 450SL SOLD

We consider the '72 & '73 small bumper cars to be the best picks for future appreciation. These cars have the advantage of less weight, more power and cleaner lines than subsequent model years. This car unlike the typical car found in the local newspaper classifieds looks and drives like a new Mercedes. It is an investment that you can drive and enjoy. $12,900. Photo Page exterior interior

1967 250SL SOLD

Rust free San Diego car, same owners 26 years . Very nice daily driver level car. Both tops. Service records.



1964 220SE Cabriolet SOLD

For the "do-it-yourselfer". This car is unrestored. It runs and drives great and needs cosmetics. Has perfect compression.

Send email to: mail@motoringinvestments.com
office: 619-238-1977