Motoring Investments' 1967 Alfa Giulia 1300Ti for sale in California classified
1967 Alfa Romeo Giulia 1300Ti
Time-warp original - SOLD
If you arrived here though a search or web surf, click here to get to the main page to get details on this car and our contact info, HOME.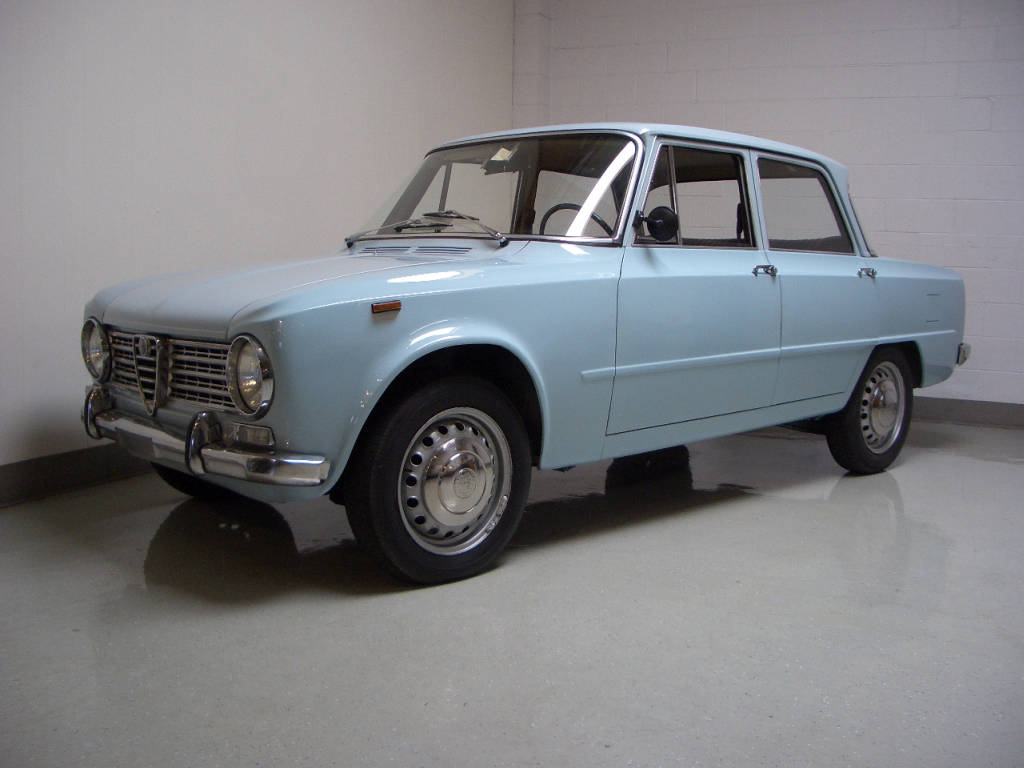 1967 Alfa Romeo Giulia 1300Ti
Time-warp original
There is a lot of information here so please take your time and read through all the text and look at all of the photos(90) before bidding.
The business I own restores European cars for clients and I have provided collectible German, British and Italian cars to customers for over 22 years. My specialty is in very original, low mileage cars. Naturally I've owned and driven many great cars but a few years ago I realized that there was a whole list of cars I found interesting and desirable and had never owned. This started me on my quest to own one of each for a period of time in order to enjoy and get to know them. Thus started my quest for "List Cars". Naturally, since my business is cars, just any example of a car on my list won't suffice. I am only interested in proper, stock, very original examples in great driving condition. A car must never have been rusted or crashed and due to the age of these cars, this is no mean feat. Whatever I buy, I must go through mechanically as I want a driving experience as near to what the original owner experienced when the car was new. Much of the work I do goes where no one sees it, under the hood basically. Many people who plan to sell a car spend the least amount possible getting the most visual impact and they only put their money where the buyer will see it. Nothing really wrong with this if the cars are represented accurately but since most are not, the buyer ends up spending top dollar on a car that is pretty from 20 feet away only to find he still needs to sort it out mechanically. For my own enjoyment, my many years in this business have taught me to seek out as much originality as possible and a seller who has owned the car for a long time. Anything wrong with a fully restored car that is like new? Of course not. But the cost of doing a proper restoration is so staggering that it is always way cheaper to just to buy a great car in the first place; not to mention the fact that a mostly original car has a certain charm or character that restored cars do not. Also, people who spend huge dollars restoring their pride and joy to perfection rarely sell them since it would mean a big financial loss.
You might want to get to my website and click around for awhile and see what I am all about as far as cars are concerned. There is lot of content on interesting vintage European cars. Particularly you should click on "The List" as this is my second "List" car offered for sale. You also may find "The Stable" interesting. My main business is in Mercedes 280SL & 190SL restoration so there is a lot of content there.
I've been involved with old cars since before I could drive and professionally since 1978, so I've become pretty good at knowing a great car when I see one. But frankly I was just extremely lucky to find one this original. I bought the best original car I could find and then spent over 200 hours putting it in top driving condition. If we were doing this job for a paying client, the tab for parts and labor alone would come to well over $25,000.
Most older cars have gone though a phase where they were worth very little and were driven by starving students or others of limited means each having put their individual stamp on the car. This is a risky time in the life of a vintage car. Crashes, rust and deferred maintenance can spell a death sentence. When one considers what can happen to a car in a forty year period it is even more remarkable when a car is found that is almost totally original. This car missed the "risky" phase all together as it had been in the hands of the same owner from 1967 until 2000. That is when some specialists from The Netherlands discovered it in Italy
There was a 1300Ti that sold on EBay a few months ago that coincidentally is nearly the same color. I feel mine all the more desirable since it is the rare early horizontal speedometer / metal dash model. If you punch the item number of 110140164270 into EBay's search feature you can see it (click on "advanced search" then "items by item number"). The cars are very similar but you can see trim differences between this 1967 and that 1968. Please don't forget the 200 hours I spent on this one, most of it mechanically.
A note about the word "original" as it is a word is greatly misused. I see ads for cars that say something like, "completely restored, all original.......". It can't be both! If a car has had a complete restoration it can be all stock or totally correct. One could even say, "totally restored to original specifications", but it is not original. This car is a combination of remarkably original and restored.
The Giulia1300 TI or Type 105.39 was built from 1965 to1972. The high reving, twin overhead cam, all alloy engine puts out its maximum power at a lofty 6000 rpm. Unlike the base model 1300 with its 101-series Giulietta engine, the 1300 TI motor is a 105 series engine, like that of the GT1300 Junior coupe.
The "TI" refers to a class of Italian sedan car racing in the period known as "Turismo Internazionale",
If you have any question regarding any aspect of the condition of this car please ask or come see it or send someone else before the close of the auction.
Some of the more major things that we have done:
Valve Job with four new exhaust valves.
Transmission Rebuild (We went to great lengths here, see the photos below.)
New Clutch
Carburetor rebuild The vacuum actuated secondary venturi was not opening when I first got the car.
New Tires: Vredestein 155/SR 15 This was a difficult size to find in a brand I was not too familiar with. They are a quality tire and were not cheap.
New Brakes
New Exhaust System This is the stock system which is too quiet for my taste - Oh well, if you feel the same way, you can remove one muffler.

After all of the proceeding I shouldn't have to say this but just in case there is any question; this car runs, drives, steers, brakes and shifts exactly as it should and everything works wonderfully. It should provide a true "turn-key" experience for the next caretaker.
Please be aware that even after all we've done, this is still a 1960's vintage Italian car and there will be some oil seepage.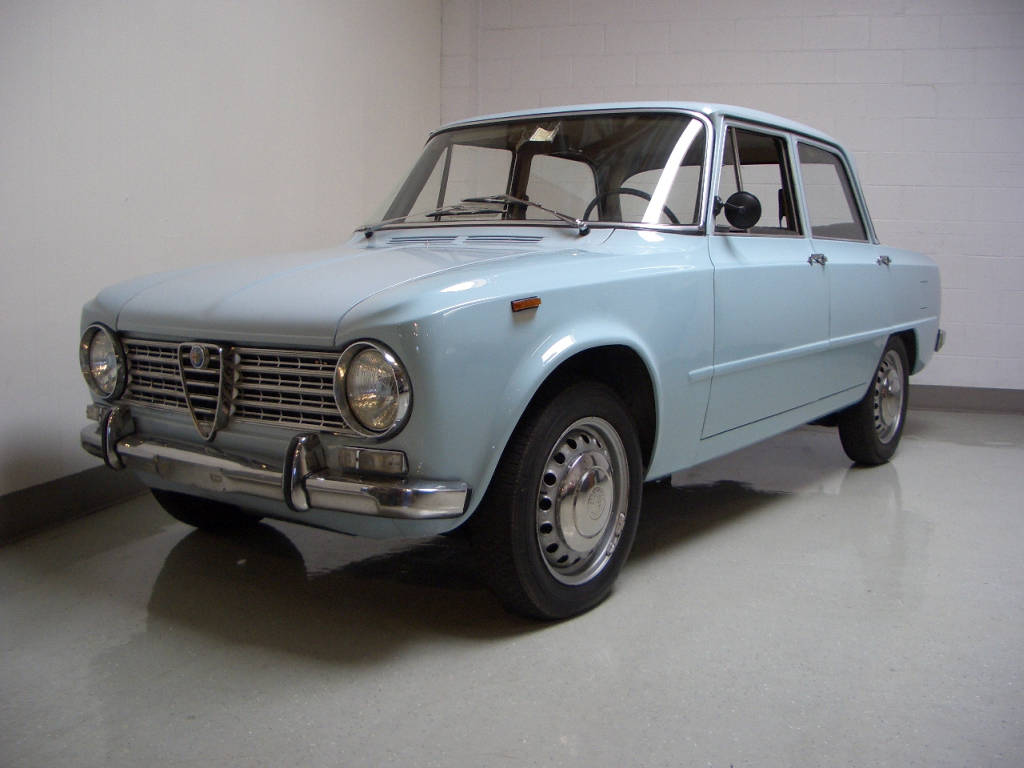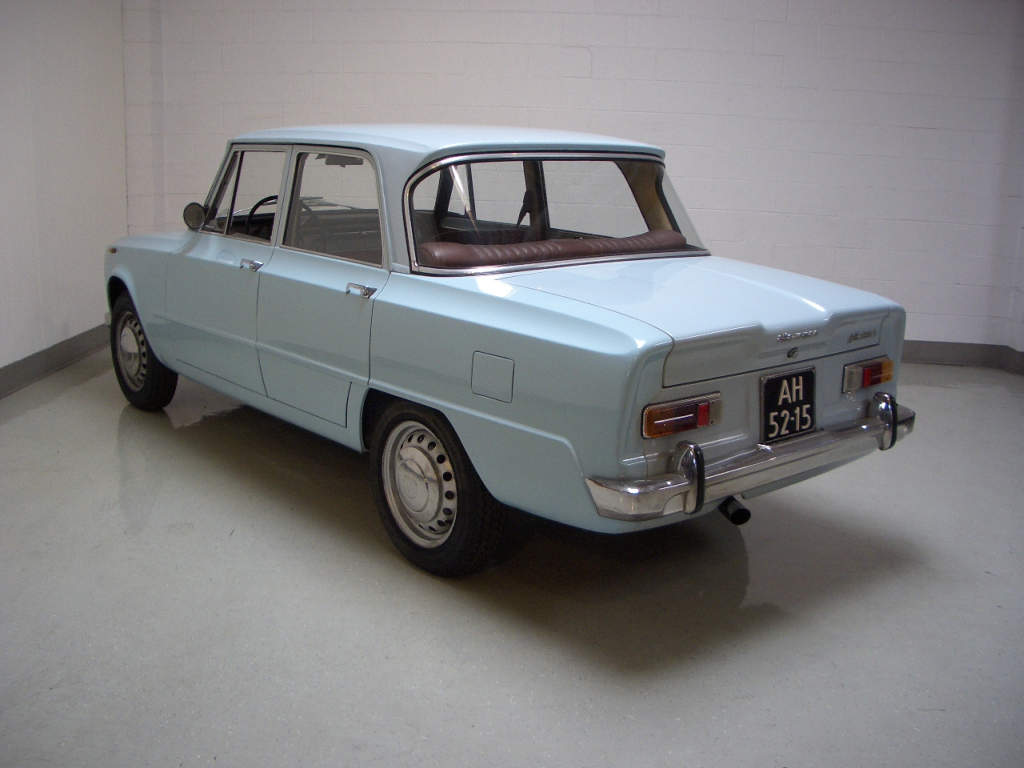 Still has the plates from The Netherlands.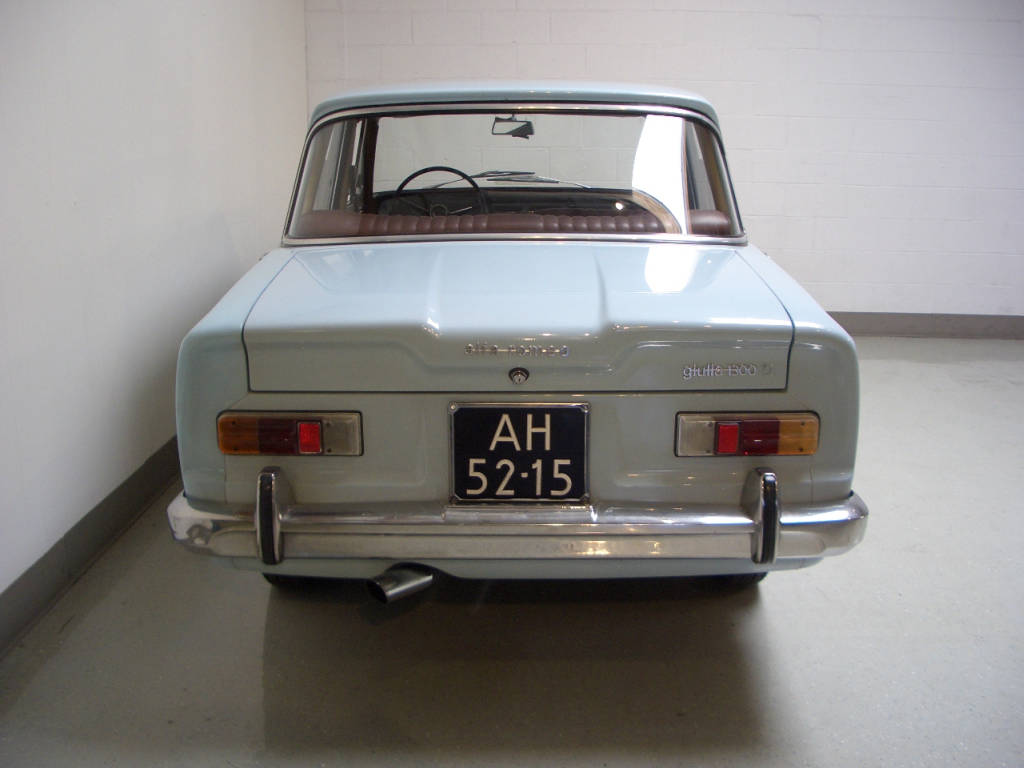 It is on a U.S. title and includes all of the DOT, EPA and Customs paperwork and releases. I can even generate a California title in your name if you like.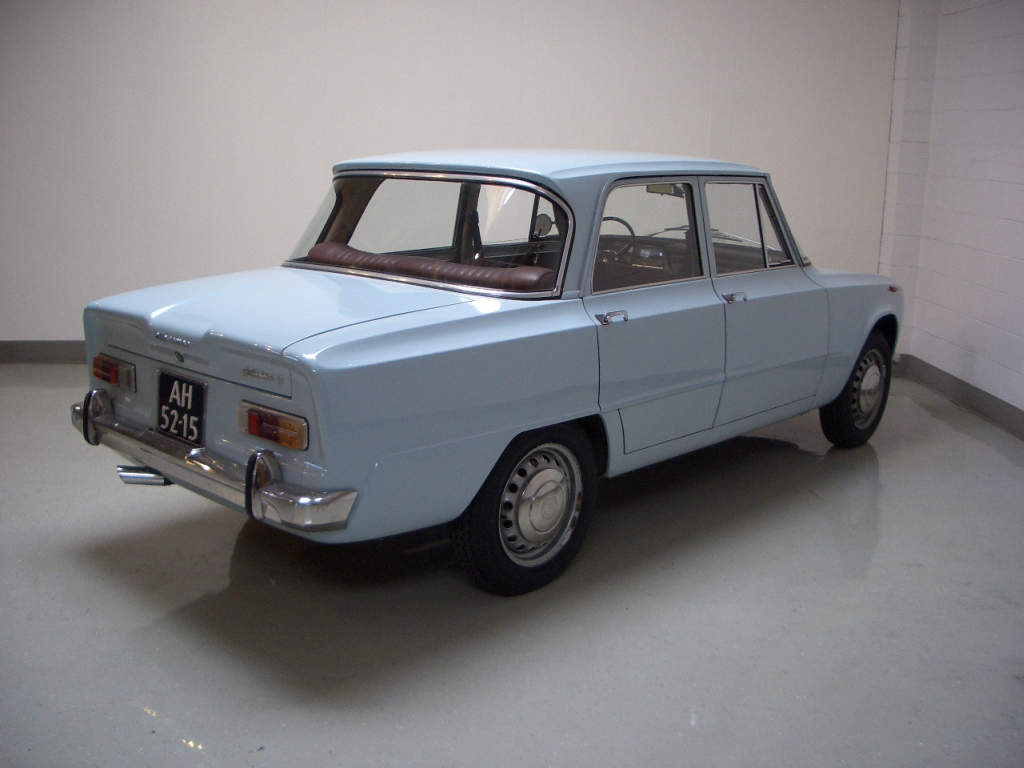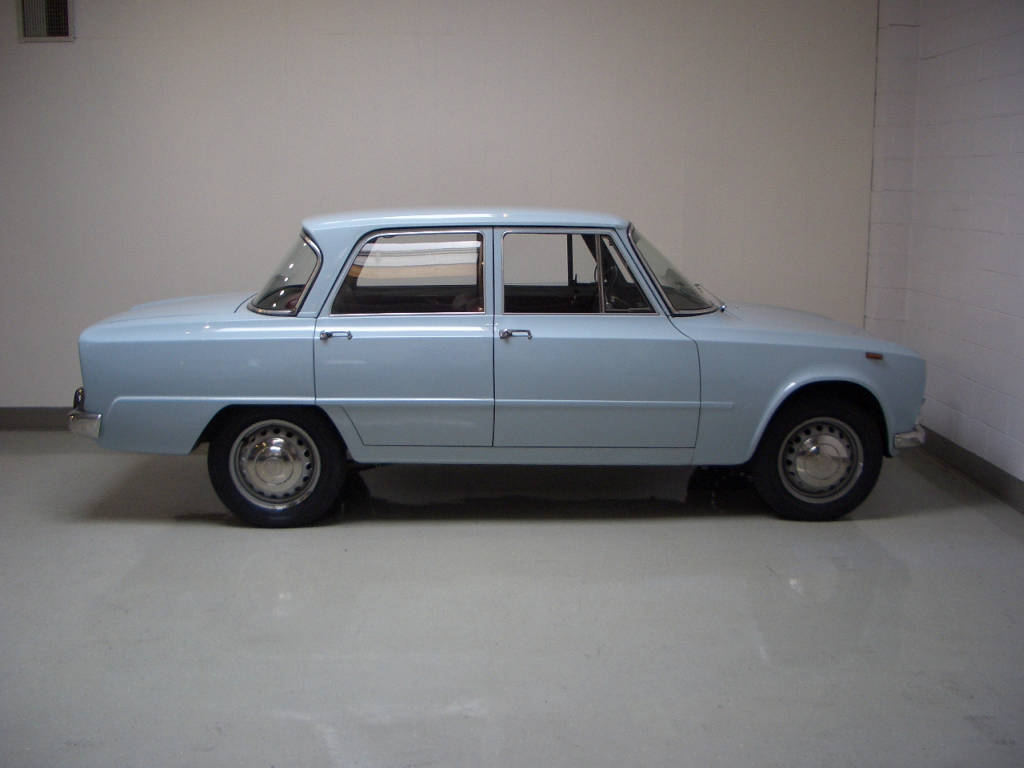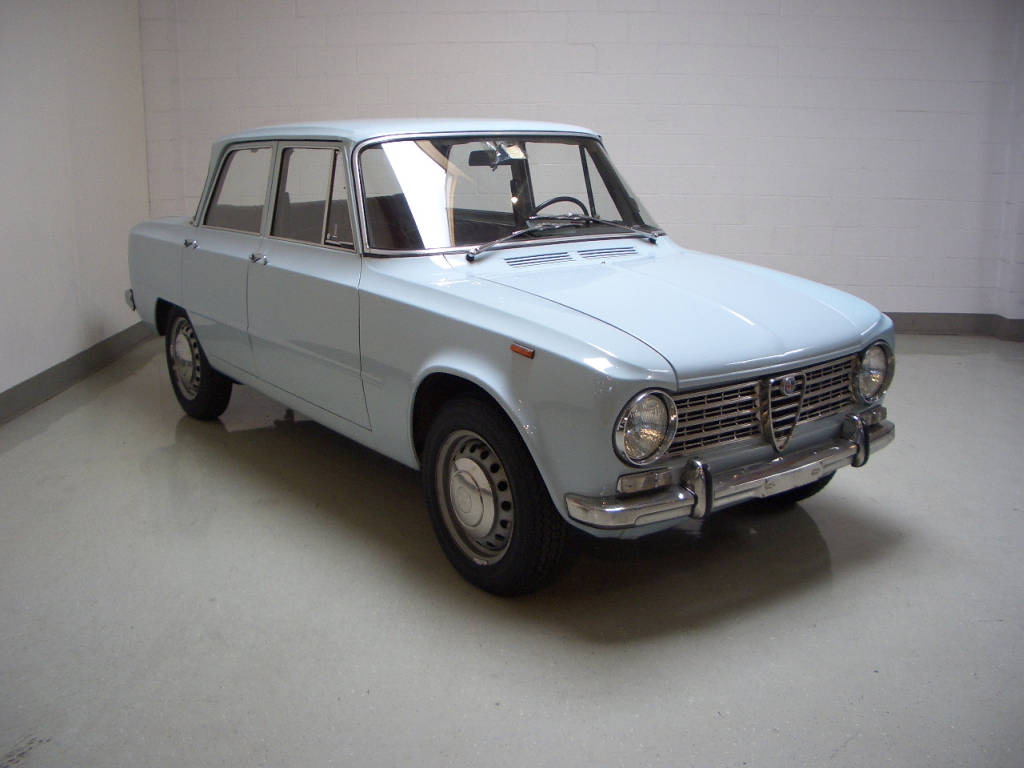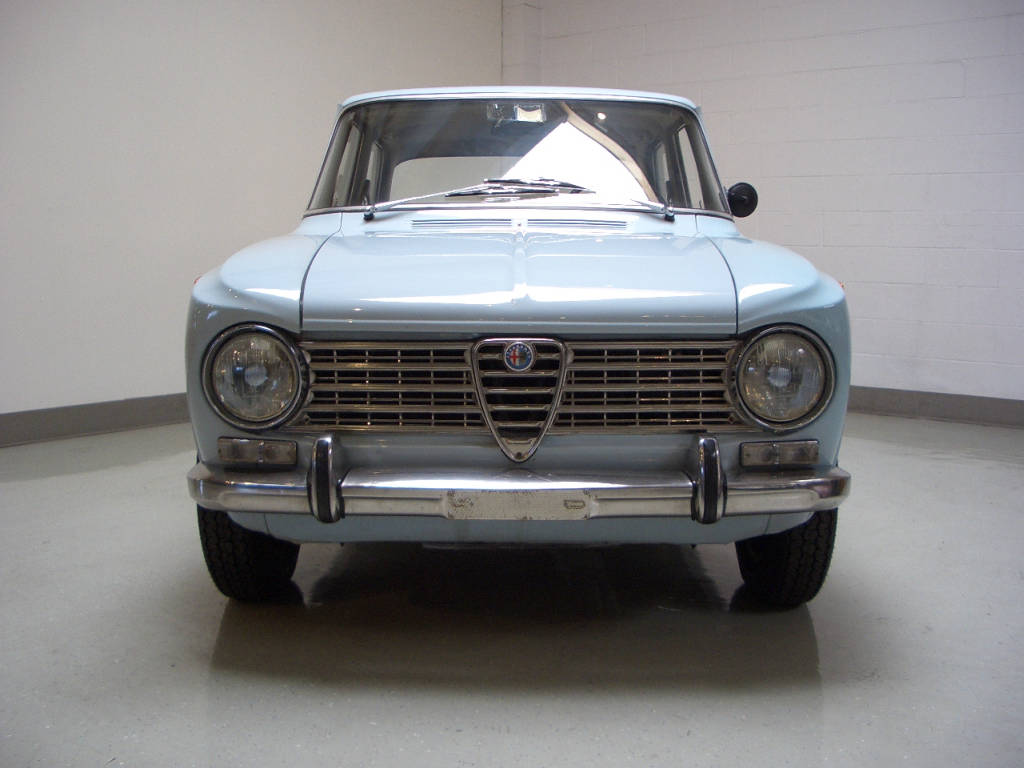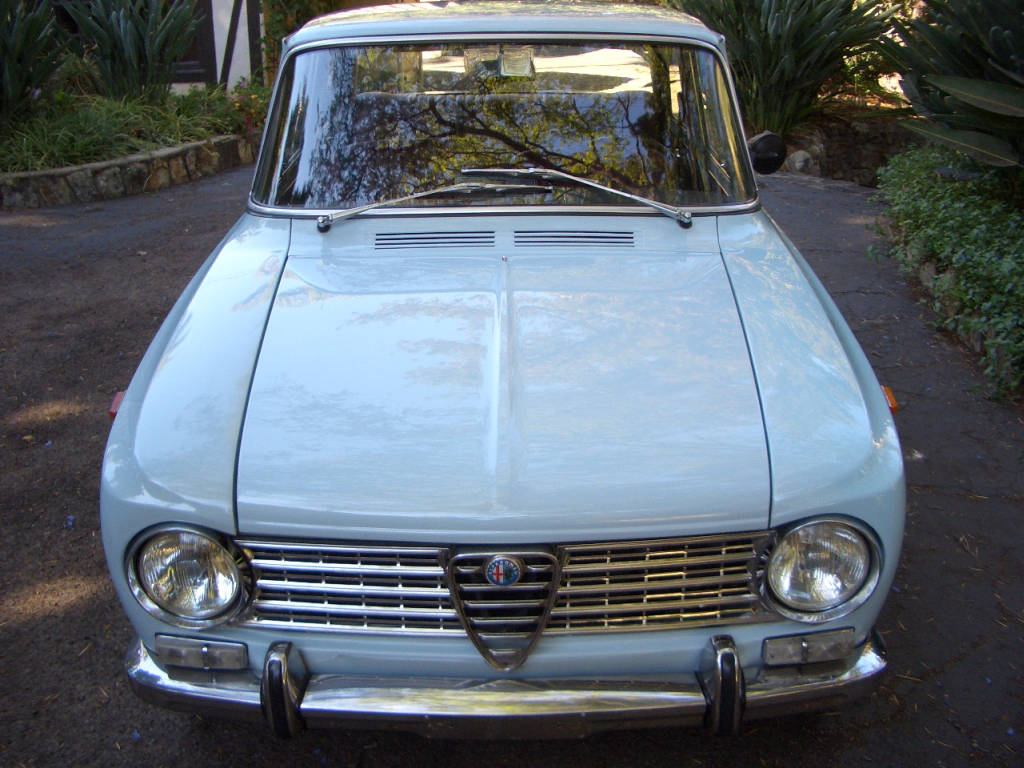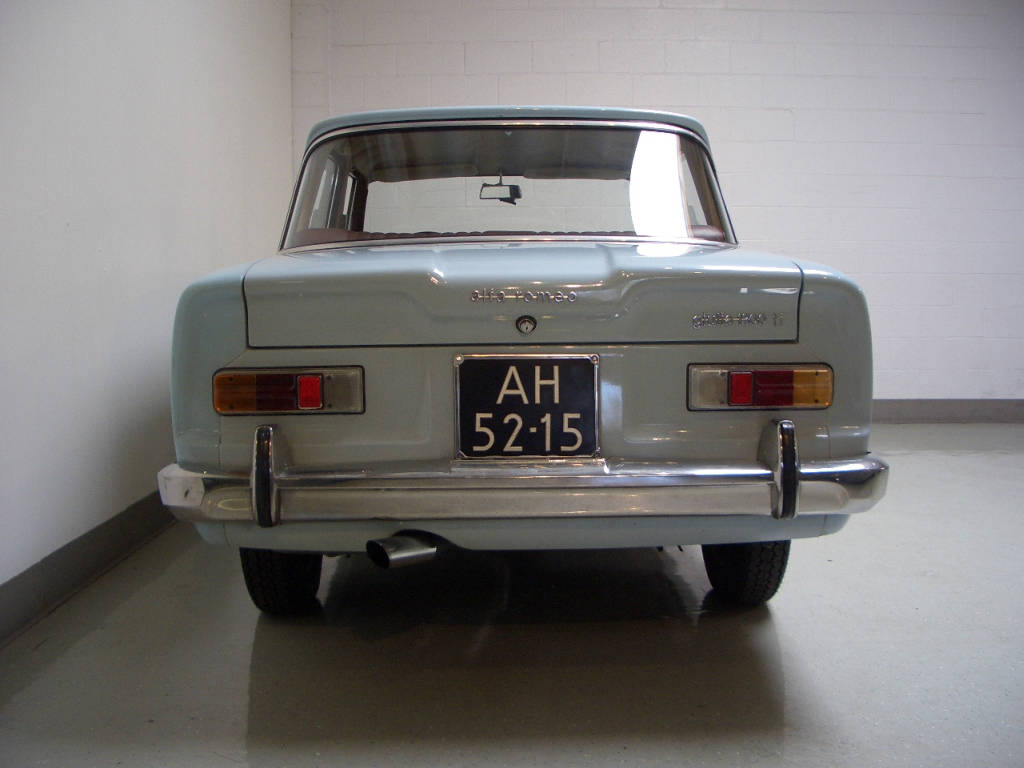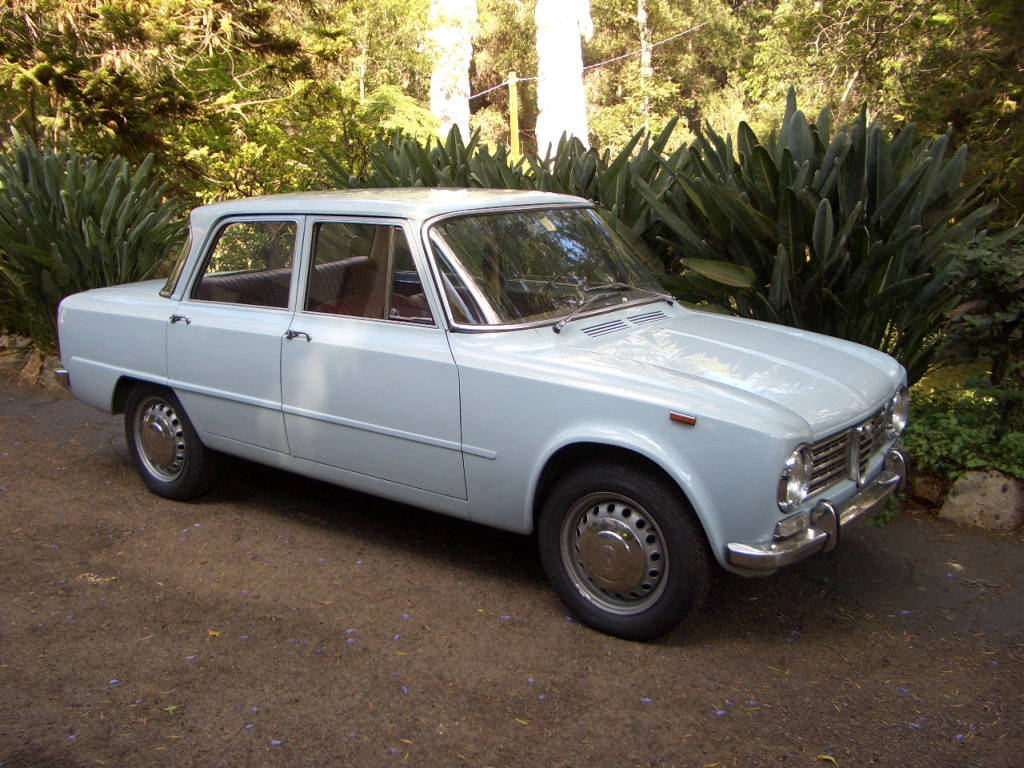 This car is most likely for the seasoned enthusiast/collector who realizes that his/her time is more valuable than the effort it would take to comb the classifieds for years looking for a car like this and then to spend years of weekends and evenings getting it into this condition; or worse, spending cubic dollars at a shop and hoping for a result such as this. So in this way consider me your "personal shopper". I've done all the work for you. It is an indisputable fact that even if someone gave you a restorable Giulia, you couldn't get this sort of result for double of even triple what this car is going to sell for.
Just click on the photo for a larger one.

There was one seam split in the original driver's seat upholstery so I recovered them. That on the rear seat is original.

The door panels are all original to the car and match each other but were shot with different camera/light settings so seem to be different colors here.
Original windshield still has the engine break-in instruction decal.
From the outside you can see that the rubber seal is free from overspray.
Italian insurance papers still hanging on the windshield
Chassis number (VIN)
Type and Homoligation #'s
Original air cleaner with stenciled label.
Engine #

The engine bay has not been detailed, just original.
Original trunk mat is almost like new (just a bit dusty).

Very straight sides with excellent gaps.
Great original rockers
Factory spot welds still visible
All jack ports/points are excellent.
This document lists: make and type, year, engine model, cubic capacity, bore & stroke, chassis number, horse power, muffler specs and homoligation number. Dated October 6, 1967

Asking for: Name, surname, place, date of birth and residence of the owner: Dino Taviani
It looks like he was born on February 11, 1900(I don't know why they drop the "1") and lived at 15 Via Verdi in Fiesole, Italy.
Looks like it first sold on March 29, 1967
for: 1,460,000 Lira

The Dutch owners indicated that they purchased it from the original owner in Italy but this looks like a second owner to me (still in '67 though).
Registered in the province of Florence (Firenze) License plate number: 381656
I'autovettura descritta nella pag. 3, adibita ad uso Privato
"The automobile described on page 3, used for Private use"
e rilascia la presente carta di circolazione al proprietario
"and it releases the present card of traffic to the owner: Ugo Magherini
Dated: October 7,1967
Address:

118 Via Campe d'Atrigo, Florence

I believe the stamp that reads "October 18, 2000" is Dutch as "Veldhoven" translates as: field courts. This would be when it was imported into The Neatherlands.


Iscrizioni, riduzioni, cessioni, surrogazioni, cancellazioni, ecc.

Registrations, reductions, cessions, substitutions, cancellations, etc

Trascritto atto di vendita a favore di Magherini ugo n. a Scandicci 12/10/1913 residente a Firenze Via Campo d'Arrigo 118. IL Conservatore

"Transcribed fit for sale to the favor of Ugo Magherini in Scandicci 12/10/1913 resident of Florence at: 118 Via Campe d'Atrigo. The Conservator"
I believe "Scandicci" is right next to Florence.

Note to scholars of the Italian language: I've made a meager attempt at translation. Corrections or any additional insight would be appreciated.
Undercarriage photos.
The undercarriage is all original and any "questionable" spot you might see is no more that a bit of road dirt or factory undercoat.
Great wheel wells
Factory paint label on trunk lid. I believe No. 505 is
Acqua Di Fonte or Fountain Blue.
Totally solid original spare tire well. It has just the slightest bit of surface corrosion. The rubber drain plugs are still soft and supple.
Imperfections
This is the biggest blemish on the whole car.
Small abrasion on rt ft corner
Minor ding on ft valence
The left front turn signal lens is cracked. The rubber weather seals appear to be original and are a bit ragged. They are intact and I don't hear any excessive wind noise so I didn't look into replacing them. There is a fellow on EBay that sells the complete package for $139 if my memory serves.
These are the most significant flaws, there are more of course however they are minor in nature. These can be viewed as badges of honor in true survivor fashion as this car is driven in the real world rather than transported from show to show in the back of a luxury trailer.
Transmission Rebuild
The part with the yellow is a new syncro ring. All five were replaced.
My ever vigilant foreman puts his eyes on everything that comes into the shop. He noticed that the new syncro sliders had what appear to be a manufacturing defect, most likely caused by a worn machine tool (see center photo just above). The points should be sharp just like the roof peak on a little house. Notice the difference between the two in the right photo. We had to dress each peak by hand to get them correct.
In my humble opinion, I really don't think there is a nicer, more original Giulia Ti on the planet.
Click here to see the transmission during rebuild.