CLIENT REFERENCE PAGE
If you arrived here by a random surf/search, click HOME to get to our main page & gain full functionality of this site.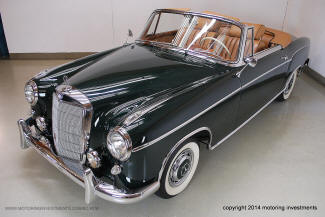 "Thanks Brian
The 220S is a great little car.
- Your service on the transaction was superb.
LP"
"Hi Brian,
Thank-you very much for all the extreme effort you put into the preparation of my Mercedes and the final delivery. The car was exactly as described by yourself and very fairly priced considering the condition of the car.
As a matter of interest, the appraisal company refers to the car's condition as ``concourse`.
I cannot remember a previous business transaction that impressed me more.

My very best regards, Gordon "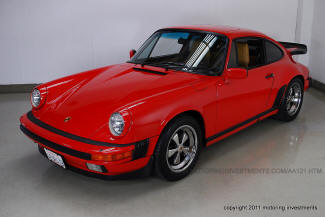 Brian:
I wanted to thank you for going out of your way and taking the time to meet me and sell the 1986 Porsche Carrera to me. I am extremely happy with the car and what you did to get it ready for me. I was very pleased with customer service and how you bent over backwards to get the deal done in a professional manner.

You made it a seamless transaction. We were a bit concerned buying a car from a dealer based on my previous experience but you really took the time to listen and understand where we were coming from. You really made this purchase a delight. I'm extremely happy with the outcome!

Sincerely, Jeff F.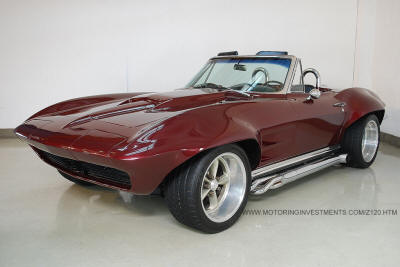 Brian, (3-2012 purchaser of the '64 Corvette) I need to tell you that I love it first. It's all good.
Exotic Carriers called to deliver the Vette this morning about 7:30. He said he couldn't get his rig into most neighborhoods due to his 76' length so I had my wife drop me at a nearby shopping center to receive it. At that point, there were quite a few people drooling over it and when she fired up; everyone got excited, especially me.
Finally got it home and charged the battery enough that the wife could check it out and the first thing she says after backing down the driveway is I have to put power assist steering on it and fix the seat lock for her(when she pushed the clutch, the seat went all the way back). At 98 pounds, she fits behind the wheel just fine and said she would be glad to drive me around in it. (She)Even volunteered to swap cars with me after I fix the steering…so I'll check into power assist. Between the wife (she loves it) and myself, this car will be seeing a lot more miles per year than it has in quite a while.
You were right about the speed. After just putting a few miles on it coming home, I'm guessing the horsepower at about 375. But it is twice as loud and draws 10 times more attention than my Roush (Mustang) ever did. I guess I could add a blower if I ever need more excitement but the raw carbureted sound of this engine will probably be enough for this old man.
Brian, thanks for being fair with me on the price and working to get my shipping cost down; I would never had been able to get a Vette like this otherwise. Thanks for understanding my concerns about wiring money to someone I didn't know. I have been taken advantage of before using this process. You may give my phone number to any future customer for a reference when they have concerns.
I also figured out YouTube this afternoon. Check out my first attempt. http://www.youtube.com/watch?v=pKvkhAhbSxg&feature=youtu.be

Thanks sincerely,
George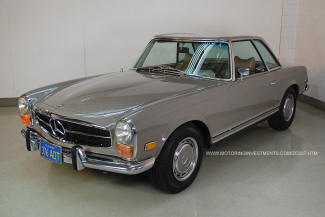 Hello Brian, (4-2011 purchaser of the gray-beige 280SL) Back to Switzerland I had time to inspect my grey-beige Pagoda and I am very satisfied with the car. She is really lovely and I am glad for the additional work you were doing on her. At the moment she is going through a "rejuvenating process" at our flagship Swissvax car care center at the factory before she will have to pass tests by the Swiss department of motor vehicles. Around 40 hours have already gone into the treatments of all rubber seals and rejuvenation of the paintwork without abrasives but Cleaner Fluids and waxes.

The enclosed first video shows the water beading on the still non-treated paintwork (trunk lid). In the following video you will be able to see how a Swissvax protection with best-natural Carnauba glazes work - water beading on engine bonnet.

I shall have you sent through Swissvax USA a bottle of Seal Feed for the rubber seals as a thank you for so well preparing the car for me. I have a feeling that you will need this product a lot :-)
Kind regards
Georg
SWISSVAX
SWISS WAXMAKERS SINCE 1930

Brian, (4-3-2011 bought '05 Ford GT) I received the car today. What a fine piece of automotive engineering, it was just as good as advertised. It has been a pleasure doing business with you. If you ever need a reference, feel free to use my name.
Regards, Chuck
Brian, (12-05-2010) bought yellow '73 450SL)
Can you supply us with the factory color, exterior/interior, I don't see it in your ads, thanks again, we'll be back, car is fabulous, its going to Florida for the winter….rs
Brian, (9-4-2010 bought blue '73 TR6)
Car is finally registered, inspected and legal to drive. While my wife does not really remember my other 6's, she loves this one. It drives great. I appreciate your efforts in making this happen for me. Feel free to use me as a reference, if you need one.

BTW, Ply-Con did a excellent job shipping the car and would recommend them again.

Hi Brian, (Multiple car buyer/seller)
I realized after looking at your site that I've never written to tell you how satisfied I've been doing business with you the past five years. Through four transactions - a TR6 restoration (red), a Pagoda sale, a 911SC purchase, and the sale of the restored TR6 (red) - you've always acted with integrity, fairness and with a huge well of expertise. Thanks again for the business; I'll bet we do some more one of these days.
Best,
Brian M.

Hi Brian, (September 2010 '73 Triumph TR6 sold for client)
I assume that you received the title this AM as they guaranteed.
Brian, it was a pleasure to work with you and I hope I get to San Diego sometime to visit your impressive business. Best of luck -- I will gladly refer others to your business.
Regards, Dave

Brian - (September 2010 The Hoyt Special vintage race car)
...took the car off the trailer in the morning and took it for a spin. It is geared lower than I expected, but it is really fun to drive. It sure gets more looks than my Vette! I plan to find a correct gas tank and the round tail lights to get it back to original.
Great to do business with you Brian.
Talk to you later, Bob

Brian - (August 2010 Red Triumph)
The car got here last night. It was just as advertised and I am really pleased! Also the jack and extra keys arrived on Saturday as well.
Thanks, Ray

Hi Brian, (July 2010 Silver '69 Mercedes)
I just wanted to take a moment to thank you for selling my 280SL. From the purchase of the car from you in 2004 to the recent sale in 2010, you have been everything I want in a car dealer. Not only are you a wealth of inventory, information, and advice, but you're honest and straight forward about what you say and why you say it. So many times this information is colored by to dealer's advantage.

I think it will always be refreshing to find a vendor that is willing to go the extra mile to make sure transactions are done with diligence, and attention to detail. You remembered that I had a problem with the A/C after I bought it, and made good on the repair 6 years later when I brought it back to you for the resale. That's integrity.

I was so impressed by your style, and my neighbor so impressed with the quality of car that I purchased from you, that he bought one from you as well on my recommendation. His experience has mirrored my own, and has also recently resold the car through Motoring Investments with an equally satisfying result.

Your legacy of successful transactions has attracted the kind of clientele that can transcend the (economic) downturn, and still get fair market value for these cars. I think this is the true litmus test of what good business practice and the international customer loyalty and trust that follows from it earns.

Thank you again for taking care of me and the 1969 280SL we call Gracie. You are every bit the gem that she is.
Cheers: Justin
(From Justin's neighbor, Glenn who purchased a '68 280SL then entrusted us to sell it for him 5 years later.)
I agree with all Justin has stated. Thank You Brian and in the future I know I will purchase another one.
Justin, You are the best friend anyone could ever imagine. Thanks to all..
Glenn
Sent on the Sprint® Now Network from my BlackBerry®
Dear Brian and Yoko (August 2009 '71 Porsche 911S)
Hello, I'm Suzuki.
Thank you for sending e-mail.
The Porsche is very good condition and runs very well.
I'll send you my photo and two addresses of my website and Blog.
My Blog site is working, but the website is still under construction.
Blog: http://minkara.carview.co.jp/userid/638574/profile/
Website: http://www.denko105.com/
By the way, on 2/1/2010, I'll go to Mt. Fuji with my wife and daughter by the Porsche.
I'm so happy to believe in you. I really appreciate you from bottom of heart.
Best regards,
Suzuki Eiji
MORE COMING..................