Abarths for sale classified listing Zagato Allemano Boano page
Welcome to Motoring Investments' Abarth page.
If you arrived here though a search or surf, click HOME for full site functionality and contact info.

1956 500GT Zagato prototipo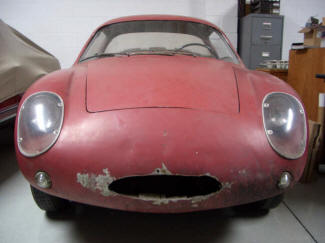 This is the actual prototype of the total of eight known 500GT cars.
It is the factory's Turin show car.
A documented race winner.
History on the photo page.

Photos
1960 850 Allemano coupe race car
SOLD - Thanks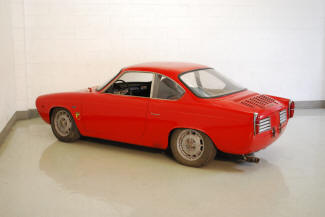 Fresh 1000cc engine. Once owned by racer Harry Woodward of Sebring, Florida. Seems to be about all here except for maybe a fuel cell.
$21,200
1960 Allemano 750 Spider
SOLD
Photo links towards the bottom.
It is very unusual that a 40 plus year old car has had just one registered owner however that is just the case with this very rare Abarth. This car was purchased new in San Francisco in 1960 and is still on its original California "Pink Slip". This is the old style California title that has not been produced in many, many years. It even came with its original California black & yellow license plates. Incredibly, the front license plate has never been installed and so is in absolutely NEW condition and is still in its original envelope in which it was sent by the California Department of Motor Vehicles.
This is a "coach built" Abarth by the Carrozzeria Allemano. The body is hand formed aluminum on a steel frame.
The interior is original and virtually pristine. This car even has the original canvas top in good condition.
Just one of the many rare and unusual features is the removable aluminum hard top. This top features a glass rear window. I have spoken to several Abarth authorities and they have told me that they have never heard of nor seen one. It is definitely a factory item and was definitely made for this car. Could it be that this hard top was ordered new from Allemano the coach builder for this car and is the only one?
We did more of a preservation of this car rather than a restoration. The paint was old and cracked in some areas so we stripped it down and applied a new finish in the original color of black. The chrome was re-plated as needed (you can see the original pieces if you click on the link: Hardware photos ) The odometer reads 13,800 miles, which due to the limited wear to the interior and pedals and the original condition of many soft items we believe to be accurate (even the soft top, in canvas, is original).
Please note this car has been sold.
Click on the thumbnails below to see the complete photos.


Click to see new photos of the canvas top.
Click on the "DOCS" logo to see some of the original documents.


If you are interested in being on my "want list" for an Abarth, send me an email. Thanks, Brian

Return to the main Motoring Investments page.