Motoring Investments'
Jaguar page
for sale, classified, classic, collectible, California, roadster, E-type, xk
If you arrived here though a search or web surf, click HOME to get to the main page for full site functionality, site index & our contact info.
(CLICK ON THE PHOTO TO GO TO THE PHOTO PAGE)
SOLD - Thank you Ian!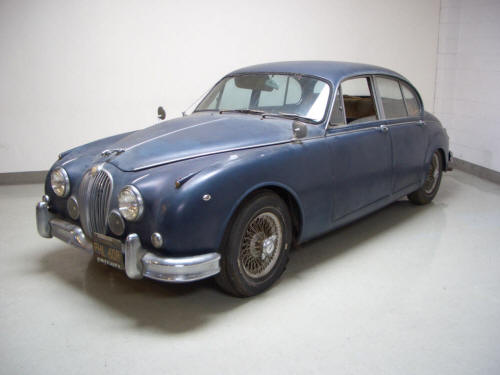 1963 Mark II
The last owner purchased this Mk II Jaguar in 1976 at Westcott British Cars in San Diego with 79,684 miles showing (it was 13 years old at that time so the mileage could indeed be accurate). It mostly sat in his drive way in National City, Ca (San Diego County) since then. Even though he paid the yearly registration fees, most of the time he didn't even put the stickers on the license plate and they remain to this day on the registrations papers (see photo).
According to some paperwork which came with the car:
1977 shows 2 u-joints being installed and a brake booster on order.
In 1986 he had a new battery installed under warranty (the original one likely when bad through disuse of the car – batteries don't like to sit in a discharged condition).
In 1989 at 86,839 miles the engine was rebuilt by "The Toy Shop Restorations" in National City for approximately $6000 (copies of cashier's checks are included). Today the odometer shows 86,921 (appears she's been driven less than 90 miles since engine rebuild)
In 1992 3 u-joints were purchase and in 1993 2 stabilizer mounts were purchased.
We found only a few small rust issues and they are all on the exterior body panels. The bottoms of the door skins, right front fender at the bottom behind the wheel arch and the turn signal areas in front fenders. There appear to be no other areas that have rust issues making this car an exceptional candidate for restoration. The underside has normal surface rust only even though one expects this area to go first (at least that is the case in our Midwest aka the Rust Belt). A possible explanation is that the upper body of the car was sprayed with a lawn sprinkler as she sat in the driveway for 20 odd years. Being warm dry San Diego this would explain a few patches of corrosion on the upper body and absolutely no rot or perforations underneath.
This car is superior to cars that customers typically to bring us to restore. It has a sound structure and is a good base to start from since this car's defects are from normal wear and tear and not of neglect or inexperienced servicing or restoration.
She is kind of like a virginal Barn Find but technically we must call her a Southern California driveway find!
Please look at the multitude of undercarriage photos and satisfy yourself as to her mostly rust free state.
In the last three years the following restoration items items have been completed: cylinder head, transmission, rear end (tall ratio), stainless exhaust, clutch assembly, brakes, u-joints, alternator, cloth top and much more. A delight to drive as well as look at but a "driver" not a show car.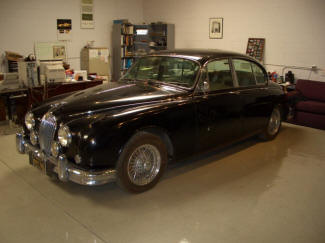 1962 Mark II - for restoration
SOLD
office: 619-238-1977