MG's for sale automotive classified vintage old timer collector cars
MG Page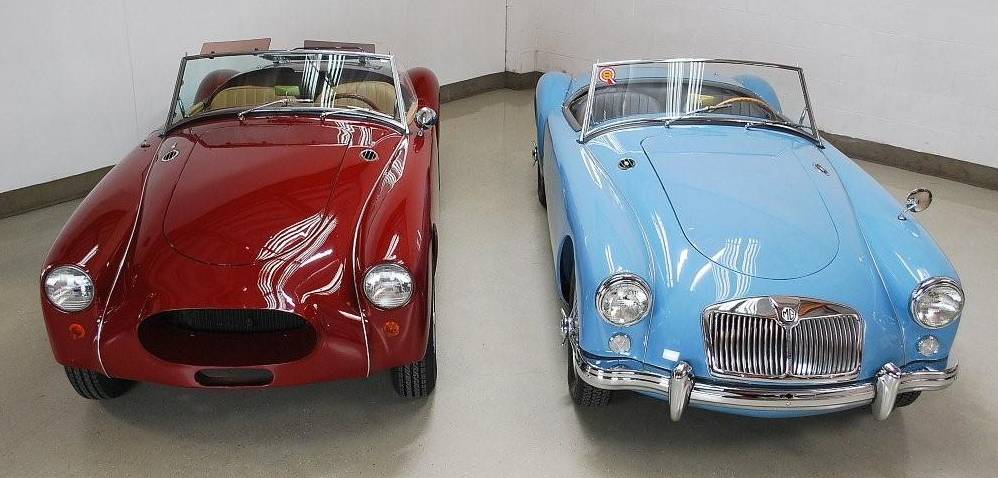 If you arrived here though a search or web surf, click HOME to get to the main page for full site functionality, site index & our contact info.

1961 MG-Buick Special SOLD - Thank you Jim!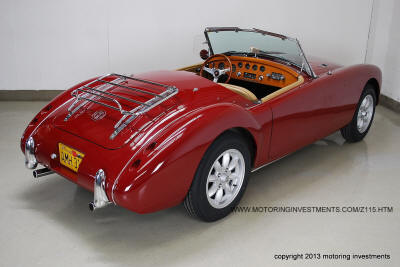 This is a vintage "Special", the sort of car that guys with engineering skills or good old American ingenuity built or modified back in the 1960's. Most were fabricated in back garages or the local service station after hours by the lead mechanic. He was the guy who may not have known his way around a cocktail party but certainly knew his way around a car - any car; could make them run right; could make them fast. If you were the local dentist or M.D. he was the guy you did not want your daughter to marry. She did anyway and now your Mercedes gets taken care of for free. He insists on this and would be insulted if anyone else opened its hood for you.
This one-of-a-kind is based upon a 1961 MGA and is titled thusly. The suspension, brakes, steering and differential are all stock MGA and cope fine with the additional torque of the engine. The cooling system has been upgraded and the car experiences no cooling issues even in our hot San Diego summers. The transmission is a Buick 'dual-pass' (automatic) and was likely harvested from a late fifties early sixties Buick at the same time as the Aluminum block 215 V8 engine.

I purchased this car for my own enjoyment and as our main business is in restoring fifties and sixties Mercedes this was certainly not a money making venture. However since I enjoy access to my own restoration shop and my technicians have vast experience with diverse cars (we typically deal in German, British, Italian and the occasional vintage U.S. car) I was able to bring this car to turn-key reliability for my own driving enjoyment. When I discovered it, it had been sitting for awhile so since its purchase we have gone through virtually every system. Cooling, brakes, suspension and steering were all attended to and rebuilt as required. Plus since the builder had left off some things which I found to be crucial we did some R&D and installed them. This includes a handbrake, ignition switch and thermostatic control for cooling fan.

Other items I upgraded to my own fussy standards. As purchased it had a vinyl soft top, the sort one finds on run-of-the-mill MGs or Triumphs. I much prefer the look and staying power of a genuine canvas top so we sourced and installed a very nice one. The seat upholstery while in good condition was just an average vinyl material also. Genuine leather feels so much nicer, smells great and will take on a patina over the years which vinyl simply cannot match. So we re-trimmed the seating surfaces in leather. We also redid the kick panels and door panels to match. The color is called 'biscuit'. The trunk had simply been left bare lacking even a spare wheel/tire. I had our trim shop custom cut and bind carpet for the trunk finishing it to a high standard. I also sourced a stock MGA wheel and had it power coated before skinning it with a new tire for a spare.

You will notice in the driving video that at that time it was running wire wheels. They are U.S. style, heavy clunky, steel units unlike the more delicate optional British units that the MGs had originally. These wheels had clearance issues as they had an offset which kicked them outside of the wheel arches. With two people in the car the tires would rub. Since the video was shot I purchased Minilite style wheels from Moss Motors which have a correct offset and bring the tires within the confines of the wheelhouses. I feel they look much better as well. The tires are also brand new.

The engine is strong, does not smoke and carries great oil pressure. I don't have any rebuild history but it seems very fresh and healthy. I imagine some folks will want to ask additional questions about build specifications, ownership history, et cetra but sadly I cannot supply any more information due to the manner in which the car arrived at my stable. I purchased it from the ex-wife of the previous owner and according to her it was received in lieu of court ordered child support payments. As one can imagine, it was likely not a very happy time for him. So having said that, the car must speak for itself.

There are a few things that our technicians did not attend to as I did not require them. Specifically the speedometer cable is not turning and is probably caused by a drive gear in the transmission. Also, the heater control housing (from a GM car) has a crack in it so the cables do not move properly. The other item is that I never bothered with making the archaic radio work. I will correct these items included in the $32,900 price. If you are a do-it-yourselfer and wish to take the car without these items being attended to your price is $29,900 firm.

For either price you could not duplicate this car even if you provided all of the labor yourself. This is mainly because you would first have to acquire a sound rust free MGA, the cost of which is significant.

If your desire is to have this with a manual transmission we can achieve that for about $7500 additional(give or take).

BE SURE TO WATCH THE DRIVING VIDEO FROM THE PHOTO PAGE! $32,900 Photos
1953 MGTD SOLD - Thank you John!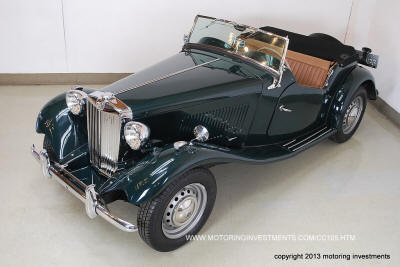 This TD was professionally restored in 2003 and has just had a 267 hour freshening in our famous workshops. This was a comprehensive re-commissioning and she is in fine fettle and ready for anything from long distance tours to simply driving to and from the golf course. All systems were attended to including brakes, ignition tune, valve adjustment, complete fuel system including rebuilding of the carburettors, both front and rear suspension, cooling system, gauges and the installation of new tires. Of course she is absolutely rust-free and the body wood is sound. She a thing of beauty and driving puts a smile on my face every time!
<<Click on the photo to go to the photo page!
$35,500
1959 MGA - fully restored SOLD Oct. 2013 - Thank You Eric!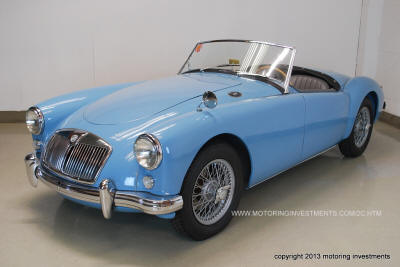 This fully restored MG as only 400 break-in miles and recently won best-of-class at the San Diego British Car Day concours. It should go without saying but I need to state that she is absolutely rust free and drives as well as she looks! Please see the photo page as a "picture is worth a million words"!
1953 MGTD SOLD October 2012, Thanks Jud!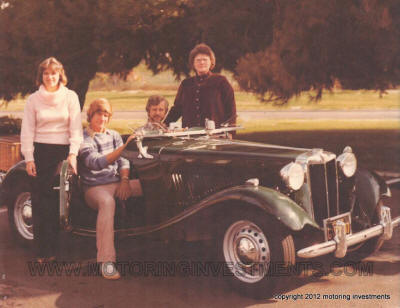 Two family MGTD owned originally by a well known San Diego weatherman. Full restored in the 1970's and rarely used since. She has just come out of 30 year storage and had her mechanicals freshened so she can be used daily. Have a look at the many photos (those of the undercarriage are amazing.) Absolutely Rust Free!
$18,000
<<<< Click on the small photo to go to the photo page.
1979 MGB (super original) w/OVERDRIVE SOLD, Thanks Dana!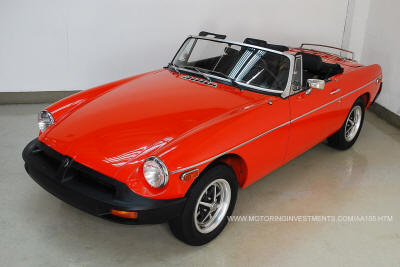 This is a very original, unmolested MGB w/Overdrive. Absolutely rust-free and crash-free. It still has its factory original vermilion paint on all of the floors, inside and out. This San Diego, California car has traveled a total of just 83,831 miles and had a top end engine rebuild in '09 with few miles since (new rod brgs, rings etc.). The fact that the cylinder bore remains the standard size pretty much guarantees that the mileage is actual. Also quite incredibly, the exhaust system is totally factory original! This is almost unheard of since they are just mild steel and most have rusted away and been replaced. Also, note the original date coded seatbelts and never cracked dash pad!
Fully serviced in our shop and drives like a new MGB. Please have a look at the photos.
$12,500
Click on the photo to see MUCH more including our driving video!
1969 MGB SOLD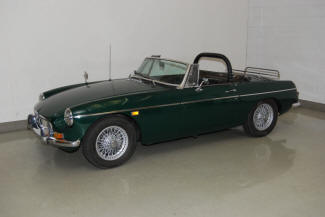 The one you've been waiting for. A one family, chrome bumper, solid California MGB. Runs great. The interior & soft top are tired.
$7500
1966 MGB SOLD

A virtually new 1966 MGB w/overdrive. Completely restored with only 4000 miles since. Technical details on the first photo page. Photo pages: Exterior Interior Engine Undercarriage



1966 MGB SOLD

Just in is this incredibly nice, chrome bumper MGB. It has more documented history than any car I have ever had. The last owner's father bought it in 1966. This car has the most comprehensive maintenance record I have ever seen. It is over three inches thick(see photos). Dad, a mechanical engineer, not only wrote down practically ever time he changed the oil but also every time he filled the gas tank!! He printed up the factory recommended service schedule and stuck to it like glue. The final result of his efforts is a very pleasant and appealing 40 year old car. Photos

'79 MGB SOLD

This 80k mile MGB has just been reconditioned in our workshops. It has benefited from new paint, carpet, top, tires, valve job and more. It has no needs. Just drive and enjoy! Read about the mechanicals
'58 MGA SOLD

This is a very original MGA from San Diego, CA. It has been the hands of the same owner since 1962! It is an unrestored low mileage car that would make a great daily driver. It comes with a folder full of service records.
'53 MGTD SOLD

This rust free California black plate car was running fine when put into storage a while back. It is all there and will be very simple to put back on the road.

'79 MGB Limited Edition SOLD

It is a low original mile California car that has been restored to better than new by its second owner. It features air-conditioning, electric overdrive and a canvas soft top.