Classic, vintage, collectible and old timers
Italian cars
for sale classifies.
If you arrived here by a random surf/search, click HOME to get to our main page with full functions, contact information and a list of cars.
Click on the photo to see more.
ITALIAN CAR RESTORATIONS DONE HERE!

1978 Alfa Alfetta GT - New photos just posted!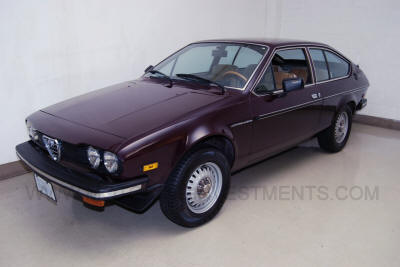 This is a California survivor.
<Click for the photo page
More photos coming soon.
$18,500
VIN: AR116150004224
1964 Fiat 1100D SOLD May 2014, Thank You Mr. K!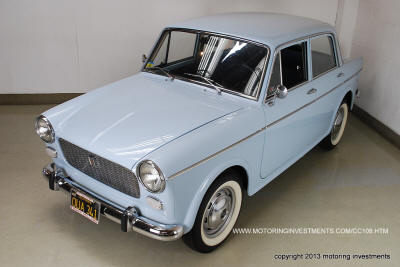 The best of all worlds: This very low mileage(15,544 at this writing) California car has received a sympathetic restoration to reverse long term storage related issues. This has resulted in what can be honestly described as a "nearly new" 50 year old car! Please treat your eyes to the photos, many of which are very close up and detailed.
She even has 3 point retractable belts all the way around for safe motoring for a family of four!
< Click on the photo for all of the photos, history and restoration details!
1962 Alfa 101 Giulia 1600 Sprint SOLD, Thank You Pietro!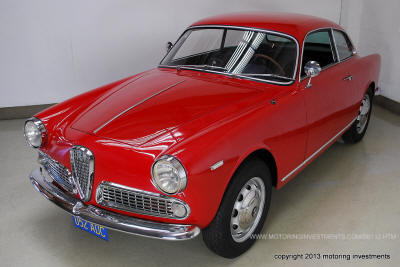 What follows it the tail of this red Giulia 1600 Sprint as related to me by the previous owner. <<Click on the photo to go directly to this car's dedicated photo page.
Secret Agent's Alfa
This red Alfa was imported from Italy in about '68 or '69 by a David Gemora who owned a machine shop in Tarzana, California. His main business seemed to be building prototypes for government agencies and according to his family he travelled extensively in Russia and China. After he died his wife gathered the kids together at their Woodland Hills home and said, "Now I can tell you what your dad did for a living". His children didn't know until his death that he was involved in optical surveillance/global espionage with the highest private security clearance available from our government.
Mr. Gemora and a young family friend named David Skora worked on the Alfa at Gemora's shop from about 1970 onward. Gemora and Skora rebuilt the engine and clutch in the early seventies along with performing other mechanical work to keep the car in good fettle for daily driving chores around Southern California. The car was painted in lacquer at that time also.
Young Skora had always desired the Giulia and upon Mr. Gemora's death in about 2005 was able to purchase it from the family. I purchased it from Mr. Skora.
Today: The paint work is very shiny, like a ruby but there are cracks and miscellaneous dings and dents here and there consistent with 40 year old paint and lacquer especially (the cracks).
We have done everything needed to bring it to good mechanical fettle including but not limited to: New brakes, water pump, front engine seal, driveshaft support, flex disk, belts, hoses, fresh air ducts, rear suspension limit strap, carburetor kit, rod out radiator core and more…..(some of these items needed to be performed due to sitting in storage for the long period before Mr. Skora's purchase)
She drives very nice and one does not have to jump through any hoops nor engage in any special shifting techniques to change gears smoothly although I imagine if we tried to race a younger car we could beat the syncros. The engine starts easily, pulls strong, does not smoke or drop any large amounts of oil. When reversing briskly one needs to rest a hand upon the shift lever to keep it in place.
Inside there is a lovely period Nardi wood rim steering wheel. Also, there is a very cool, period anti-theft devise on the steering column (built in like it belongs there). There are two photos of it on the photo page. It snaps into place and you use a key to unlock it. I've never, ever seen one like it before.
$57,500
1964 Alfa 101 Giulia 1600 Sprint SOLD 4-23-2012 (in 1 week flat) Thank you Michelle!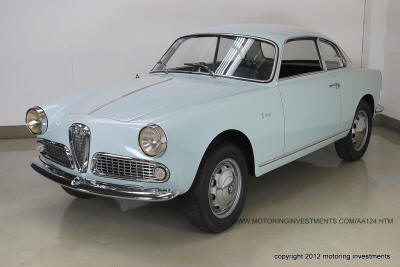 It is very unusual to find such a nice, well cared for 1600 Sprint with known history back to day one. This car has had four registered owners who were all Alfa Club members and lavished care and attention over the years. The engine is fresh with 180 PSI in each cylinder. She drives great and is beautiful to look at. Recently discovered in California with her fourth owner, she is solid and rust free! Also important in this case are the matching numbers, both engine & color code.
<<<<Most questions will be answered by visiting the photo page accessed by clicking on the photo at left.
There you will find complete information including this car's history and pricing.
1988 Alfa Romeo Spider Veloce SOLD
40,646 actual miles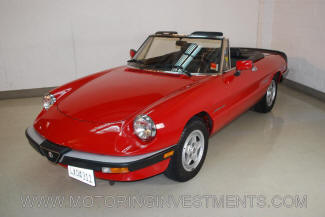 This is a one family (adult nephew then 77 year old uncle) car in super original condition that has been fully serviced in our shop.
In servicing we have installed a new canvas top, shock absorbers, motor and transmission mounts, all fluids, gaskets, seals, spark plugs & wires, fuel pressure regulator etc., etc., and serviced the air-conditioning. Basically everything that is necessary to assure this is truly a premium example of a Motoring Investment!
<<Click on the photo for more.
1984 Alfa Romeo Spider Veloce SOLD Thank you Paul!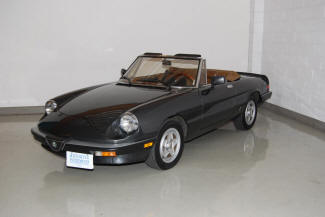 This has been my personal car for over 11 years. It has had nearly everything gone through in the time I've had it. Recently the cylinder head and transmission were rebuilt. I know it is expensive, but you won't find another one like it anywhere and you couldn't build one for double the price. New or rebuilt: transmission, cylinder head, canvas soft-top, brakes, clutch, suspension bushings, paint, tires, water pump. You are buying for cents on the dollar; I've probably got over 30 grand in it.
<<Click on the photo for more.
Veloce = "fast" in Italian.

1966 Alfa Romeo Giulia 1300Ti
SOLD Thank you Steve!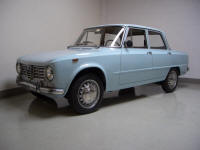 An incredibly original car (it still has the original engine break-in instruction decal on the windshield!). We've just completed a cylinder head and transmission rebuild (no more famous Alfa 2nd gear grind!) and installed new Vredestein 155/SR 15 tires. Original owner's manual still in the glove box.
Click here for photos.
Update on August 26, 2008 from the new owner (on the Alfa Bulletin Board): "Fellow Alfa lovers, here is a car that you may recognize from about a year ago. I purchased this fantastic rig from the gents at Motoring Investments in California from an ebay ad. No horror stories for once, the car arrived and everything was great and better than expected frankly. Sadly, the fellow who I purchased the car for, never got secured off street parking and he regrettably couldn't take the car. No way this was going on the street over night in Boston. So for a year, this time capsule has sat in my heated garage at my business (Aston Martin of New England / Lotus Motorsports, Inc.) and has been used a scant 150 miles or so since I bought it last year. Please send someone to drive, inspect and check it out, it needs a new home. I need room for a 1959 Giulia! I'm glad to send tons of photos and host anyone who wants to check this ride out. History from original Italian papers, Dutch ownership and USA history since 1981. Asking $29,500 Truly, it needs nothing except gas.
Update, August 2009: Andrew Watry in Berkley has now purchased "our" Giulia from Aston Martin of New England. Here are a couple of photos of it on its way home.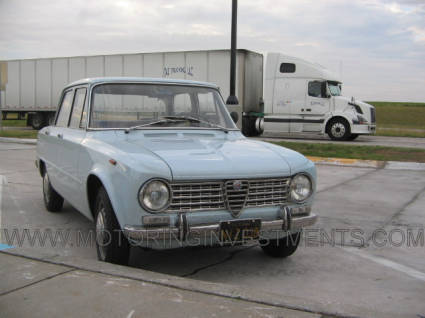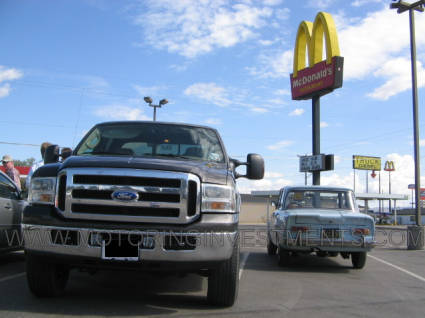 Andrew wrote:
Brian: I just bought, and drove home to Berkeley from Boston, the blue Giulia TI 1300 you had a couple years ago. Great car; made the 3300-mile trip with not one issue. New synchros are still wearing in and the head gasket/valve job gave no trouble. Love the car.
Thanks very much, and thanks for all the good info on the TI on your site, which helped me make my buying decision.

Andrew Watry
Berkeley
1991 Alfa Romeo Spider
SOLD February '08 thank you Gary!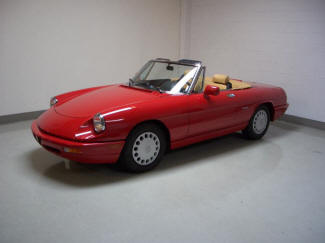 The first owner, an 80 year old gentleman put just 7855 miles on this car from new and kept it through 2007. My client, the second owner had it just a few months when his back doctor told him he was just too tall. It looks, smells and drives new. For all practical purposes it is new. It is original except for new tires installed due to sidewall cracking and other consumables. Just serviced in our shop. Now only 7934 miles.
1992 Spider dark green with 37,000 miles
SOLD February '08 thank you Jerry!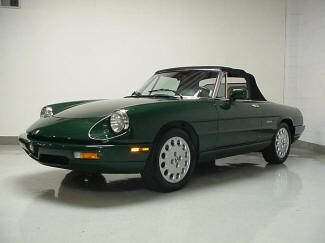 A very original San Diego car. Includes: Alloy wheels, Air-conditioning, leather and canvas top. This car also has the wind deflector and H4 headlights. This car is excellent everywhere you look and runs & drives the same.

$19,900


1991 Alfa Romeo Spider
SOLD Thank you Bill!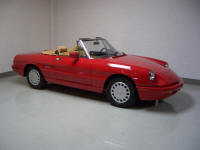 Virtually a new car with just 7855 miles. It looks, smells and drives new. For all practical purposes it is new. It is original except for new tires installed and other consumables. Visit the photo page. $33,100
1960 Abarth 750GT Allemano Spider SOLD

Click on the photo for more info on this rare car.
'68 Fiat 850 Sport Coupe SOLD

One of the most original examples in the world, bought new by a young aerospace engineer in December of '67 for his new wife to commute to college in. Originally purchased in Maryland, they left for San Diego within one year where he worked on various projects in the Advanced Programs Department at General Dynamics. They kept it until February 2005. Each year starting in '68 he placed a new registration sticker on the license plate one on top of the other. The stack is now nearly 1/4 of an inch tall! The tools, the jack and the windshield washer bag are all intact. The car has 90k original miles & he rebuilt the engine 10k miles ago. He had it painted 20 years ago in the original dark green. I have the original ownership documents, brochures and manuals, most of which have been scanned and can be viewed on the "Documents" page. The car was imported by Roosevelt Motors, yes that Roosevelt, the son of the 32nd president of the United States. He also maintained an Abarth racing team. The stamp of Roosevelt Motors can be seen on one of the brochures. I even have the original bank loan coupon book & of course the window sticker. This is a jewel of a car that would not look out of place in a collection next to cars costing 10 times its value. $10,000
Update: this car sold again around June 2008, this time for approximately $15,000 as the new owner saw it here and asked me if I would call the previous owner and ask if it might be available. It doesn't hurt to ask!
Photo pages: Initial Exterior Interior Documents Undercarriage & Engine


'91 Alfa Spider SOLD

Rebuilt (new pistons, cylinders, valve job and bearings) engine by local Alfa guru Danny Wells.

1980 Fiat 2000 Spider SOLD
This is a two owner Arizona car. Just serviced. Outstanding. Exterior photos Engine & detail photos

1974 Alfa Romeo Spider SOLD


This is a two owner San Diego car. It features 10:1 pistons and liners with street cams for great mid range power. It has also been upgraded to Weber carbs and performance road springs and shocks. The transmission has been rebuilt, so none of the typical Alfa syncro issues. All of the service records come with it. Exterior photos Interior & Engine Photos