Triumph Page
Click "refresh" on your browser to get the newest version of this page!
HOME
1974 TR6 - Sapphire/Shadow blue - SOLD March 2013 Thanks Lenny!
PRESERVATION CAR! This is a one family car with 66,000 miles and much original paint. Cars truly this original are quite rare. Take with a grain of salt statements of originality from sellers who have no supporting documents. Also be wary of oxy-morons like "all original - just restored" or boasts of low miles when all of the upholstery and carpet has been recently replaced. This car has an all original interior from the dash top to its wood fascia to its carpeting. Some of the items in this car cannot even be purchased new like the color coordinated velour wind laces in shadow blue. Even the seatbelt tags are dated "1974". Also here but usually long gone in these cars are the seatbelt "ports" for parking the buckle when not in use and the leather jack belt in the trunk. It has been fully serviced and tuned in our shop with consumable items like coolant hoses, etc. replaced. It drives just like Triumph intended and you cannot beat the sound of a straight six going through its gears under a freeway overpass or in a tunnel. VIN: 5018U0
< Click the image to the left to to to the photo page.
35,000


1974 TR6 - British Racing Green (BRG)/Tan - SOLD June 2012 Thanks Dick!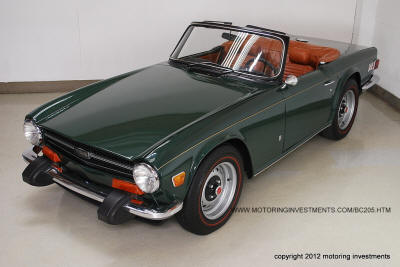 Fully restored; all mechanicals rebuilt, frame power coated; half an inch thick stack of receipts & records. Owner kept meticulous records of the restoration. All systems are new or rebuilt and has only been driven about 5000 miles since.
< Click the image to the left to to to the photo page.
$29,700
1971 TR6 - Jasmine/Black - SOLD 12-29-2011 Thanks Brad!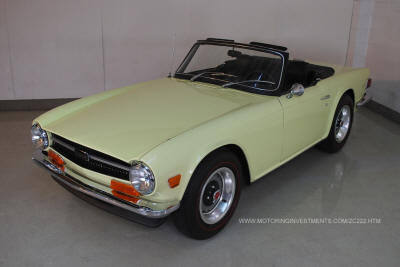 This matching color code TR6 had an extensive restoration in 1989 and has been meticulously maintained ever since as a show car and weekend driver. Following is what I received from the last owner:

The Body Restoration was done by Auernig in Roseville, CA. It was extensive and complete, taken down to metal and included the engine bay. The recent photos taken of the engine bay back this up.

The interior carpets, door panels and seat covers were completely replaced, the dash is the original.

All of the chrome was replaced with original "new old stock" including light bezels.

All of the lights have been replaced. The NOS or "new old stock" was found at swap meets in the 90's. The previous owner found a guy in Plymouth, CA that had an extensive amount of "new old" parts and bought them up.

European Motors on 16th and T Street in Sacramento, CA did the mechanical rebuilding. Both the top and bottom ends have been rebuilt to spec including balancing the engine with the fly wheel on. He also rebuilt the transmission. No expense was spared in rebuilding the engine, the best parts available were used including Stellite valves and valve seats in the cylinder head. Wherever and whenever possible, stock parts have been used or the most expensive replacement parts. Take the fuel pump as an example.....you can get a $50.00 pump, he replaced the it with a $130.00 pump. He always went with the up rated parts. When he replaced the front rotors two years back (as an example).....he put Brembo rotors on the car, a definite upgrade at a premium. The carburetor, linkage and manifold work was done by
Paltech, http://www.paltech1.com/ a carb restoration specialist....again a premium restoration specialist, factory trained by Zenith Stromberg.

This car has been loved its entire life by all three of its owners. All three always maintained the car and that shows in the condition its in today. Never has the car been in a state of disrepair. It has always been running and driven over its 40 + year lifespan. It has always been garaged and all three owners have invested in its condition making it better over time.
At one point or another virtually all of the mechanical systems on the car have been rebuilt / reconditioned or replaced. Even the wheels were sent to a shop to recondition them. The front suspension was completely rebuilt two years ago. The alternator was rebuilt 3 years ago.
The chrome and lights are in fantastic condition.

This car has participated in many car club shows. The car has been a member of UBSCC (United British Car Club Sacramento) for years. It has been a class winner on many occasions, most recently the 2009 UBSCC show of which there were 30 TR6 entrants. It sat in the Winners Circle at the 2010 show. It also has been judged as a "Gold" quality car at Triumphest.

The car has only had three owners in it's nearly 40 years and the first two were brothers. In the mid eighties the two brothers actually traded their classic cars....a 55 Chevy for the Triumph. The third owner took possession 8 years ago.
Because this car is street driven expect a few chippies here and there. The body sides are extremely straight. The chrome shows as new. It drives outstanding. VIN: 58798L
$22,500 Photos

1973 Stag SOLD 12-26-2011, Thanks Brett!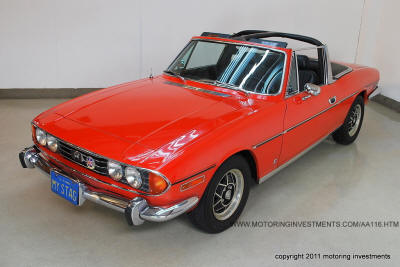 A lot can be said for this particular Stag: One owner California car, mostly original paint, absolutely rust-free, all original paint still on the floorboards inside and out, overdrive transmission, alloy wheels, San Diego garage find, rust-free. It would be extraordinarily uncommon to find even a "normal" car (think Mustang or Camaro) with all of these attributes let alone a model this rare.
More: original keys w/code tag, all of the rare, original labels and decals seem to be in place including the date coded seatbelt tags. Optional air-conditioning (not serviced).
Pay particular attention to the photos of the floorboard as those in the Midwest and Great Britain can only dream of finding cars there this original and unsullied.
With all of the interest and press for survivor cars this one is a winner in every way.
<<Click on the photo for all of the detail photos.
1973 TR6 SOLD - August 2010 Thanks!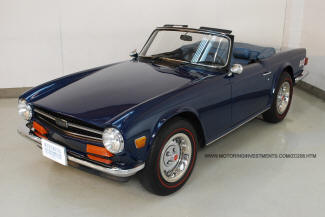 Considered the last of the "classical" British sports cars this TR6 has received a complete Frame-Off restoration 2350 miles ago. All mechanicals rebuilt, frame powder coated, stainless steel exhaust, overdrive, etc.
1972 TR6 SOLD - July 2010 Thanks Ray!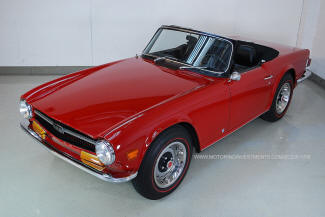 This car received a nut & bolt, comprehensive restoration in our workshops just 4000 miles ago at a cost of over $70,000. You can view the complete process from our "Client Restorations" page to the left or the link above.
$37,500
1970 TR6 SOLD 2/2010 Thanks Bob!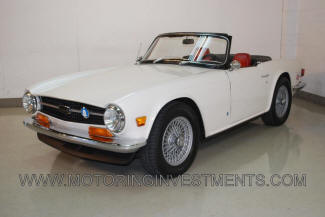 Two owner Southern California car with 70,778 actual miles. Never rusted or crashed.
$18,900
1974 TR6 w/OD SOLD 1/08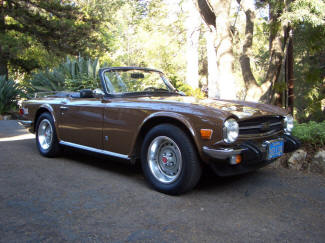 $32,500
Full details on the photo page.
1968 TR250 SOLD 9/07 - Thank you Tiff!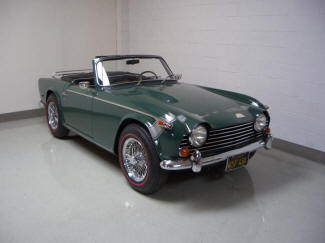 Regular visitors to my site may have visited my "THE LIST" page and read about my quest to acquire great examples of cars I've never owned (click "THE LIST" above). This is the first of the LIST cars. I've had many, many TR6's but never a TR250. I found this example 100 miles away in the near desert of Temecula, CA. It had been in the hands of the same owner for 37 years and is still wearing its California "Black Plates". This is a 75K original mile survivor still sporting its original carpet, upholstery and dash; simply amazing.
After my purchase I proceeded to recondition the car to my standards. In short, we lavished nearly 400 labor hours or over $50,000 in my restoration shop on this car. One could call this a "sympathetic" restoration or a major reconditioning. My aim was to preserve the originality yet bring the car to extremely high mechanical standards so it would be a pleasure to experience. We didn't redo the hood stripe to erase years of polishing that left it thin or nonexistent in some areas, we left the excellent interior original only cleaning to show a wonderful patina. Safety items were changed, oil pressure was brought up to new specs, weather equipment was refreshed, a couple of pieces were re-chromed, everything was adjusted, fettled and massaged.

Whoever purchases this car benefits from my 30+ years of experience with old cars(22 years this business). I bought this car for myself and I don't just buy anything. I hope you enjoy it as much as I have. $32,100 Photo Page.
1967 TR4A (one owner California) SOLD August 2006

A time-machine-like original, bought from the original owner. This is a pretty incredible car, still having original paint on its interior floorboards. I'm a purist and have kept this car correct right down to its steel disc wheels. More information on the first photo page. $22,500 Photos: Exterior Interior Undercarriage, Engine & Details.

1974 SOLD June 2006

Another fully restored California TR6 (Don't miss the undercarriage photos). $27,900 Photos: Exterior Interior Undercarriage



1973 TR6 SOLD June 2006

Just in........a solid San Diego car with long term ownership. Photo pages: Main Undercarriage
1973 TR6 SOLD June 2006

Complete "nut & bolt" restoration. I was able to re-acquire this car from my client who purchased it from me 3 years ago since he how has kids in college. He put less than 1500 miles on it. A restoration to this level in my shop starts at $55k. More information is on the photo page( just click the photo to the left ). This car offers tremendous value at just $32,500. Photos

1974 TR6 47k SOLD October '05
White w/dark walnut interior, this low mileage car exhibits original carpets, seats, dash Michelin "Red Stripe" tires and more. Photo pages: Exterior Interior, Engine & Details


1973 TR6 SOLD

This car has recently had nearly $10,000 spent on it mechanically including a rebuilt engine, urethane suspension bushings and an updated 5-spd transmission (cruises 75MPH at only 2500rpm!). Photos.


'64 TR4 SOLD

This restored California TR4 is a work of art! Jump to photo pages: exterior photos interior photos engine & detail photos undercarriage photos

'66 TR4A SOLD
An older restoration, this British Racing Green TR4A is a joy to drive! Enjoy the photos.


'73 TR6 SOLD
This is a stunning California rust free TR6. Runs and drives outstanding. Have a look at the photos.

'75 TR6(27k miles!) SOLD
This has got to be one of the best, mostly original cars in the world! It is the proverbial "time capsule" car, still on its original tires. Click here to jump to its own page.


1976 TR6 SOLD

British Racing Green w/tan. Unbelievable condition. Recent new clutch, ball joints, tie-rods, CD changer(in trunk). Rust free of course. See the photos(23).

1974 TR6 SOLD

This outstanding two family car in factory Mimosa Yellow has only lived in warm dry California and Arizona. The interior has just been freshened with new carpets, upholstery & wood. Check out the photos. Photo pages 1 2 3
1972 TR6 SOLD

This 80k original mile California car is just the latest in long line of TR6's to be reconditioned in our workshops. Read more about it on our photo pages. Photos: Exterior Interior Engine

1965 TR4 SOLD

Fully restored California "black plate" car. Never rusted or crashed. Photo page 1 2 3
1973 TR6 SOLD

This TR6 has been restored in our workshops in San Diego. Virtually new condition. 100's of hours spent. Click on the image at the left to start viewing the four photo pages or choose from the photo pages: 1 2 3 4



1976 TR6 SOLD

Owned by just one family(father/daughter) since 1978 in southern California. Only 51,000 actual miles. Besides maintenance items this car is all original, even the paint! I've just had a new clutch assembly installed. This car is now ready for another family to cherish for the next 24 years or longer!
1972 TR6 SOLD

Owned by a fellow for 22 years as a gift to himself when his two sons graduated from college. It has had a fully rebuilt engine and sports brand new Michelin Pilots. It is excellent inside and out.
1976 TR-6 SOLD

All original, 80k actual miles and in mint condition. Even the paint is original.


1962 TR-4 SOLD
This car is a frame off restoration by the last owner. He started with a dry New Mexico car and removed every nut and bolt in order to rebuild everything. Much of the work was done by himself. The engine was professionally rebuilt.

1971 TR-6 SOLD

This one owner San Diego, CA 1971 TR-6 with overdrive has covered just 63k actual miles. It was refinished with high tech two stage paint in the original Jasmine Yellow.

office: 619-238-1977